Should i be worried?
---
I have just come here for a little advice, and have no idea if anyone will be able to help me or not!
We rescued Faith from the auction (beat out the meat buyer) a few months ago. Some of you probably will remember her, she had lacerations all over her legs and was in icky shape! There's a thread around here somewhere (i'm too lazy to get the link right now, lol sorry!) Long story short,i have no idea what her background is.
So, a couple of weeks ago my farrier came out to do some work on the ponies and we were trimming old Floyd in the aisle when he suddenly stops, and keeps staring quizzically towards where Faith is standing in her stall (you can see her full body from where we were). He quite comically flips the light on his head to shine towards her and cocks his head to the side. "Hmm" he says, then paused dramatically, "She pregnant?"
I stopped short because I had no idea where that had come from! He drops Floyd's foot, and we both go over to Faith. I felt quite dumbfounded because as we're looking at her, she does look awful round. I hadn't even noticed. She's not bagged up at all, but she has a very odd shape to her stomach.
I was leaning more towards a hay belly then, and figured i'd watch for another couple of weeks and see what happens. I also decided to watch more closely for a heat cycle, which after this smack upside the head by my lovely farrier, I realize i've never noticed from her! I don't think she's been in heat since we've had her.
It seems as if she's ballooned out over the last few weeks, or my eyes are playing tricks on me. At this point, I don't know if i should spend the extra money to have the vet come out for another farm call (he's scheduled to come in late September to do xrays on Floyds ringbone) or wait.
I have experience with two pregnant mares, both rescue/unexpected situations so this is nothing new to me! I just want some opinions from you guys.
I noticed today she had runny poo, and this scares me! Perhaps something else is wrong? She's always been super quiet for a two year old (well, since i've had her at any rate) and she doesn't run and play much! She's checked out well with just a regular checkup but i've never done any blood work or anything on her.
I hope this is just in my head. Thanks Benny (farrier).
When we got her, a few weeks later: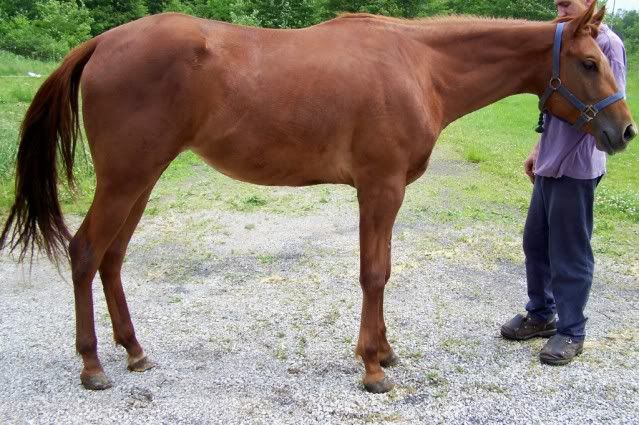 6-2
7-19
And a week ago: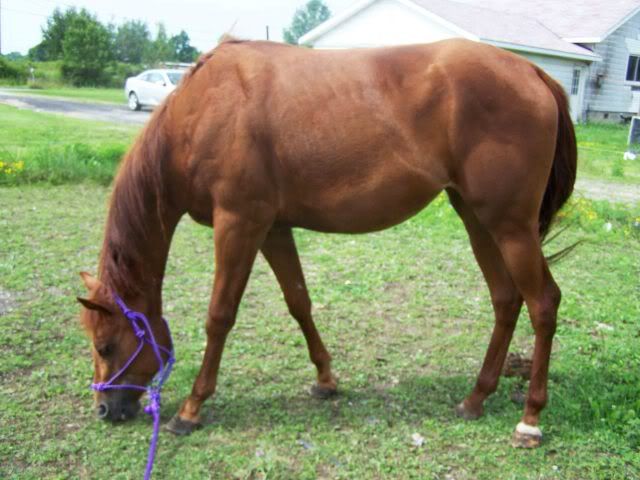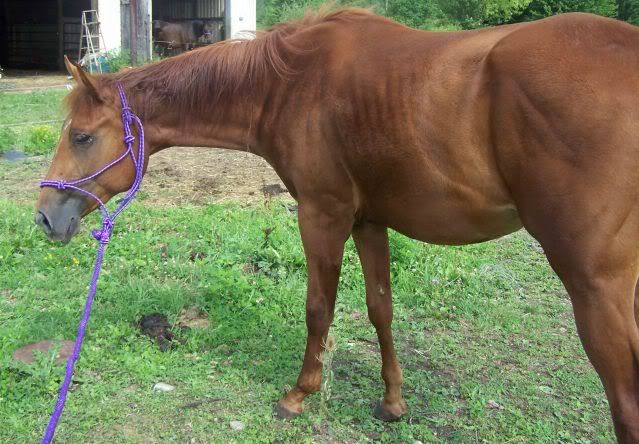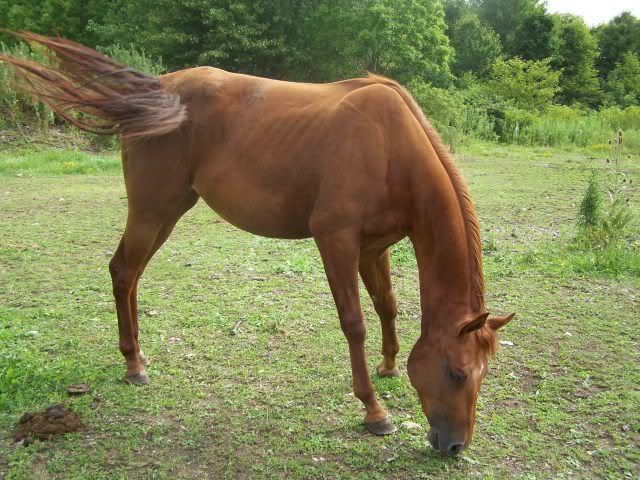 What worries me is that she's not gaining weight elsewhere. I thought she was developing a hay belly, she was thin when we got her but not terribly so.
Thoughts?
I should probably call the vet, huh?
---
"Animals are not our whole lives, but they make our lives whole."
---
Last edited by Squeak; 08-14-2010 at

12:16 AM

.
I don't think its your eyes, because something isn't right here. I don't see any weight gain on her except for that massive belly. She doesn't look bloated like she has worms, and I can't think of anything else that would cause that much bloating/weight gain.

Your safest bet is to get a blood test done on her. or at this stage, maybe an ultrasound. With horses, sometimes it is better to call the vet for a hay belly rather than wake up with a little surprise in the field.
If she is...I doubt she is ready to go. Vet exams are expensive and if she isn't going to give birth tomorrow...I think you can wait a week or two. I don't want you to think that I think that its not important...it is! While I do see a change in her belly for sure...I doubt her situation is in need of immediate attention. She is awfully young though..

BTW she looks great. She sure has come a long way in a short piece of time! The youngsters sure do bounce back eh?!
Does she need worming she might have a belly full of worms
Thanks guys. She doesn't need wormed, we took care of that before introducing her to the herd.

I didn't notice the belly at all, i guess i just saw her gaining weight - like we were trying to do. The farrier was able to notice the difference, Floyd gets trimmed every 4 weeks, so within 4 weeks, he noticed a significant difference in her - one I hadn't really been alarmed by enough to think anything was amiss.

But NOW... it's extremely noticeable.

As for her age, it's been estimated that she's probably just turning 2. That scares me a lot, if she's pregnant.

With all the rescuing i've done over the last year the vet bills have become quite outrageous, but I guess another one won't make much difference! Floyd has become quite the expensive horse - though I wouldn't have it any other way, the last thing i need is a pregnant mare!

I'm leaning towards getting her checked by the vet asap. If she is pregnant, I need to make sure she has proper vaccs, worming, feed, etc. And if she's not, something else is going on here.

I'll get updated pictures when i get off work tonight, i'm not sure if she's changed a whole lot in the last week, but maybe a small bit.
---
"Animals are not our whole lives, but they make our lives whole."
Personally, I'd go ahead and get the vet out ASAP. That way you can plan accordingly.
I took a few before heading off to work. She looks about the same, but not quite as round? This is weird.
Ignore the mess around her, we've been cleaning out that old barn behind her so it can be tore down.
---
"Animals are not our whole lives, but they make our lives whole."
See to me...it doesnt look less round....it looks like the round has moved. More towards her center.
Quote:
See to me...it doesnt look less round....it looks like the round has moved. More towards her center.
I know, it's my wishful thinking showing through.
Who doesn't love cute fuzzy babies??......
Me.
---
"Animals are not our whole lives, but they make our lives whole."
I worry about that and don't even have a reason too worry about it. It's the worst part about having a Mare. I actually had a nightmare about going out to feed and finding a stallion in the pasture who showed up out of no where, and jumped our fence to get to her.
Good luck with that.