Skin "condition", ideas?
---
For a few months now Gizmo has had a "skin condition" type deal on his shoulder. I've tried Listorine, Iodine, and medicated shampoos but with no change. It hasn't gotten any better or worse, just remains the same. It looks as if something dripped down him, as it starts at the top of his neck under his mane and then trails down to the front of his left leg. It does not seem itchy at all, I've scratched at it and he doesn't react.
When it first appeared the skin was flaky and I got all of it off so now it's just flat and hairless.
Any ideas as to what it may be or what I could do to get the hair to grow back?
Here are the pictures to give a better idea: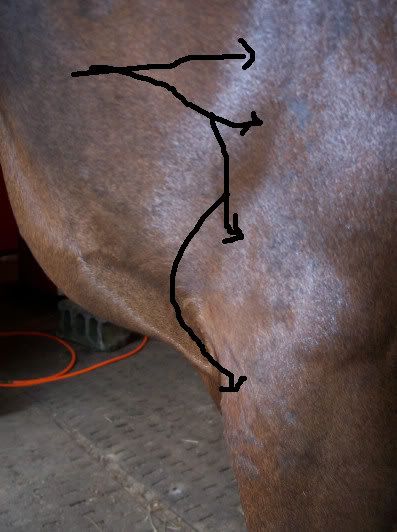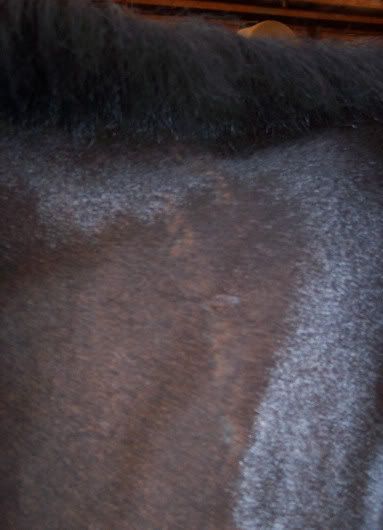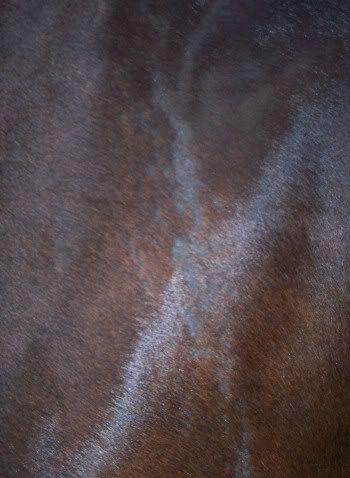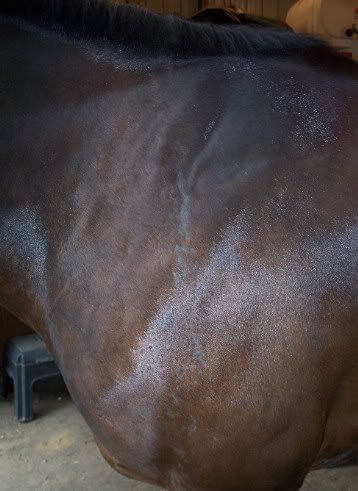 ---
Got spurs?
If it's just hair loss, I suggest Shapley's MTG. If it's something I cannot deter from the pictures, talk to your vet, they know allllll the shampoos!
---
"Doing what you like is freedom, liking what you do is happiness."
I'd slap Desitin on it, but that's always my first line of defense. ;) Looks kind of like a fungus to me. Apple Cider Vinegar might be a good idea, cut it with water tho...
---
If it is fungal, you may be able to clear it up with miconazole (athlete's foot spray or cream). There are several over-the-counter 'zoles that you can try. I had a circular lesion on a new horse several years ago. Figured it to be ring worm and got Lotramin?? (in the athlete's foot aisle) and my boss had me give double dose of Program (the flea pill for dogs). During the trials for Program, they found that it had an affect on ringworm when given at double the normal dose. Had the horse 3 months prior to trying the lotion and Program and had it cleared up in about a month after the treatment.
Another suggestion is that it could be allergy related - I would boost the Omega 3 in his diet. I personally like dac Oil (write up is on
my site
under Coat Health and Shine)
Another immune booster is to give dac 911 (super DanActive for horses). Discription is under Immune Health on my site.