Skin issues
---
I guess that's what I'd call this. Blaze has little spots that have popped up on him, where it seems like there are small white scabs that are peeling off and little tufts of hair missing. The biggest one is about the size of a nickel and the smaller ones no bigger than a fingernail. There's about 5 spots all together. Is this rain rot? Some other skin issue? Ringworm? Some of the spots are quite small and not round, which is why I didn't automatically think ringworm.
Pictures: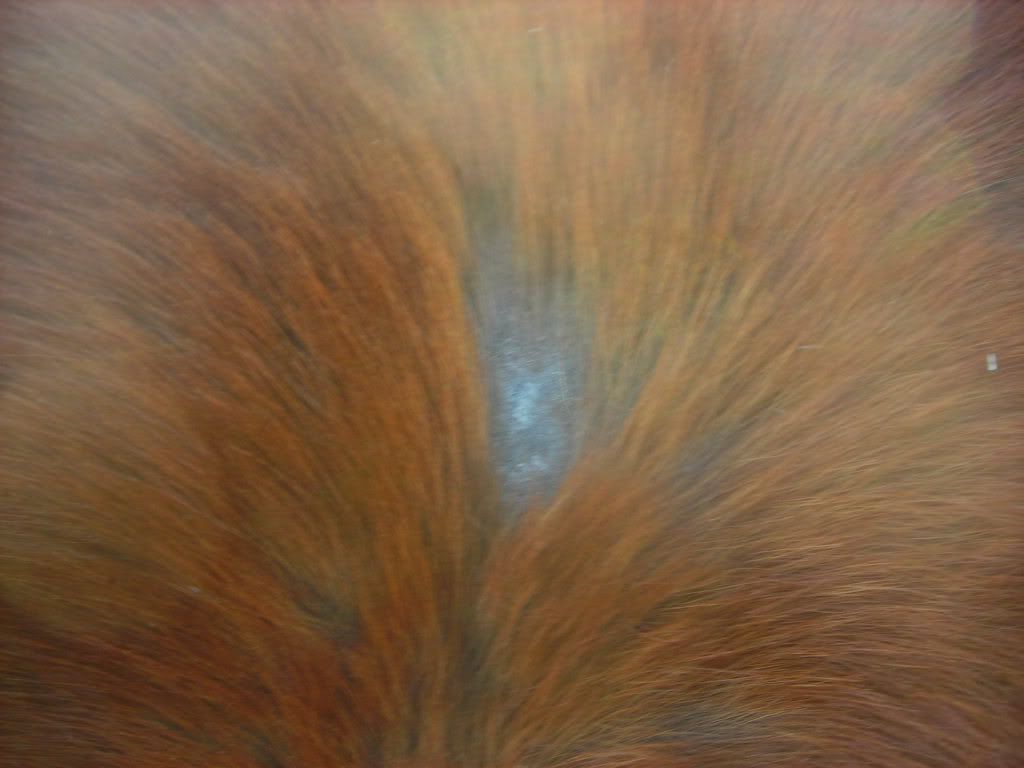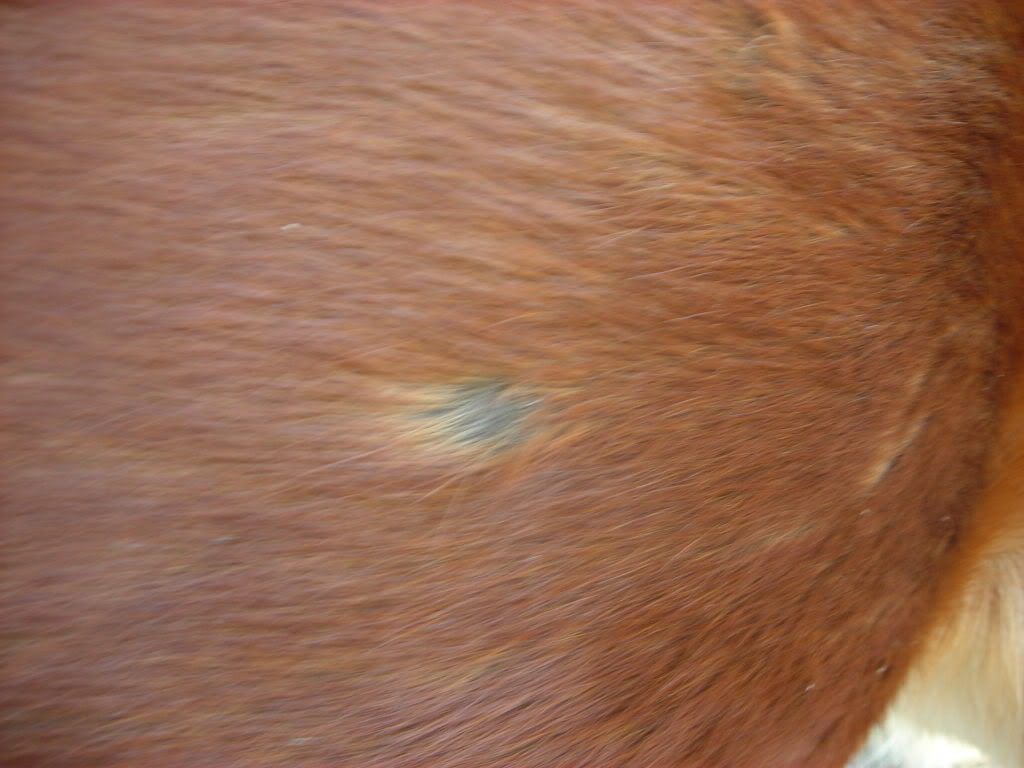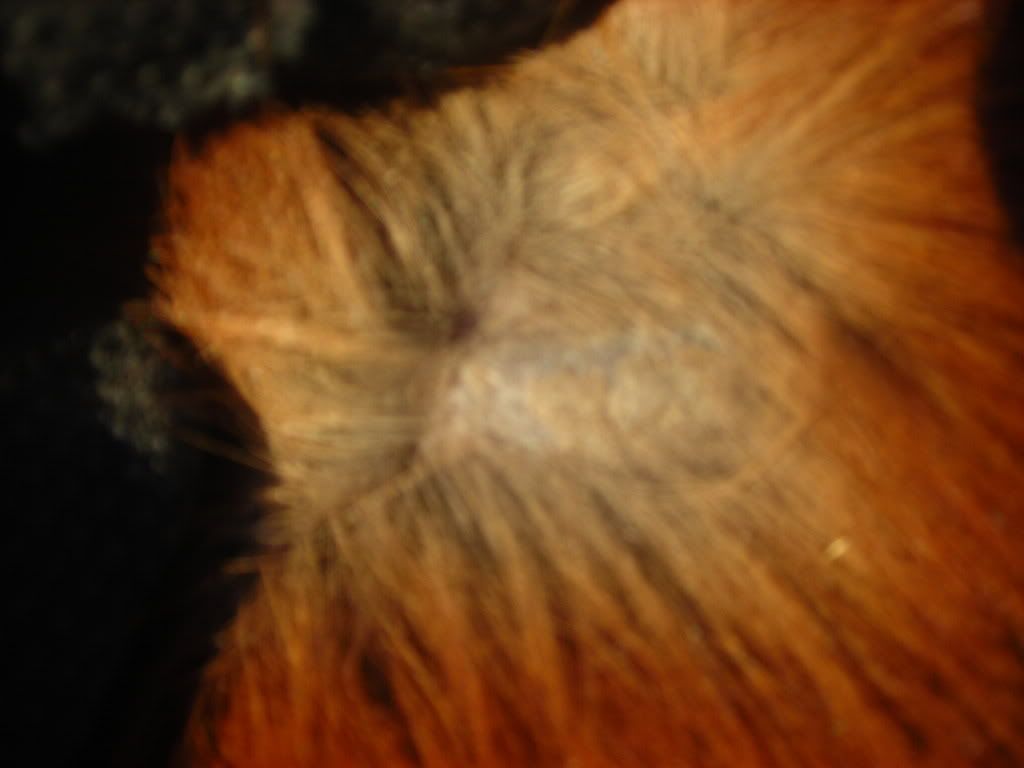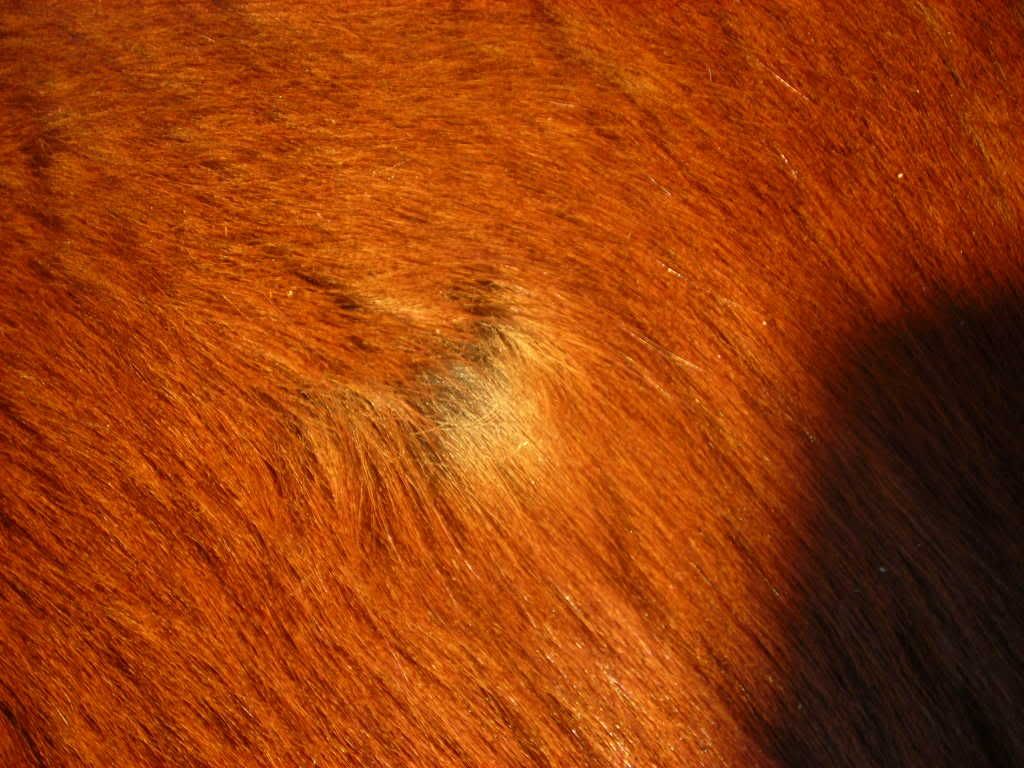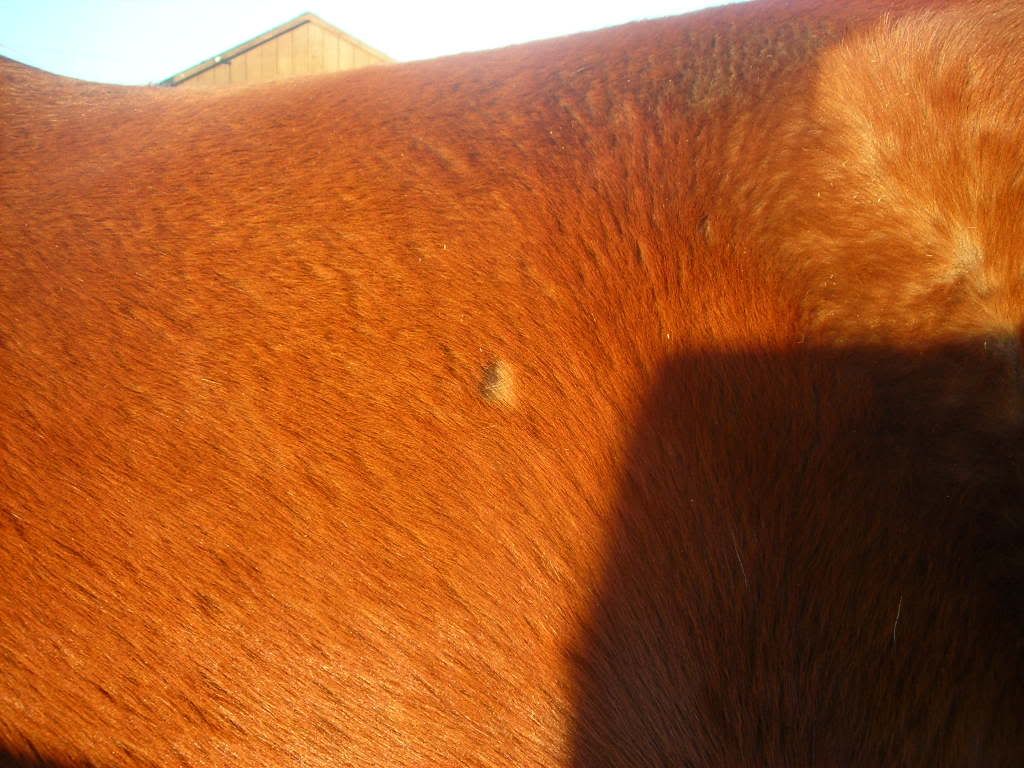 it looks like rain rot to me.
When you rub you hand over him (by those spots) do you feel more bumps?
Montana had rain rot and Vega's is going away.
I found that spraying a medicated spray, as well as currying the areas (to get the scabs and tufts of hair off of them) really helped.
Hm, I'll rub the area around the spots today to see if I feel more. Thanks!
Im not sure if it is rain rot but my horse just had about 5 of those spots too, i just peeled the layer off dead stuff off and i applied MTG on it and they were gone within a week
It looks and sounds like rain rot to me. I agree with appylover, when you run your hands over his skin, do you feel bumps? My girl has had rain rot a couple times -- it's a pain, but not anything to worry about. I washed the affected area with Mane & Tail Anti-Microbrial Shampoo and it worked great. Work it down into the coat and let it sit for 10, then rinse off and try to peel off the scabs. Rain rot is yucky and gross, but your horse will be fine.
*Also, you may want to consider a rainsheet if he's exposed to lots of wet weather outdoors. Some horses are sensitive to wetness.
---
"'For I know the plans I have for you,' declares the Lord. 'Plans to prosper you and not to harm you, plans to give you a hope and a future'" ~ Jeremiah 29:11
Isn't rain rot usually along the topline though? A horse in my barn used to get something like that - I think it was just some kind of fungus. I believe they did use the MTG also.
Another horse at a nearby farm got it just this wk now and they have started using MTG and it is already clearing up
At the risk of sounding studpid - what is MTG? It may help me too with a similar problem...:)
---
Half a tonne of raw power, spirit and grace between your legs. It's something you just can't get from a pet hamster.
I know exactly what you are talking about. My OTTB, whom I've had for only a month or so now, has the exact same stuff all over him. The little scabs are rainrot, a form of dermatitis. From just a short amount of time my horse's skin has been looking so much better.

First, I put him on the Panacur PowerPack dewormers. It comes with 5 doses.
Everytime I ride, I curry him really well, use a dandy brush with the curry, and then top it off with a rub from the soft brush. My vet gave me these rags called "DermaCloths" and they have also worked wonders. I also reccomend an iodine bath or betadine scrub.

Always make sure to wash your hands everytime after you have groomed, and wash your brushes with soap about once every 1-2 wks. This makes sure you will not catch ringworm or spread it, because ringworm is commonly connected to dermatitis.

Hope this helps,
E
Similar Threads
Thread
Thread Starter
Forum
Replies
Last Post
Skin of their teeth

Sara

Horse Videos

7

10-16-2008

04:11 PM

Skin problem

Micki O

Horse Health

8

05-12-2008

11:35 PM

Skin problem

gomez

Horse Health

3

05-02-2008

06:53 PM

Skin Condition?

nitrors4

Horse Health

13

03-30-2007

03:58 PM