So this is what happened.... ***GRAPHIC***
---
So I was training this little 4 yr old paint for another trainer. Had her walking, trotting, stopping, pivoting, sidepassing ect.. She was very willing and never offered to do anything. Well the other trainer needed to get another job and in doin so downsized on his personal horses. He gave this one to a lady under certain terms.
This lady is green to horses and was suppose to get a trainer to work with her and the horse. Well she decided she was gonna take this green horse (never worked outside the round pen) on a trail ride with a shank bit (she had never had more than a snaffle).
Well they cam across a herd of goats and the horse stopped and wouldnt go any closer.... well the lady kept pushing and pushing. Well the horse started to back away from the goats, and when she did the lady yanked back. Well the horse came up and the lady fell back and pulled her over backwards where she cracked her poll. Got on and did the same thing AGAIN. So when she was trying to lead her home.... everytime shed pull the reins the horse would go up.... because of the pressure on her wound.
Well she took her home and put SALT on it....
Needless to say she wouldnt let her doctor her again and she would call the vet....
Two weeks later we get a phone call from the lady telling us to come get the horse shes crazy, cant lead her, cant doctor the small cut on her head. She told us she hadnt done any doctoring to the cut since the first day.... When we got their she showed us a video of what happened. (apparently a friend was there and recording)
Well here are the pics of what we have after we cut the mane and forlock off... (it was crusted with puss on top of the wound) we couldnt even see how bad it was......
(SORRY FOR THE NOVEL)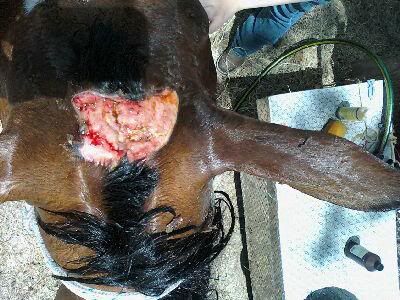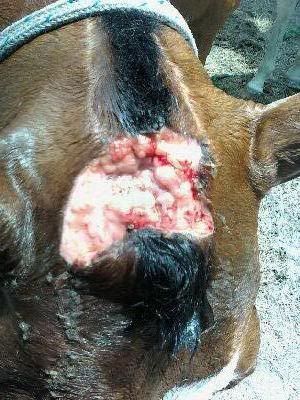 Yikes. Good luck with the wounds... both physical and mental
.
Just a side note, I am so happy to hear that people stand behind their horses and take them back... even when the horse did nothing wrongand the owners are idiots...
Banned
Join Date: Jul 2009
Location: In a land far far away, or so I wish.
Posts: 12,825
• Horses: 0
Healing vibes for that poor horse.
Oh man, thats ugly. I guess the good thing is the horse is back. Will you be able to take up training her again?
Thanks guys. This is when we first got her back a week ago. I will have to get some more pics. Its actually healing really well. And she taking everything like a champ (except she does hate the penicillin shots... but I cant blame her there). So far there seems to be no mental damage. She walked right in our trailer no halter or nothing. And she is still as sweet as can be.
Sorry to double post. Yea.. im sure Ill start training her once it heals and her polls not sore. So im not sure how long that will take.
That is one ugly wound! It is so good that you got her back and she obviously trusts you. She is a sweet horse and didnt deserve that! But that lady didnt deserve her either. Will a chiropractor check her out before training starts again. sounds like you had her going nicely.
Yea... her owner is a certified massage therapist and Chiropractor. He is also a trainer. He just is short on time for his personal horses... so I help him out in exchange for free work on my horses. lol.
Im glad shes in good hands......
Eh! (((hugs))) good luck and make sure it doesn't get infected :(
Posted via Mobile Device