Ryle, have a follow up question on your post because this always bothered me.

We don't pick off scabs, but I mentioned in my post...

"...and (if the cut) is in some place that they always rub and constantly irritate, keeping it soft with something like neosporin for a week or two lets it heal. If it really scabs, they just wind up scraping it off and making it bleed again.".

Is there a better way? We only seem to have this problem when the cuts are in a place like the flank that they rub (itchy, I assume) against a fence or tree....

Thanks
Sonny Wimps, Is it possible to put a breakaway halter on him when he's out and make a loose browband of hay strings with little danglies that cover his eyes? And maybe the same thing for the nose piece?
After reading that, it is not really a good description, here is a picture of what I'm trying to say: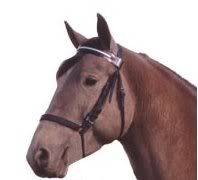 ETA: cotton string would work better than hay string
---
kickshaw
Justin (qh/tb)
Boo (asb)
well I got some fly lotion for his face that seems to be doing a good job...

are flys around and on their face particually bad for them? Wasn't sure if it's more of something that the horses don't mind and wouldn't hurt them....

Also, his cut IS HEALING! It's finally looking better and the flys and bugs are leaving it alone...I guess only time will tell if there will be a scar there
Yayy, I'm glad to see it's healing! :)
---
Ride more, worry less.