Spots, scabs and swelling on face
---
Hi all...
Just wondering if you guys would have seen this before?
He's a 7yo TB, healthy, wormed yadayada... Tuesday PM I noticed these spots/ scabs on his face, the scabs pulled away easily so I cleaned them up (revealling nice clean skin underneath) and put on some betadine. Next day looking good. Day after scabbing and weeping again with a few more noticed including a couple on top of his foot. Continued to betadine.
Temp fine, good spirits, eating and drinking, resps fine. Only on face and top of foot. Other horse - nil signs of smiliar spots.
This week it looked like it was healing with the betadine, besides the second weep, then this afternoon I noticed some small swelling under his chin, on his nose and cheeks (well next to his muzzle). I rang the vet, we are new to this area and the first vet was ever so rude. Rang the other vet (only two within several hours) who was helpful, ran through things with me and told me it is likely to be a reaction to something he found in the paddock.
Now I know everyone is from different parts of the world, so different weeds etc, but thought someone may have possibly seen this before to tell me what I need to find and kill (weeds).
He's moved here from interstate four months ago. Haven't noticed any bee hives around. He does eat everything - weed, branch and whatever looks tasty enough to try. Looked for and found no St Johns Wort.
Any other ideas?
PS he's on some Bute to reduce the swelling, the vet thought it should go down in a day or two, but if any worse tomorrow I'll call him out (and pay the several hundred bucks it will be on a Sunday)... Heart rate and resps good - not sweating, not distressed, still eating and drinking great and no swelling near neck... Don't think it could be rain scald/rot as some of the scabs are right up under his chin (where rain wouldn't go unless he was upside down)...
Sorry for long post but I thought better to give all the details...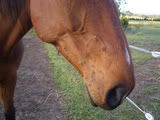 Sorry not sure how to resize the photo.... But at least being big you can see what I mean.
not sure what the bugs are like where you are at the moment, but we had several thoroughbreds have allergic reactions to midge/gnat flies last year. It looked very similar to that photo and was in the same places too.
Posted via Mobile Device
Yeah the bugs have certainly picked up their act with the warmer weather coming on and the recent wet wet winter, but would bugs account for all the spots to show up in one day and not have any on his body, neck or legs (other than top of front foot)? I would have thought you'd get a few bug spots at a time..

I actually do think the bugs were worse when we were in Qld and he didn't have it there... I'm thinking of getting the vet out anyway to find the cause if he can - but just not on a Sunday when it's well over $300 just to come out - May wait till Monday for that...
How long from the time of the last worming until you noticed these spots?
If a month or less what did you worm with?
I have two theories but they might be worthless depending on your answers
I do worming stictly every 6 weeks - the spots were 3 weeks after the last worming... I had thought ring worm though as this isn't treated in the worming paste, but being so contagious it would likely affect both boys if this was the case, but the other boy is fine...

I currently use Valumax - Red Tube, and will change their wormer in another 2 doses (as per schedule).... Valumaz Red - abamectin and praziquantel