The Story of Mouse - 20 yr old rescue mare
---
Mouse's story is, as many are, a pretty sad one that once began in a much different manner. Mouse is a 20 year old grade Quarter type mare who was rescued (quite literally) by my neighbor. Her previous owner was pregnant and in a very abusive situation. She managed to run but Mouse was left behind for a while until she was able to be rescued by my neighbor one night last week. Now she's quite literally homeless and owner-less. She's stuck in limbo. Which is where I came into this story.
Now Mouse had a very different past. She was once a mounted prison or police horse (not sure the exact details of the story) who served for several years and then was retired where she then switched owners. She's absolutely the sweetest little mare with the saddest eyes. She is said to be bombproof and has had too many trail, parade, and show miles to count. Her teeth are about the only thing that received recent care and are actually great for her age.
Her coat is coarse and still shedding in the 102 Texas heat, so I know she's wormy. She's 100's of pounds underweight and she has a laceration on her back hock from a kick that's been swollen without heat. So overall...she needs a lot of TLC.
I'm now in charge of her care despite countless protests that I couldn't handle another project (I'm preparing to train my weanling for show season and riding my green mare), but after an offer to be helped out financially with feed, I agreed to dedicate the time and effort to help at least rehab her and decide her future when she's healed.
I don't know where this little mare will end up or how this journey will end, but I'm glad that for now she's somewhere where she can live a pain free life with a fully belly and some loving attention.
This is Mouse the day I met her. I'm hoping to keep updates, but wanted to share her story and open this thread to ANY advice. Our vet will be out Monday (She's not currently signed over into my ownership and is being cared for by the lady who rescued her) to check her over after her laceration and to also give input on feed, but truly, any advice out there is appreciated! Her back hock is where she was kicked and her whole back leg from the hock down has been swollen but without heat. The swelling is better today after cold hosing. She's also getting a bit of bute for inflammation.
So. Advice:
1. Any feed regimens for a senior you've found especially beneficial?
2. How is it best to work worming back into an emaciated senior?
3. Any additional ideas on keeping her comfortable until the vet is here? No limping, no heat, just swelling.
ALSO! Her name has been Mouse as long as we know of, but she's getting a new start, so any name ideas??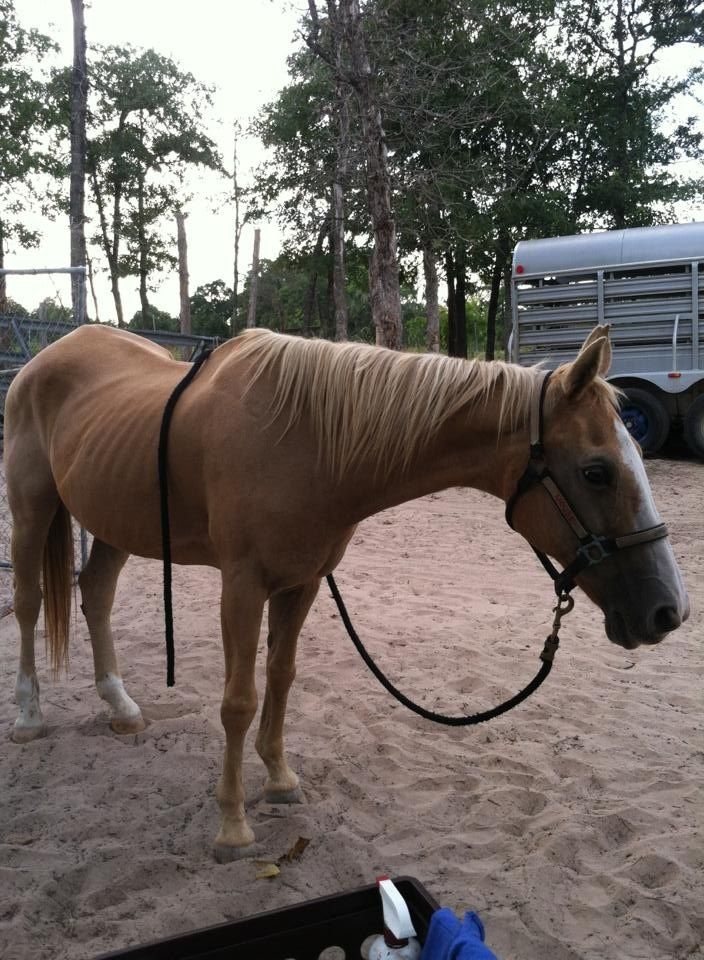 Note: THIS IS NOT MY PROPERTY OR MY FENCE, SO PLEASE NO FENCE BASHING. Not the point of this thread.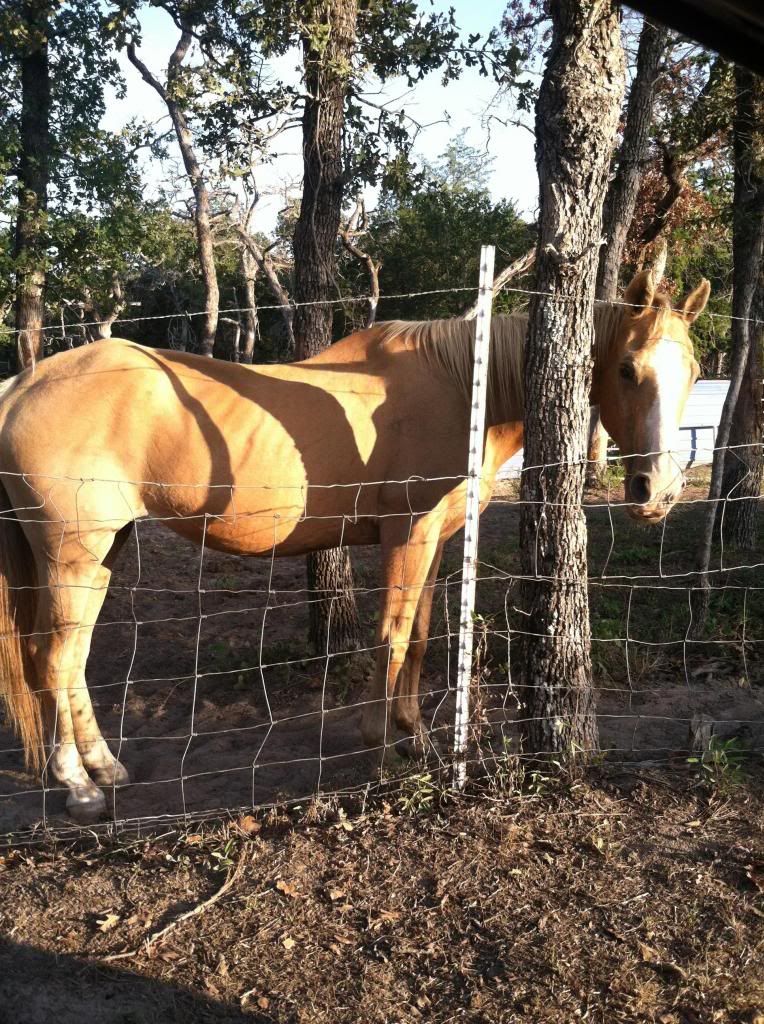 ---
Riding: The art of keeping a horse between you and the ground.
Very pretty girl. I have had a couple mistreated senior horses and I will give you my advice.
For feed: We fed twice a day, on constant pasture and hay. Oats are great for getting a horse to gain weight. Try mixing them with a 10% feed. And alfalfa cubes are awesome!
For worming: I recommend going by her weight. Zimectrin gold is great and covers more than other wormers.
For her injury: Hosing her with cold water will help a lot. From keeping the wound clean to helping swelling and keeping her cool. And always give her lots of LOVE!

I hope she gets better! Good luck!
She looks like a sweetie, so maybe call her Honey?
I'm sure she's feeling better already
Teen Forum Moderator
Join Date: Dec 2010
Location: South East Texas
Posts: 7,157
• Horses:
2
Poor doll. I'm glad you took her in.

Lots and lots of hay and alfalfa pellets are your friend. I would suggest just pellets because of her age but if her teeth look great, the actual forage is better for her. I'd probably give her half and half. I'd actually stay off of the grain if possible and see if she gains on just free fed hay and maybe a ration balancer like Enrich 32, and if she doesn't, put her on a senior feed. Be aware of the fact that those have beet pulp, molasses, and forage mixed in with them.

She isn't dangerously underweight (but definitely too thin by far) so I actually think she might do just fine on lots of hay.

Just an idea, but if you can't keep her and you can't find a pasture puff retirement home for her, you might look into donating her or leasing her out to a therapeudic riding facility. Being that she's pretty much broke to death, has already had police horse training, and is older and more apt to be on the slow and easy side, she might be a fantastic therapy horse for at least a few years. Sometimes the light exercise (most therapy horses do no more than a few hours of walking a week in an arena or trail) is beneficial to them as well.

Lastly, for some reason she looks like a Cassie to me.
---
Everyone in your life is meant to
be in your journey, but not all of
them are meant to stay till the end.
Update: We had a vet out about a week ago to look at Mouse's wound and determine what was going on. She was diagnosed with a tendon sheath infection. The wound has to constantly be opened, flushed, and she's being treated with antibiotics aggressively. The first few days she was absolutely dead lame.

Fast forward to yesterday/today: She is responding SO well to the treatments and feed regimen. Slowly but surely her ribs are less pronounced. She is now bearing most of her weight back on her injured leg.

I told my Texas horse friends that I was so worried because there was just no life and energy in her eyes, but it's coming back and she's truly fighting this. I had given her little to no hope of pulling through, but she's fighting. She now meets me at the gate and neighs for feeding time. She stands so well to have her leg drained, cleaned, and dressed.

Oh! And she has a new name. I decided on an "M" name to help the transition go easier for her. Her name is now Maisy. <3
---
Riding: The art of keeping a horse between you and the ground.
Teen Forum Moderator
Join Date: Dec 2010
Location: South East Texas
Posts: 7,157
• Horses:
2
Oh wow. I'm so glad that she's doing so much better. She is so lucky to have you guys and I LOVE her new name! Go Maisey!!!
---
Everyone in your life is meant to
be in your journey, but not all of
them are meant to stay till the end.
Just thought I'd give some pic updates of Miss Maisy! She came to live with us at my place on September 5th officially. She lives in my front yard, literally. lol She is now showing absolutely NO signs of lameness on her leg and it is healing wonderfully. The infection is gone and now the wound has begun to close up. I used wonder dust as directed and the proud flesh has begun to subside almost completely.
She now gets excited when she hears her feed being prepared and literally canters around the yard waiting. She has so much life and energy and happiness. Her coat has finally shed off all the rough excess hair and is smooth and slick. Even the shade of her coat has changed from a dull cream to an almost golden color!
The vet came out to OK the farrier to work on her hooves now that she has mobility in her leg, so she'll be getting a pedicure this week and after that he said she's gained enough to start doing some ground work and introducing her to a light rider! I'm so happy for this old gal. Here's some photos approximately 3 weeks after she began her feeding schedule with me. She gets 2 (2 quart) scoops of senior feed with a bit of oil in the morning, free choice hay, and another 2 scoops of senior feed plus 1 (2 quart) scoop of alfalfa pellets moistened in the afternoon. So! Here is her progress thus far!
Week 1 (September 6th the day after being brought to my house): We continued to clean and flush her wound and used a warm soaked poultice for several days wrapped up for 12 hours with the poultice then taken off and cleaned and let air dry.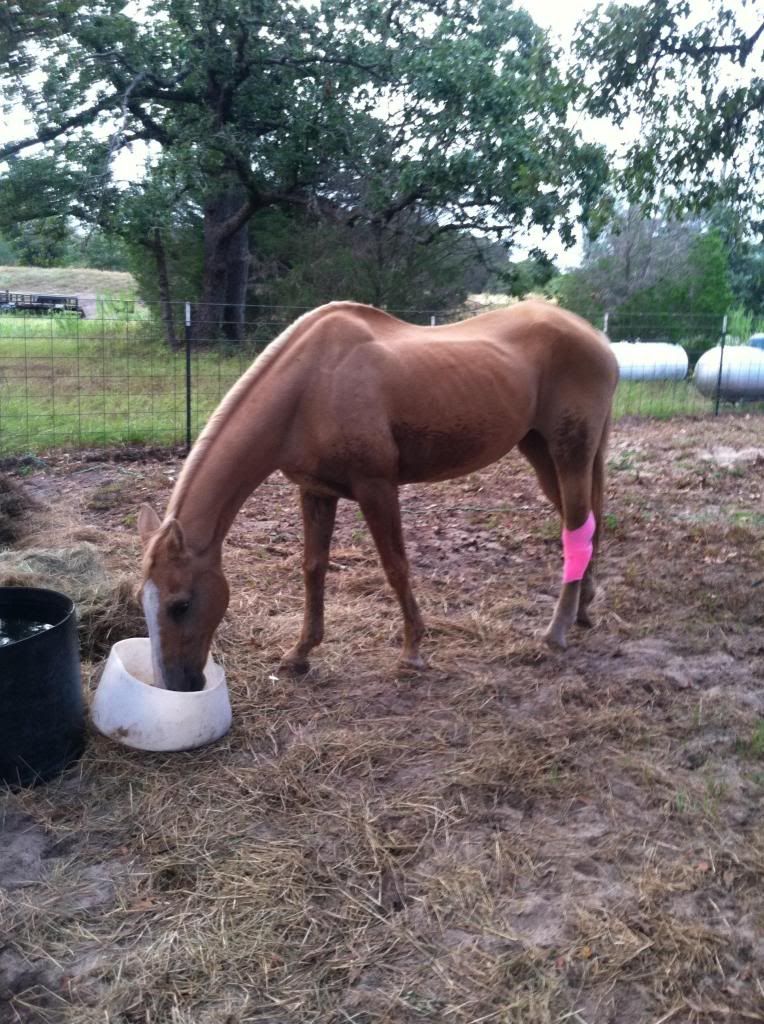 September 12th: Almost a week into being with us and just about two weeks on senior feed and alfalfa cubes. You can see the wound has closed. The greyish tint is the stain left from the wonder dust.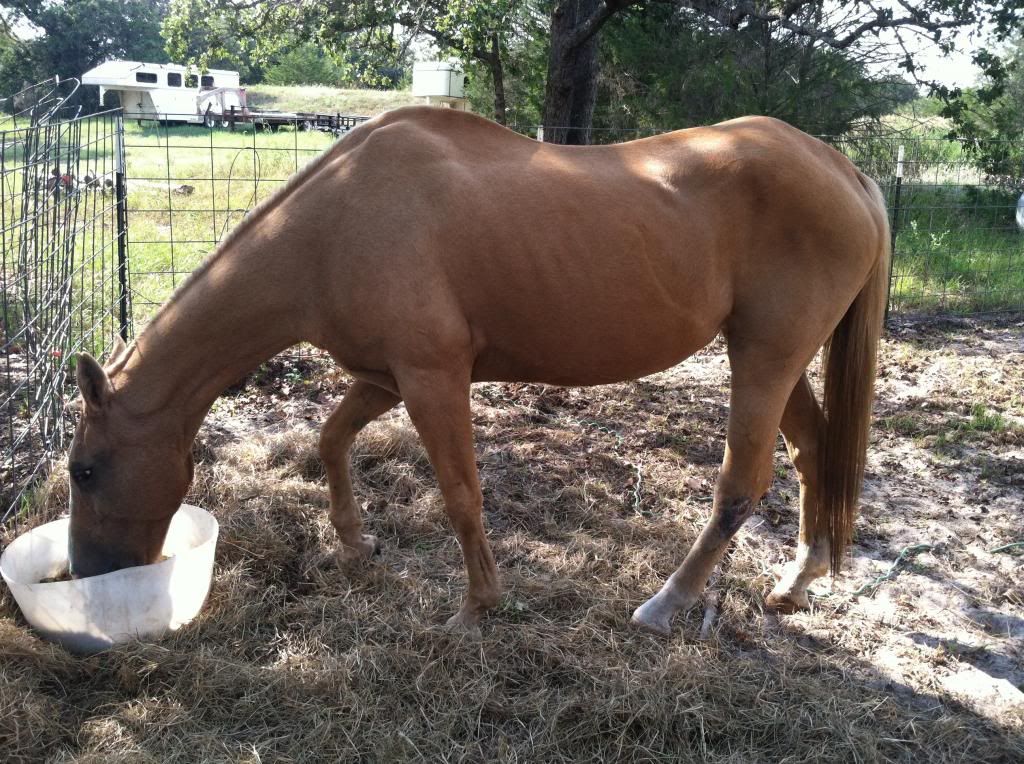 And September 16th! You can see the difference in her coat quality from the picture on the original post to today. She has a sheen to her coat and she's filling out REALLY well!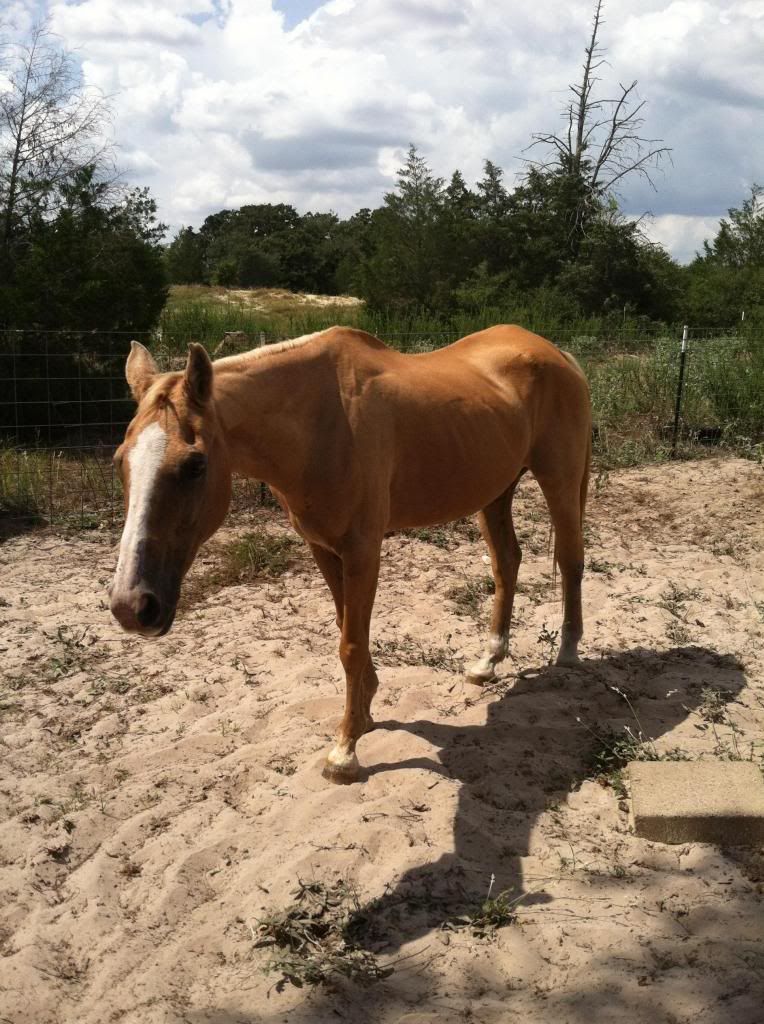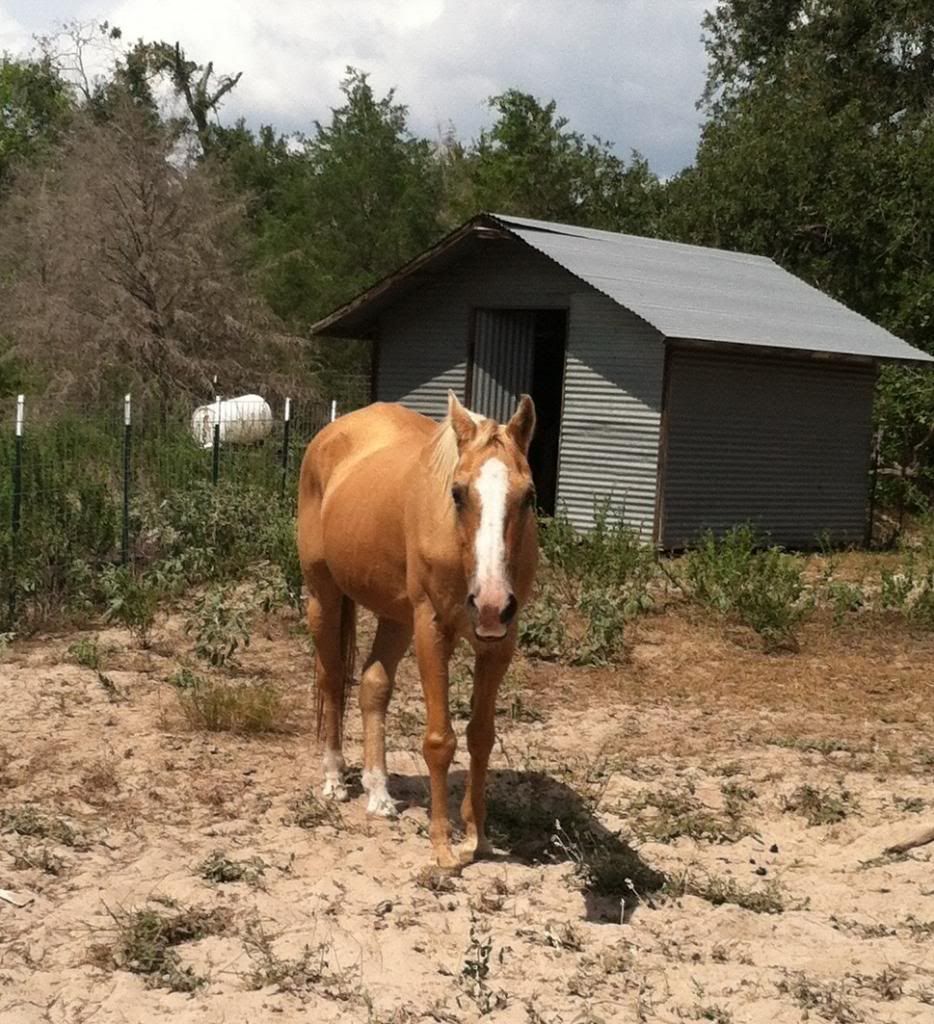 I'll keep updating this week when we start doing some ground work!
Also, any suggestions for joint health for senior horses? Our gal is not having a lot of mobility issues, but you can tell she has some knobby knees that are bound to be slightly arthritic.
---
Riding: The art of keeping a horse between you and the ground.
Trained
Join Date: Sep 2011
Location: Hour and a Half from Town!
Posts: 6,324
• Horses:
2
Well done Thirteen! I absolutely adore her, reminds me of my departed Rooster bred gelding.
She is looking excellent and you can see it in her changed expression!
Posted via Mobile Device
Wow, I love her color! Everyone else has given great info, and my dear boy is a rehabbed senior as well. I put my boy on this supplement, and at 18 he is jumping, playing, and doing dressage!
Equine Joint - Hoof - Coat Pellets
Quote:
Well done Thirteen! I absolutely adore her, reminds me of my departed Rooster bred gelding.
She is looking excellent and you can see it in her changed expression!
Posted via Mobile Device
I have no idea of her breeding. She's as grade as they come with not much history that I can find yet. Hopefully some of her past will one day reveal itself.
The greatest change in her is definitely in her will to live. The first few days she was at my neighbor's, they had to literally help her to stand back up after she'd lay down. She would lay around in pure exhaustion many times a day. Now it is hard to keep her from trotting around, neighing happily when we open the door. lol She has even learned to knock on the screen door when she's ready for breakfast by pushing her nose to the glass.
She LOVES my daughter and my daughter has already claimed her. Ana (my 5 year old daughter) will be outside in the front yard playing with her toys and Maisy is right beside her watching. It's been a great process for them both. Ana has helped every step of the way with feeding and watering her and watches me doctor her wound curiously, soothing Maisy when she gets antsy by talking to her.
I think this is the beginning of a great relationship for the two of them. =)
---
Riding: The art of keeping a horse between you and the ground.