teeth
---
Sooo I was looking at gidget's teeth and she needs them floated!
They have huge rivits infront..looks gross...anyways her teeth weren't like this. The dry lot has granite and I feed her on the ground but wondering if I should start putting her in a stall to eat or lay down a mat or put it out in the pasture for her to eat...i am thinking the granite is doing no good to her teeth..what do you think?
The vet said she is about 10 years old. She isn't dropping any food but again I have to wet her food down and so it's a mush when I give it to her.

Who believes in floating and who doesn't?
*Every* horse needs to have their teeth floated at some interval.. I don't think it's something that you can really afford to 'believe' in.

You can put her in a stall to monitor feed intake. But if the ground isn't sand, I would be OK with it.
Generally speaking - we get the horses teeth floated at least once a year. Your Friendly Horse Dentist shoudl be able to tell you how often your particular horse will need its teeth done though
---
~*Real Horses Weigh A Tonne*~
I'm sure that 99% of the folks will tell you to float teeth at a regular interval, but it really depends a lot on the horse's diet. Many horses that are strictly grass/hay eaters that have a lot of chew time rarely need their teeth floated. I would certainly do it if they needed it, but our mares (6/8/16 yrs) that are on free choice hay have never needed it done.

BTW, I don't think the granite has anything to do with it.
---
On the sixth day, God created the Quarter Horse.
On the seventh day, he Painted the good ones.
alright. I was curious on what you all thought.I am not trying to squeeze by and not get her teeth done because well I believe they need to be done. Some people say that you don't need to...I disagree. Anyways I will see if I can get a picture tonight. should be interesting
No one should NOT believe in getting horses teeth floated. It is something that really should be done and for some horses is a MUST. I know what you mean though, there are those people that think it's silly and too high maintence...psh. We have our horses done once or twice a year, but before that I don't think they ever got done and one of them is 25! (that's like 23 years of not having her teeth floated! EEEEEK)
---
passion is when you put more energy into something than is required to do it. it is more than just enthusiasm or excitement, passion is ambition that is materialized into action to put as much heart, mind, body and soul into something as is possible. // <3 starlite - dream - lady - georgia
Teeth should be checked annually - like when they get their shots each spring. Some horses need checked more often - like young horses who are still cutting teeth or cribbers or older horses who have missing teeth. These may have real problems if they aren't floated. The tooth opposite the missing tooth has nothing to 'grind' against so it gets long and interferes with the chewing/grinding action. That in turn prevents the horse from digesting the feed properly so it may have health problems or problems keeping weight on.

If horse owners don't "believe" in dental care for their horse, it's because they are uninformed -- or unwilling to pay the money to have it done, and therefore an irresponsible horse owner. Once you see the cut and scarred cheeks inside the mouth of a horse who has neglected dental issues, you will be a believer. (Sorry for being on a soapbox!)
---
Last edited by Ladytrails; 11-06-2010 at

10:59 PM

.
I agree with all of yall and in my Veterinary college anatomy class someone asked " what about the horses in the wild?" The non equine teacher was even like "they don't live as long as the ones in captivity".

Dogs should get it done too.

I think I paid $75 for my mare to get hers done.
here are pictures of her teeth. Are these considered bad?
I think they look horrible. Going to see if I can get the vet out soon.
Oh and one time she bit down on a rock..not sure if that could have chipped her teeth.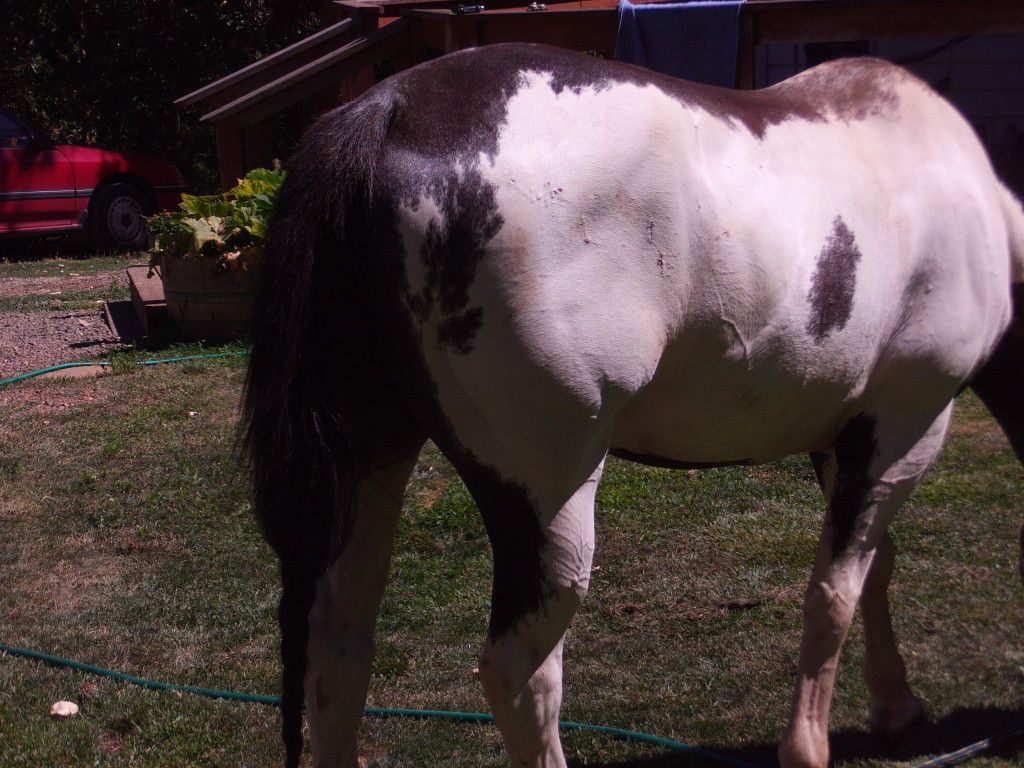 It is not the front teeth that usually are in need of the float. It is the molars. They get sharp hooks, and things called ramps, waves, and steps. The vet will work on the front teeth to. But that is usually minor to the work the molars need.
Sharp points can cut the inside of the horses mouth, and the uneven wear can cause difficulty in chewing, and loss of the amount of nutrition the horse gets from its feed.
Similar Threads
Thread
Thread Starter
Forum
Replies
Last Post
Teeth Help

welshies rule

Horse Health

11

03-25-2010

04:22 AM

Does Sky need his teeth done?

Pro

Horse Health

7

02-15-2010

09:57 AM

Teeth = Age?

Rissa

Horse Pictures

3

11-17-2009

09:22 PM

Teeth ...

kchfuller

Horse Health

15

03-29-2009

09:36 PM

Teeth

horse_luver4e

Horse Health

3

12-31-2007

12:37 PM