Is there a fungus among us?!
---
Ah, spring. Where the weather's crazy and the skin don't matter.
So my girl has always had some skin issues. Every spring when she starts to shed, her skin gets pretty flaky in areas, particularly between her front legs and on her lower legs. She will also lose hair in clumps on her lower legs until she's got these bare-ish, flaky areas. No heat, has never bothered her. I've tried cleaning regularly with betadine, as well as fungus killers like fungasol and banixx. No luck. Anyone ever seen something like this?
She also has something that may be related, may not be. She's also always had scabs on the fronts of her front pasterns. They never go away and will occasionally get ripped off and she will bleed and they'll scab back over very quickly, even if I clean them regularly and put wound ointment on them. Last time the vet was out she said they were likely never-healing wounds, maybe from some injury years ago. However, this year she also has had scabs pop on her back limbs (albeit smaller and in different spots). I'm thinking fungus again...maybe I'm not being religious enough with my treatment?
Below is a picture of the flaky baldness that plagues us every year...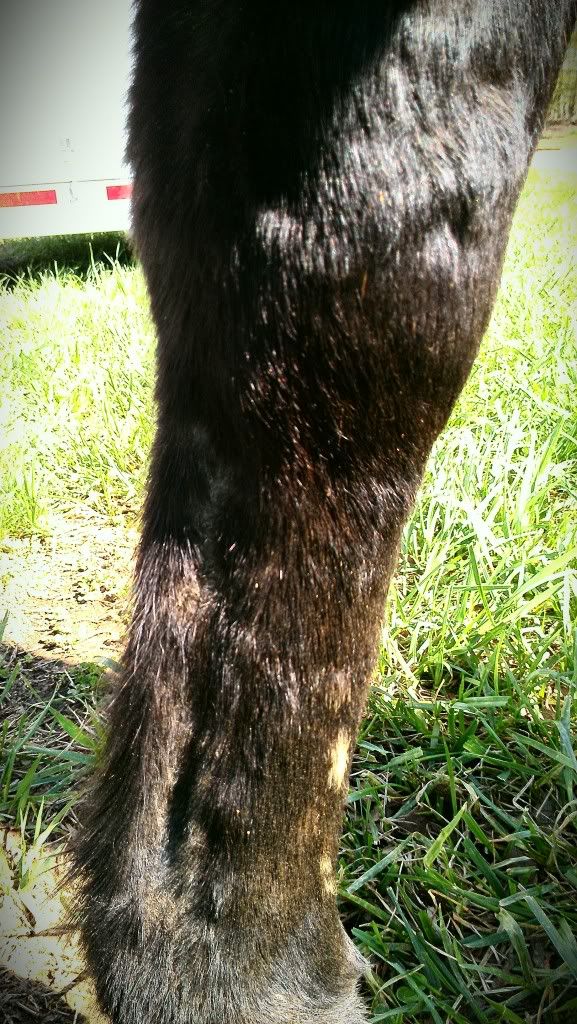 Posted via Mobile Device
Oh and I want to add that the vet is coming out Monday for spring shots so she will be checked out then :)
Posted via Mobile Device
Has she been kept in any mud? Or very wet areas? Fly situations?
Quote:
Has she been kept in any mud? Or very wet areas? Fly situations?
Very little mud as her shelter is in a lot with great crushed gravel, and pasture is all grass. Normal flies but I keep her sprayed. She also has the bald spots year round but it is most noticeable in the spring and summer.
Posted via Mobile Device
Hmmm. Is he kept in a grassy area? I know in spring the excess dew on grass can cause rain rot like symptoms. My horse gets these on his chest, I normally take a curry brush and rub away the scabs to provide air. It seems to heal more quickly. I don't know exactly what it is.
What's her diet like? Vitamin/minerals deficiencies can leave horses especially susceptible to things like rain rot, lice, etc.
Yep, she's out on full grass 24/7, but the grass only started coming in this past week or two. She only gets a handful of Strategy twice a day to keep her happy while the other horses eat, and she has access to an EquiMin block. I've considered adding an omega supplement to her diet...maybe rice bran or a pre-made omega supplement. Maybe this will help?

Oh I forgot to add that she also has free access to good quality round bales, but I don't know what the nutrient breakdown is on that. Please don't think she doesn't get forage in the winter!
Posted via Mobile Device
Bump! As I'm curious about the lower leg stuff
Posted via Mobile Device
Similar Threads
Thread
Thread Starter
Forum
Replies
Last Post
Can't get rid of fungus

Sage1

Horse Health

15

10-02-2012

11:44 PM

Fungus?

JSMidnight

Horse Health

3

06-11-2012

11:57 AM

Fungus?

Hailey1203

Horse Health

12

05-10-2012

11:11 AM

Fungus?

Runkio

Horse Health

4

03-27-2012

10:42 AM

Fungus on Leg?!

mudpie

Horse Health

7

02-02-2012

06:05 PM