when i moved from canada to kansas i didn't think my horses here would need winter blankets, so i gave them away to a canadian horse rescue because they where needed, i watch servral times over the winter abby and star huddling for warmth, i kicked my self for giving those blankets away, but you know what it was worth it, some where in canada on a -20 c night a rescued horse has warmth. that's the way i see it
---
HOME IS WHERE THE HORSE IS.........
If
you would take the time to visit our website you would realize the actual story, but it's a lot easier to pick and complain at people that are doing hard work making a difference in horses lives.
Originally 10 horses were earmarked for rescue, but thanks to the generous donations of horse lovers and the Tazzy Animal Rescue Fund, (
www.tazzyfund.com
) we were in the end able to rescue many more this time.
Rotting in a field of pain? What does that have to do with the topic at hand? Very confusing. These horses are placed only in carefully pre-screened adopters (much closer than BLM) and so does the other rescues that these horses that are saved are going to.
Quote:
Half the horses that go are in terrible shape.
How many feedlots have you visited? The feedlots
want
fat, healthy horses that are able to make the 3 day trip without dying first. Mexico will take whatever is still breathing, but they pay a lot less than Canada. Many breeders over in Nevada (and I'm sure all around the nation but I cannot say that for sure) breed horses that they never plan on doing anything with other than cashing in for slaughter. Is it the horses fault they were born?
Quote:
As I said before I have personally rescued many horses. I would go to the local auction and try to pick out 1 or 2 horses that I thought would be able to be saved. Quite often I was bidding against the slaughter buyers (back when it was legal) since we knew who they were.
Bravo for you! That is
exactly
how we got started, but if you're not careful, it will snowball until you are organizing multi-dozen at a time rescues. Note our saying below our website address in our signature...
ok norcal....wait a minute i know for one thing tx and i live in area's that have them, i'm 30 miles south of dodge city ks, my county alone has 2 large feed yards (over 40,000 head) i personaly have been to both because my daughter is a 4-her and also my newphew worked at one and the only horses there were for the pen riders....i take a short cut from dodge city to my county i pass another (no horses in a feed pen there........i pass by ingalls feed yard on my way to garden city (250,00 head of cow to feed) and no horses there!!! pen riders only and those guys bring there horses in, it's not uncommon in my town to be stopped at a red light with a line of cowboys and there trailer (with work horses) waitting for it to turn green, so yeah i know what those feed yards are
---
HOME IS WHERE THE HORSE IS.........
I apologize for any misunderstanding, I am reffering to horse feedlots, not cattle feedlots. Horse feedlots are where horses destined for slaughter are stored until a truck can pick them up. Thankfully illegal in California, but not so in Nevada.
We are
not
talking about saving horses from cattle feedlots, but from horse feedlots. Quite the big difference, quite clear in my mind, unfortunately did not come through the computer. :( When you see a small yard with over 100 horses crammed in less than 1/4 acre, you know it's a horse feedlot.
Here is an interesting artical regarding a horse feedlot in Montana.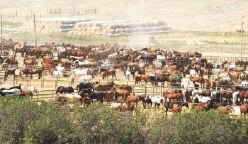 http://www.kaufmanzoning.net/horseme...ne08102003.htm
They had 2200 horses on only
three
acres!
and you know what! any sheriff dept would stay away from that....as you can see in the back round, they have hay, to them they are being feed, scarry how your local sheriffs dept will think i know that's the problem with ours
---
HOME IS WHERE THE HORSE IS.........
If you save all the horses then my horse will be worth how much less? I don't want to sound mean but if everybody has a horse they don't want then they will not buy new horses and then they will not spend the money on a horse they don't want, and then nobody will pay me to train there horses. That is all because people breed junk horses. There are a lot of people out there that will not eat today and a 1000 lb horse could feed a lot of people.