Green Broke
Join Date: Jan 2010
Location: south of nowhere, north of nothing
Posts: 4,643
• Horses:
6
For Shame NBEventer! how could you miss that memo?!
i see a lot of arab "haters" but not OTTB's.. Keeping my eyes peeled.. i had a bad experience on an OTTB, but i rode that same OTTB and had good experiences, lol. Depends on if she took her meds that day.. *joking* She was awesome, but could be -in the wrong hands- very dangerous.
Posted via Mobile Device
Wait... I didn't know this was happening. Heck, judging by the responses, it ISN'T. Maybe YOU should get YOUR facts straight? Most of us have nothing against TBs (though would not recommend them for a beginner). I haven't seen any of this hate you talk about.
Who's pointing fingers?
---
O-Ba-Gee-Ba-Jabba-Joy!
no thbd hating here.
---
OP,
I think you must have had some bad experiences with other forums. I do not see anything even close to Thoroughbred discrimination here.
There are , at times, threads where we see a young, inexperienced ownder whose first horse is an OTTB, and whose struggling with it. I guess maybe thats why you are feeling defensive?

There are some folks here who kind of "specialize" in getting OTTB's to morph into good riding horses. It's not something every person can do and is not always easy or successful. Any horse that has been trained to run as fast as it can when a bell rings and a gate slams open is going to need some real readjustment if it becomes a regular riding horse. Pair that with a green rider and there is no doubt that the chances of trouble is higher than average. But, being aware of that and talking about it is by no means HATING.

Perhaps you'd like to explain about YOUR horse and what you've done to change your horse from an off the track to a regular riding thoroughbred
Iv been on this forum for a while now never have seen any ottb bashing on here. So think you need to do some reading on here.
I also don't know what you're talking about.
Who loves TBs? :]
This is a thread I made years ago. There have been many more since.
---
"There's nothing more humbling on the planet than horses." --Sean Crocker
Teen Forum Moderator
Join Date: Dec 2010
Location: South East Texas
Posts: 7,157
• Horses:
2
Well snap guys, I didn't realize we hated throughbreds here! And here I am spending thousands of dollars rehabilitating a sweet little TB filly for nothin'. Lets not forget all of the money making sure they're stuffed full of yummy things and tucked into their blankies when its cold outside...

QUICK, what should I do with the five that we have on our farm right now?! Dig a big hole? Maybe let them out on the highway?


In all seriousness though OP, I honestly don't know where you're seeing the Thoroughbred breed bashing either. I LOVE our Thoroughbreds. Not because they're thoroughbreds, and not because they're not. Just because I think as individual horses, our TBs are intelligent and very sweet animals. I mean sure, they look a TAD bit odd in a pasture full of big-butted Quarter Horses, but they've never complained about it and neither do we ;) Heck, one of our best lesson horses is a TB, as are two of our ranch horses, and two of our yearling!
---
Everyone in your life is meant to
be in your journey, but not all of
them are meant to stay till the end.
Hey you are all getting at me again, Appys and Arabs, yeah that's what I have.

Personally I blame the ponies
Quote:

Personally I blame the ponies
*Nippa bats eyelashes*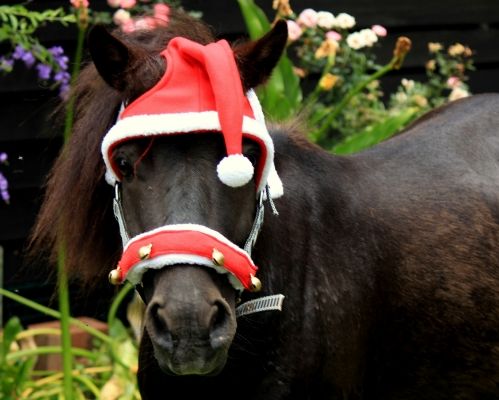 Yeah, you're right. Its the ponies.
---
Flirt-Hugo-Phoenix-Romance-Fanta-Nippa-Shiloh

Trojan 09.11.02 - 26.10.10 // Kody 01.09.89-25.06.12 // Rex 05.11.95-21.12.12