Treating an injured hock
---
Some of you probably seen my original post about my mare being injured.
completely freaking out
I went to pick Rumor up today. I sent Chilly to take her spot for training. Anyways, I got Rumor and placed her in the stall there so I could bute her and rub a liniment that my vet gave me on her before hauling her home. I was very nervous about the trip, I know she's in a lot of pain right now. I can only imagine.
After being in the stall there for a maximum of 10 minutes, Rumor was so stiff that she could barely walk when I went to lead her out. Completely dead lame, 3 legged horse. After 100 yards, she did loosen up and by the time we made it to the trailer, there was a limp, but she was placing weight on it. She loaded in the trailer good. Never hesitated. Which I was very proud of. She hauled really good too, didn't fuss or move around much.
I unloaded her and she almost tripped when her back legs touched the ground, but she regained her balance and wasn't as stiff as I was expecting. She's in her own section of pasture right now. I'm absolutely not going to stall her. I think she gets stiff just standing around so as long as she moves, I think she feels better.
I have a bunch of hay out for her to keep her busy. She's losing weight rather quickly as well. She's already starting to show ribs. I bought her a fly mask and sheet today and am hoping that'll help to stop her from kicking so much. The less she kicks with that leg, the better.
My vet has her on 1 gram bute morning and night. (Or 2 grams a day.) She made a liniment up for me that will help reduced swelling, has DMSO in it and lidocain in it to help relieve pain. I'm cold hosing it daily. And keeping her well fly sprayed. Not that it's helping very much.
She doesn't stand still for my to wrap it very well. But I really want to strap some ice packs to her to help reduce swelling as well.
Tonight I put on a poultice and vet wrapped it to her. She was not thrilled but if it something that's going to help, she's going to have to get over it.
Does anyone have any other ideas? It's more swollen then yesterday and still hot to touch.
My vet suggested putting her on a joint supplement as well so I have that ordered and should receive it later this week.
I feel very helpless. She's restless, grumpy and just plain old doesn't feel good. I feel bad...
---
"The greatest pleasure of a dog is that you may make a fool of yourself with
him and not only will he not scold you, but he will make a fool of himself too."
-Samuel Butler
Don't worry, she will probably be fine. Three years ago, my Oldenburg mare got kicked by another mare of ours when we called them in to feed. Her hock was HUGE and she was beyond CRIPPLED. We took her in for xrays. She had a very tiny fracture, and our vet thought, worst case, she'd probably need to have her hock injected in a few years, as changes were likely. Well, she's doing really well with a young dressage rider. In fact, they win just about everywhere she goes. I was beside myself. I thought she was ruined. I hosed like crazy for a month. Just keep the hose on her min. 20 min at a time, or you're just wasting time. You can't even tell anything happened to this mare, and the girl is IN LOVE. lol Don't worry.:)
Thank you. I'm really hoping she starts feeling better by the end of the week. I don't know how long something like this takes to heal. It is quite swollen and VERY hot.

In my 12 years of owning horses, I've never had to treat for an injury. Can you believe that?
---
"The greatest pleasure of a dog is that you may make a fool of yourself with
him and not only will he not scold you, but he will make a fool of himself too."
-Samuel Butler
Oh, I know. This was a first for me, and right in the joint. I was shocked when I went out to find my mare in that condition. I thought it was REALLY bad. It just took time.
I know you feel helpless but you are doing everything you can to help. Poultice and cold hosing are the key things for right now. When you cold hose, don't shoot the water right at the injury. Aim for just above it. This will make it less painful for her (hose pressure on an injury can hurt), and the water will cascade down the injury in a gentle fashion.

Propper care and she will be back on her 4 legs again in no time. Its unfortunate for this to have happened, but she'll be alright. No broken bones or torn ligaments or tendons.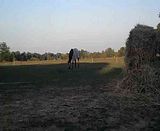 Heres a video of her from last night.
This morning my mom went out there at 4am before work. (Im AT work at 4am) and she said Rumor could not even walk on it. She was just standing there. My mom gave 2 grams of bute this morning because she is so bad. She rubbed the liniment on it, but is going to contact our vet today as well. I told her it was bad, she didnt seem worried yesterday, now shes all worried about her...Poor girl.
Im thinking she was finally able to stand still and rest and not pace and stomp from the bugs. When she stops and stands around, she swells more, and stiffens up.
Posted via Mobile Device
---
Last edited by CLaPorte432; 09-04-2012 at

07:23 AM

.
Hope she is feeling better soon