Update on Gem's Hooves
---
The vet and farrier were out this morning. Gem's coffin bone is not rotating or sinking! YAY!
He just needed a trim very badly, which we knew.
He was sedated for both the x-rays, and for half of the trimming/shoeing. His nerves were also blocked in his front feet for the trim/shoeing.
He now has front shoes on, that was the advice from the vet and the farrier and we wanted to do what was best for him, so we went with that. It is not going to be permanent shoeing, just temporarily.
The farrier said that his feet were not trimmed properly in YEARS!
The amount of sole he took out of each foot was incredible. Atleast 2-3 centimeters!
I did take before and after pictures. Here they are
Before Trim
Left front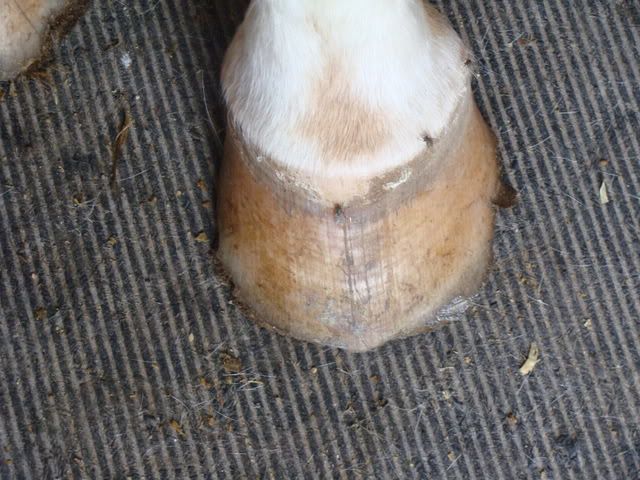 Left hind
Right Front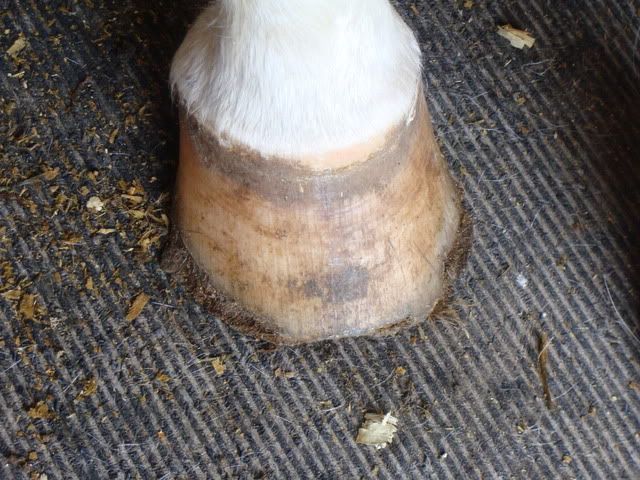 Right hind
After Trim
Left Front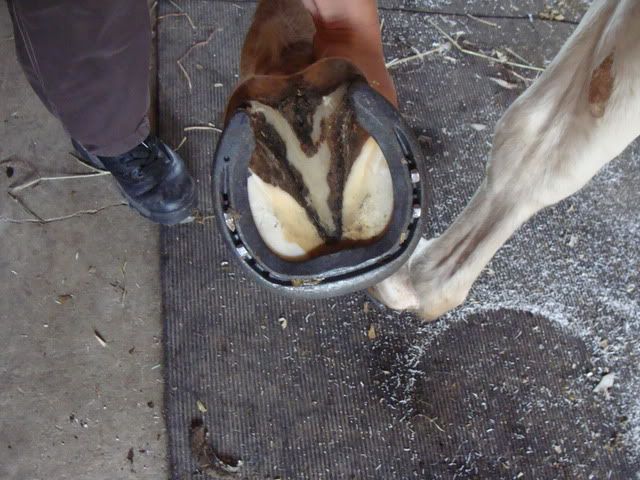 Left Hind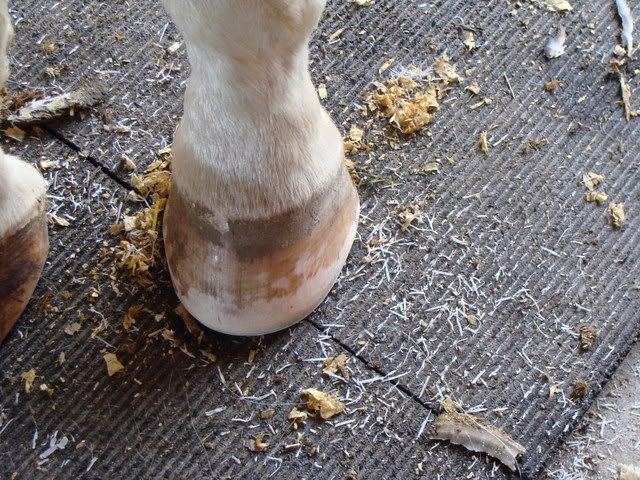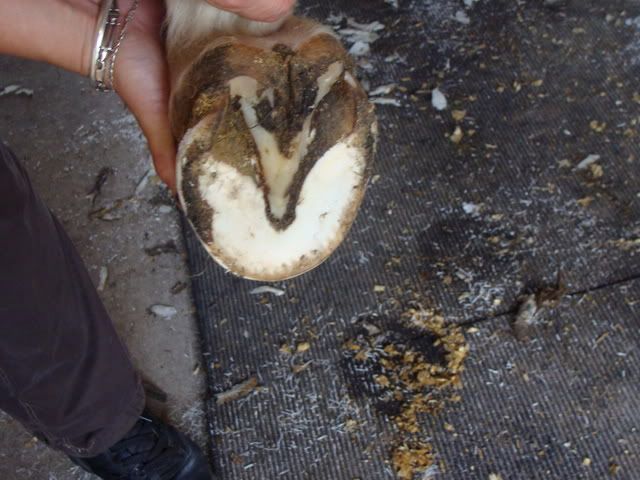 Right Front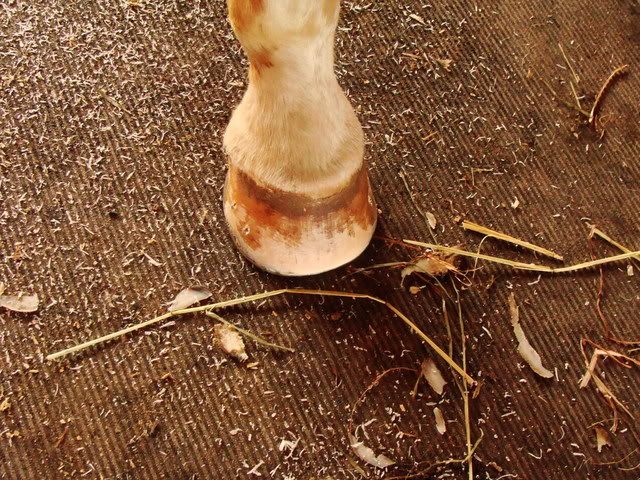 Right Hind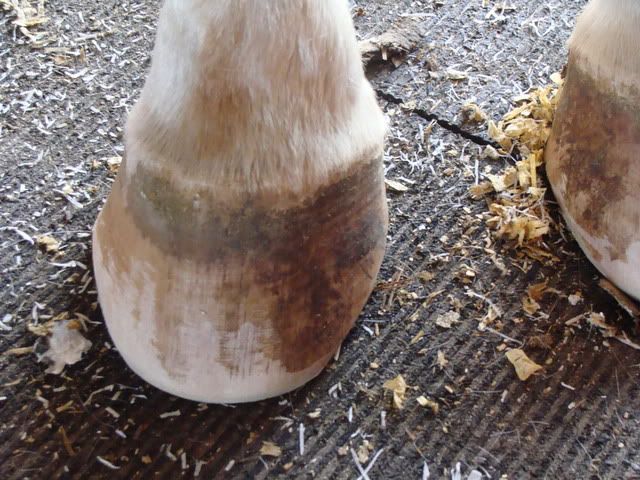 I was not able to get a picture of the bottom of his right hind. He was very woozy and wobbly.
We have NEVER seen his feet look this good. We are completely amazed!
He is now going to get turnout, and the vet said we'd be able to ride him once he recovers :)
He also has some arthritis between p2 and p3 in his both his front hooves. We are going to get the injections to help him feel better.
I'll keep everyone updated on his progress with that.
I'm really glad that there isn't any rotation or sinking. That's wonderful news. Does your vet think that the lameness is simply a product of the arthritis in the coffin joints?

Is that last photo the finished product on the hind foot and is it taken straigh on from the front?
---
Cindy D.
Licensed Veterinary Technician
I'm glad you were able to get them taken care of. And you have piece of mind once again. I'm sure he's much happier than with the mess his feet had become before.
I'm dissapointed in that he got shoes,I'm a die-hard, :roll: cause I think that some of that sole could have been left to callous up, now he'll have to grow it all back, and trimming it out would make him tender without the shoes. BUT I'd rather see shoes on him than totally untrimmed tootsies! And at least they are natural balance shoes that will let his foot breakover nicely in the meantime.
omg! his feet look great!! and they said youd be able to ride him? thats great!!
---
The vet didn't really say if his lameness was 100% from the arthritis in his coffin bone/joint. He said it was more mechanical because his toe was so long that it was putting more pressure on his coffin bone and joints all together.
Quote:
Is that last photo the finished product on the hind foot and is it taken straigh on from the front?
It was not taken straight on. He was standing a bit awkwardly and I didn't want to go underneath him to take a straight shot.
This is how he was standing
He was sort of heavily sedated and he was kind of wobbly after the whole ordeal, so i just got pictures without moving him
Barefoot-I knew you were going to be disappointed. That's the first thing i thought of when the vet and farrier both recommended shoes. But since Gem is Tom's horse, i let him make the decision.
I have to say, i am amazed with the trim he did on the back feet.. Vega's have never looked like that. I'm starting to think the other farrier did shoddy work
The farrier also did hot shoes for him, so he molded the shoe to his hoof, which i like. Thanks for the name of the shoes.. i totally forgot the name of them. Are they like a good shoe for horses? (if there's such a thing as a good shoe)
2 hours after the trim, we returned to see how Gem was and to turn him out. AT first he was just walking and grazing, and then he started to trot and canter and buck and just have fun. Tom and I have NEVER seen Gem move so nicely. He was actually picking up his feet instead of dragging them. Tom just seems so happy that his horse is on the mend
The vet did say we could ride him, but Tom said he's not sure if he's going to, just because when we found out he has athritis, he also had lower back pain :( But he plans on conditioning Gem first without a saddle, and then with a saddle and then put some weight on it and see how he is. Obviously that is atleast 6 months away.

Gem seems so happy with his new feet. I'm sure it's got to feel tons better.
Fantastic news!
Thanks! We went up there again, and he was feeling quite sore and was having very loose poop, and he kept laying down :(

Is that normal? Does he just have to get used to walking differently and then having front shoes on?

He would lay down for about 5 min and then get up, walk around for a bit and then lay down again. We told the owner that if he doesn't seem to get better to call us. Tom wants to spend all night there, which i don't blame him. Gem's his baby.