UPDATE: New Horse
---
For those of you who have seen my previous post about our new horse, I thought I'd make a clean thread to give you an update (for those of you who are actually interested).
Anyway, to the update.
The vet was out, said he looked like he hadn't been fed in about six months or so. The farrier was also out to look at his feet (they were really bad) and he fixed them all up.
The vet says that all his injuries are treatable and he should be able to make a full recovery.
We've been feeding him three small portions of grain a day (morning noon, and night) with medicine to help him digest his food. He's also getting hay and he has an automatic watering system in his stall.
He had his first bath yesterday and he did very well. We walked him up to our house from the barn (about 1/8th mile) and he did not spook at any cars that went by, or our dog, so that's good.
He is very gentle and loving. It doesn't seem like there's any psychological damage to him as a result of his prior situation. He is not afraid of people - in fact, he is a huge attention hog!
We kept him for the first day just in his stall and we kept our other two horses in the pasture. They could see each other, but were not able to approach.
The second day we put him in our large back stall (the size of four regular stalls), and let him interact with the horses over the gates. He and our lead mare did not get along at all. She behaved very aggressively toward him.
The third day (yesterday) we put our mare in the back stall and put the new guy and our second horse out in the pasture together. I'm pretty sure this was his first time in a grass pasture in a very long time.
Those two (both geldings) hit it off immediately. There was no aggressive behavior at all. After letting them sniff noses, they went off together and have just been following each other around the pasture since then.
Day 1 -
Day 3 -
We haven't let the mare out with him yet. She takes longer than our gelding to accept others. But the boys are acting like long lost brothers at the moment. Where one goes, the other goes. It will be interesting to see which of them ends up being dominant over the other since they both seem to be equally submissive.
I'll probably continue to post updates and pictures on this thread for anyone who wishes to keep up with his progress. And also because I'm super excited about him. :)
Very nice update. Thanks for sharing.
Keep posting, I'll read all about it 😊
Posted via Mobile Device
He's going to be a looker when you get the weight on!
Green Broke
Join Date: Oct 2009
Location: Outside of Oklahoma City
Posts: 2,653
• Horses:
6
Looks better and happier already :)
---
Be wary of the horse with a sense of humour. - Pam Brown
Good job it sounds! He obviously needs a fair bit of weight, but isn't horribly skinny. I'd probably get a vet chiro to come check out his hind end - wouldn't be surprised if you can't get enough 'weight' on his sacral region, because it looks like there may be a prob there.

Didn't see earlier thread so don't know if he's got injuries, or he's completely unsocialised with horses or some such, that cause you to want to keep your mare away at the moment, but if not & she's not abnormally aggressive - remember 'horse play' & dominance games can look pretty aggressive but is normal - I'd go ahead & put her back with the others before she gets too frustrated with her situation.
Good for you! It's wonderful that you've opened your home and heart to him. Sounds like you are going about it in the right way.
Posted via Mobile Device
Day 4 -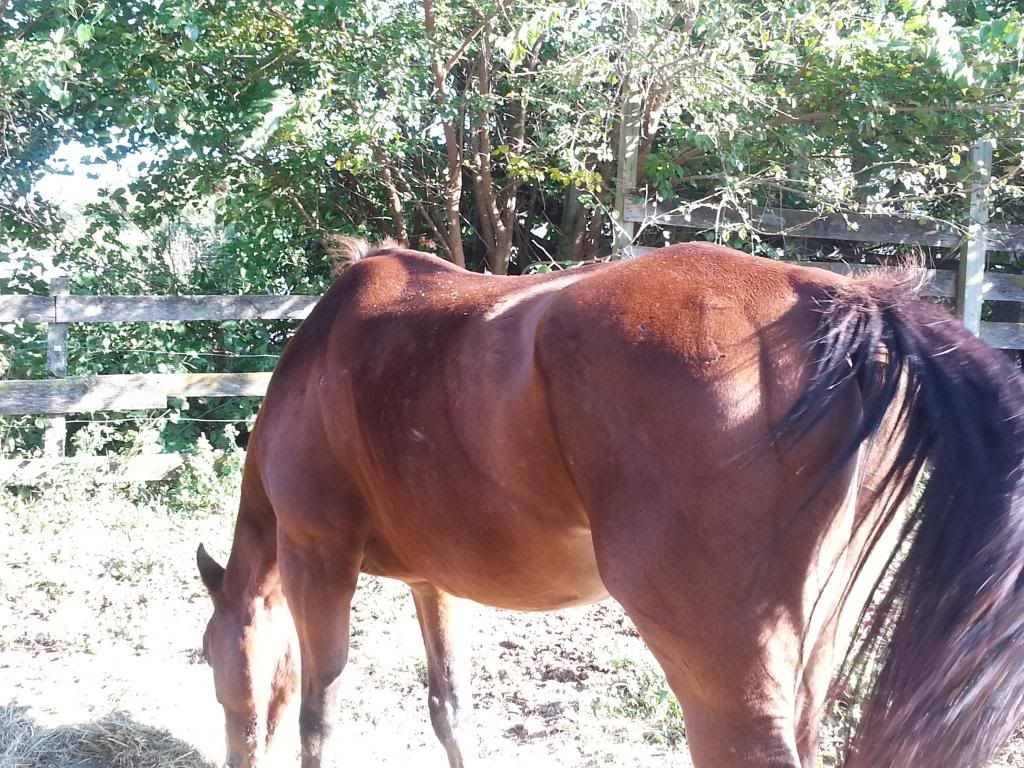 It's not a very good picture, but here you go. His coat - despite his bath yesterday is still pretty shabby and needs work, but this update is more or less about his behavior.
We put the mare out with the boys for feeding today. We put three piles of hay out for them so they each had their own. They did the typical feeding thing. The mare chased the boys from their piles and then they went to whatever ones she wasn't watching :p
She still won't let the new guy hang out with Sonny so the time he's spent in the pasture today has been way off by himself but he didn't seem to mind.
The reason we waited to put them out together was because she has a tendency to be unreasonably aggressive toward new horses and we wanted to make sure he was strong enough to deal with her harassment. My mom decided to give it a go so she let them out together. The mare immediately charged him and chased him clear across the pasture - ears flat and teeth bared. There was some squealing on his part and some biting, rearing and kicking/bucking on her part. It didn't last more than 10 minutes though - record time for her.
She immediately established that she was in charge and now won't let him near the barn or Sonny. Joke's on her though 'cause the area of the pasture she isolated him to has trees for shade, more grass than the part she's in, and a water trough.
He's been getting more and more pasture time as the days have gone by. Our horses are primarily pasture fed. We only put them in at night so we're trying to work him up to grazing all day. But we're monitoring his time out right now. We don't want to give him unlimited grazing and then have him gorge himself and be sick.
The mare still charges him if he wanders into "her" area - she literally won't let him leave the trees. It's like she can pretend he doesn't exist if she doesn't look at the trees.
Any advice on getting her to accept him? Or is it just something that takes time? When we got her, we already had Sonny so she was intruding on his territory.
He still looks the same weight-wise as yesterday but it's a slow process. He wasn't terribly bad to begin with, but still pretty skinny. Another question for you guys is, what do you think about blanketing him for winter if he hasn't gained the weight by then?
We have a light blanket and a heavy blanket. We don't usually blanket the horses in winter, but he's potentially a special case. So what's you input on that?
OH! And he's still in need of a name! We're taking suggestions :)
Thanks :)
---
Last edited by ForeverSunRider; 09-29-2013 at

11:14 AM

. Reason: Forgot to add something
Quote:
Originally Posted by
ForeverSunRider
View Post
Any advice on getting her to accept him? Or is it just something that takes time? ....Another question for you guys is, what do you think about blanketing him for winter if he hasn't gained the weight by then?
You can't force acceptance & it usually backfires when people try. I'd just leave them together to sort themselves out. If she's only chasing him away, that's not unreasonable or abnormal or aggressive behaviour.
If you're in a climate of cold winters, yes, blanketing will help him retain his weight, as he won't use so much energy trying to stay warm. I'd use a light blanket.
So today (Wednesday) is day 6 of us having him. We're thinking of calling him Leo. But my sister also likes the name Kiko, so your opinions are welcomed on that one.
Today we brought him trail riding. The vet cleared him for riding - said that he was skinny, but not too skinny to ride and he was coming along nicely so he suggested we work with him throughout winter so he would be good come spring.
He's still getting a dietary aid at breakfast, an immune booster at lunch, and a weight builder at dinner in addition to an endless supply of hay.
I thought it might be too early to take him out and work him, but my mom assured me the vet said he would be able to and that it'd be good for him to gain some muscle back.
So we brought him and my horse, Sonny (profile picture) out to the trails and we met my mom's friend out there. We didn't work him hard. We just walked. His thrush didn't seem to bother him and he did not spook at anything on the trails.
He's not as ribby as he was when he came to us, but when you sit on him, he's still very narrow in his wither/shoulder area and in his flank/butt. He's not skinny enough where you would think that it'd be stupid to ride him, but he's obviously thin.
He did very well - even loaded and unloaded just fine.
He seems to have settled in at the barn quite nicely. Our lead mare seems not to mind him anymore. We thought she'd have a major issue with him because we tried introducing a horse to the herd last summer and she was extremely aggressive to him for the entire three months that he was with us. But she seems to not mind this one.
I don't know how many of you are still following this, but I'm updating anyway. It's nice to see his pictures. He still is obviously thin, but not near as thin as he was. I think there's a difference, at least.
That last one is just so you can see his face. I tried to get it all, but he kept walking at me. Guess he wanted some more attention.