My vet had me try Smartpak's Fat-Cat and cocosoya, for a horse i took in to gain weight. Quick results too.
Are the sunflower seeds easy for a horse to chew?
qtrsnkids: Was it for a senior horse?
My senior horse had no problem chewing the sunflower seeds. He really seemed to like them. I do think they helped with the weight, and they made his coat really shiny.
Yes it was for a 23 yr old gelding.
My dad has a 28 yo gelding and he lost so much weight last year that he almost died. He was feeding senior feed to him. His vet had him start him on 2lbs beet pellets watered down for 30 minutes and 2lbs whole oats mixed in. This was split up in 2 servings per day. About a month and a half later his weight was back on and he is a grumpy ole healthy horse again. My dad split this serving in half and he gets it once every other day and he has never had a prob through the winter with him anymore. Won't say this will work for you but it worked for this ole sheepherders horse.
I don't know, I just don't like feeding my horse bird food..., so I never have feed black oil sunflower seeds.
As for the corn oil, it has shown to increase inflamation, and it's not recommended to feed to senior horses because of that.
Some good articles & information:
Horses - Diet and Nutrition: corn oil, omega 6 fatty acids, omega 3 fatty acids
HorseAdvice.com Equine & Horse Advice: Black Oil Sunflower Seeds and increase in osteoarthritis
HorseAdvice.com Equine & Horse Advice: Corn oil increases inflamation?
SmartPak Mag/Advert: "Corn Oil = Inflammation" - Chronicle Forums
http://www.ker.com/library/EquineRev...rition/N41.pdf
SmartPak Equine - 8 Supplement Myths BUSTED
Horses generally have plenty of Omega 6 fatty acids in their diet already, from hay and feed. You don't have to supplement it and you don't have to have a fat supplement that is "balanced" in Omega 3 and 6 fatty acids. The best fat source for horses is one that is high in Omega 3s with little to no Omega 6s in it.
I feel all my horses, hard keepers to fatties, an Omega 3 supplement. I have used NutraFlax from horsetech.com before and really liked it. Right now I'm using Cocosoya from Uckele as it's cheaper and I am feeding 6 horses
. So far, I've gone through a 5 gal container of it and like it. I feed my easy keepers 2 oz and my hard workers 4 oz a day.
yep i love feeding oil to my boys.

I have had sucess with feeding oil to fatten both an arab and a standie. Both were underweight when i got them.

My standie is a hard doer, he is wormed, teeth etc i give my other standie oil but only about 50ml as a coat conditioner.

1 cup of oil = 1.5 kg oats in energy. It came in handy when my boy could only have 1 feed a day plus his round bale24/7 in a small bareen paddock.

But i would worm and check teeth first. Then add SLOWLY to the diet star with 50ml for a few days then slowly increase or he may get diarhoea.
Adding my 2c as I feed a 31 yr old blind and lacking some teeth Appy.
If you can get it
Total Equine
is a great feed for any horse who is in need of a total package feed. It can be fed from 2# twice a day on up to full feed. I am currently feeding 10-12# a day in 2 feedings.
I started out with feeding all my horses a few handfuls of Beet pulp shreds, either soaked or not. Once Cheno could no longer graze or digest hay efficiently I began feeding him more Beet Pulp with Alfalfa pellets(not cubes) soaked. Then I found the Total Equine and I fed that at 2# twice a day along with the BP/Alf Pellet mix. At some point he got really picky and is currently eating just the TE with one large coffee can of BP shreds tossed in. He also gets a couple flakes of (I cut it about 3-5" long)chopped up grass hay as he cannot eat long stem prairie hay well. This gives him a lil bit of long stem roughage to chew on during the day. I do not feed oil cuz it's messy and I just don't like that. I have tossed in some BOSS(black oil sseeds) at times, but after learning that fresh grass is loaded with omega 3 and hay is high in omega 6 I stopped doing it.
Anyway, he does pretty good on this. He's not fat but he's healthy.
Cheno in 2008 prolly around when I started feeding TE
Cheno in 2010 after winter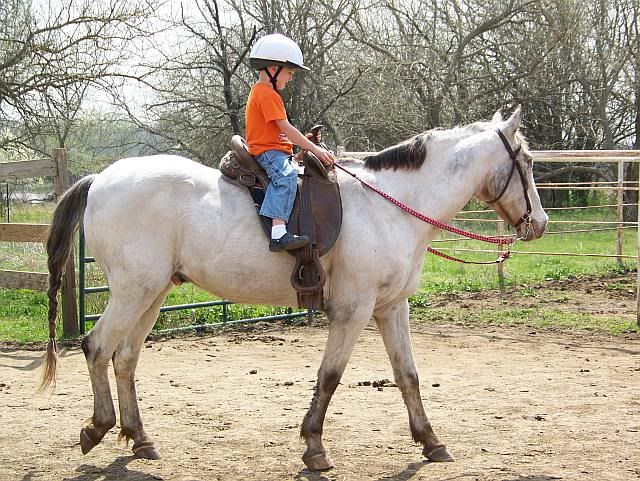 ---
Thanks everyone for posting. This thread has turned out to be a really educational one. You all are so smart about horse nutrition...I think I need to do some research and learn more myself. I've owned my horse a couple of years, but all I've learned about horse nutrition from him is that if he gets fat take away some feed, if he gets thinner add some. He is a really easy keeper...sometimes to easy in my opinion. I'd like for him to be able to have grain for nutritional purposes, but he just gets so FAT! Hope on the other hand is forcing me to learn all about horse nutrition. I have added alfalfa cubes to her diet and will not be adding any supplements until I am sure the alfalfa isn't going to be a problem. She is eating them, but only if there are just a couple in there...but hopefully, when she gets used to them I can add more. Anyway, that should give me a few weeks to look into your recommend supplements and figure out which one will be the best for her. I will be taking money into consideration also when choosing a supplement....not that I would rule out a great supplement because of that, but if I can find a really good one for cheaper, then that's what'd I'd like to do. Senior horses aren't cheap (well, maybe in price, but you know what I mean), plus on top of the two bags of feed she eats a week and the alfalfa, she is going to have to see the vet again this week for a lameness issue that has sprung up. Anyway, thank you all so much for your help...hugssss to you!
We got a rescue horse that every bone in his body was showing..It was bad...We started feeding half heavy duty 14 and rice brand pellets and in 2 months he has put on the pounds and his coat slicked off very pretty and shiny. Good Luck!!