Very itchy horse, losing small patches of hair
---
It started as multiple, small (1/2 inch in diameter) crusty scabs. She was very, very itchy, and I went over her and looked at every spot, and the hair was falling out in chunks. I bought so MTG the next day and started to apply that. She originally had them over the entire length of her back, loin and croup. The ones on her croup have cleared up, but the ones on her withers and back got worse before getting better. The hair is beginning to grow back but there are huge (the biggest one is probably 2 1/2 inches in diameter) bald patches because she is rubbing SO incessantly. I thought it was rain rot, but I didn't think rain rot was this itchy. Is it? She's very itchy. The bald patches don't seem to hurt her at all, in fact she loves them touched and stretches out her neck and turns her head sideways, obviously really liking it scratched. I let her roll in the sand a couple times and she would lay there and roll for, no joke, 10 minutes in the ground. She's been wormed, had a fecal done 2 weeks ago and it came back negative. She has ample shelter as well as an outdoor run. Any thoughts? Should I not ride her? They don't hurt.
Have you considered mange? Horses do get it.
---
You want the truth? You can't HANDLE the truth!
Call your vet. Mange is quite possible, but having your vet out to see her is the best thing for her.
A horse at our barn is just getting over a similar episode ... turns out he was getting an allergic reaction to the MTG. Not sure what started the intitial issue, but MTG definitely made it worse. Now, after 2 weeks of no real treatment, he's healing up and the hair is slowing beginning to grow back. He had some real nasty raw patches on his hind quarters.
Green Broke
Join Date: Oct 2010
Location: Some times Llanelian - North wales, sometimes Hull in East Yorkshire (UK)
Posts: 3,679
• Horses:
5
Ring worm!!!!! get the vet, get some antifungals and get it sorted.
---
RIDE your horse FORWARDS and keep him STRAIGHT


I sent pictures to the vet, waiting for him to call me back. Will be arranging for him to come out or I may take her there. My truck is down right now so I'll have to find someone to help me out if I take her there.
It's sounding closest to ringworm. Again, some of them have cleared up, the ones under where the saddle pad sits got worse. She's off duty until we figure out what's going on. (She works as a lesson horse)
Here are some pictures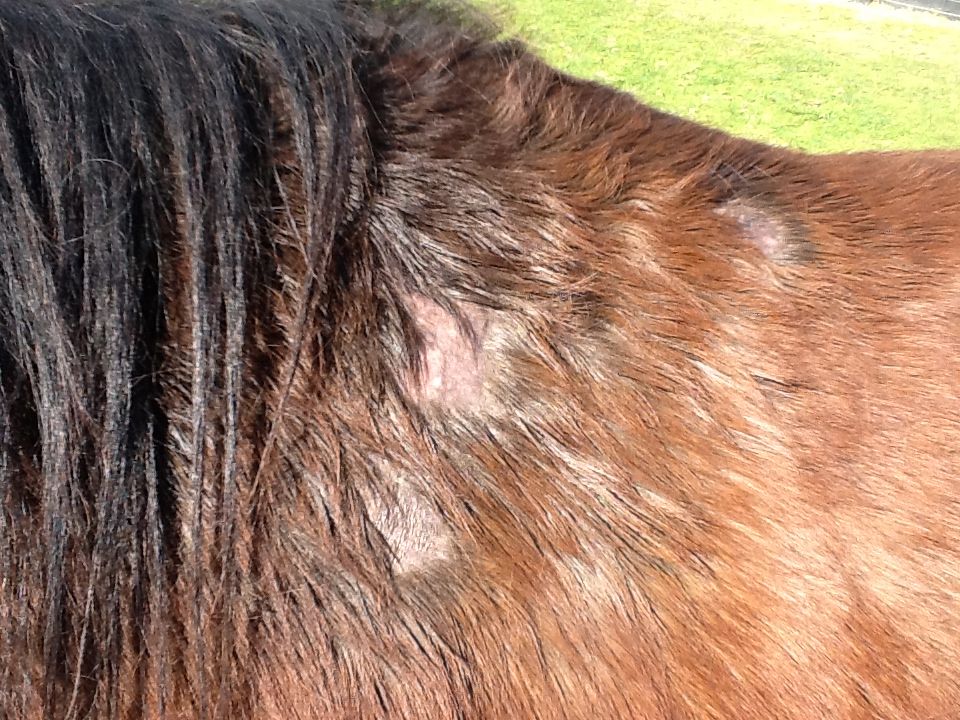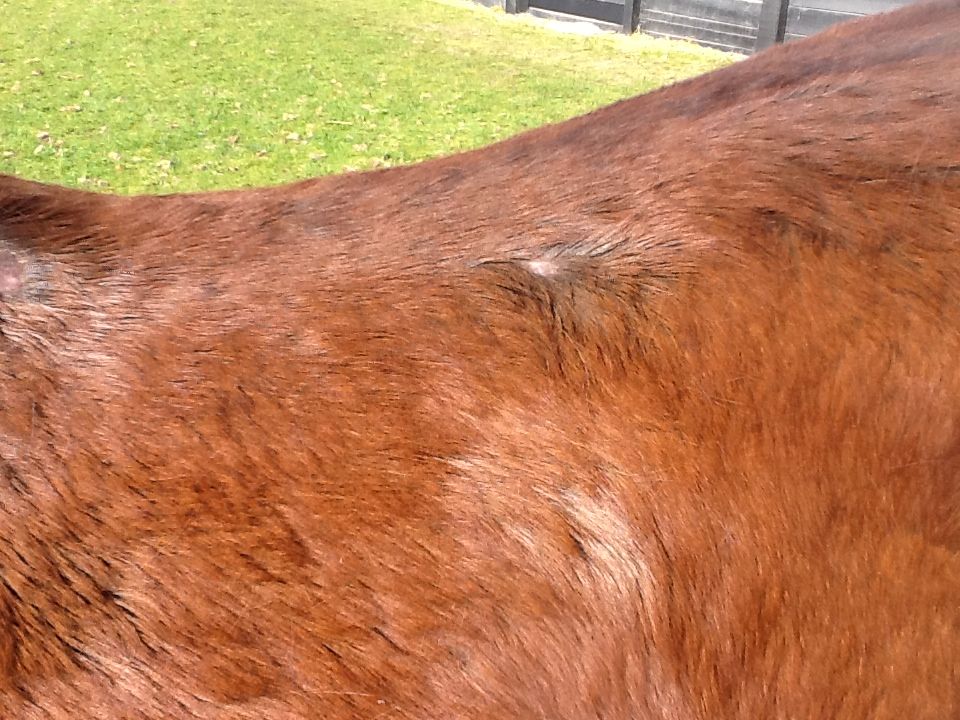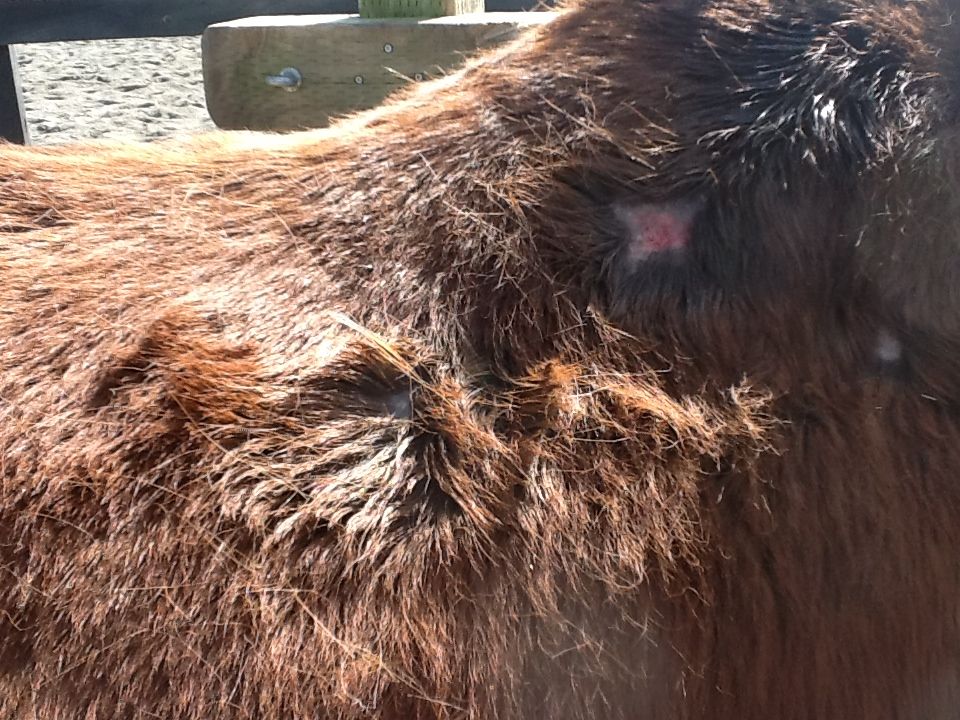 That last one looks horrible, she rubbed it so hard it started bleeding!
Update: took her to the vet and he suspects lice
It started last Tuesday and got wormed on Saturday, so he thinks the ivermectin knocked out the lice, so she was already getting better before I even brought her in. He gave me a cortisone topical spray to help with her itchiness. He said to apply Python dust 10-14 days after she was wormed, keep swat on it so its not exposed to gnats, and to give her a few days off work til her skin heals up a little.
WHOOPS. I posted on the wrong thread. Sorry.
---
Just DO it and be happy that you can!
---
Last edited by acorn; 02-28-2013 at

03:00 PM

.
Looks like lice to me. Give her a dose of Ivomec dewormer, dust her with Sevin Dust and get heron a goo Vitamin A supplement. You cannot give lice or rain rot to a horse that has adequate Vitamin A levels. Vitamin A alone (or green grass) will clear up both rain rot and lice, but it is quicker to treat them and then get the horse started on Vitamin A. Look up old 'rain rot and Vitamin A' threads and you will see that the injectable will work fastest. Supplements also work but more slowly.
Thank you Cherie! You're always so incredibly helpful. So, can you recommend supplements I can give her? It's already clearing up but I would like to start her on a good vitamin a supplement.