What is MTG? I went to start soaking the oats for Jems and giving attention to the others when I noticed Sugar,3 yr old lineback dun, has what looks like your pics only the skin is dry where the hair comes out. I also noticed the 2 geldings nipping and running her off as I was around.. figured it was some payback for how she treated them the last week or so doing the same thing.
I'll start a new thread if need be and will posst pics when I come back from feeding them.
Here are the pics of her patches..I also found some on her left side as well and have pics here of it.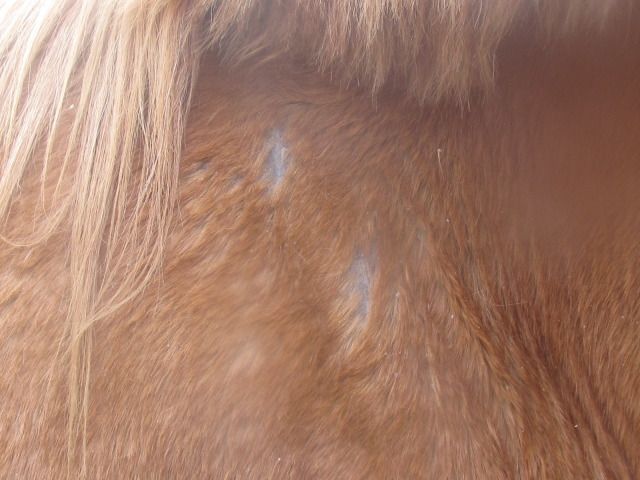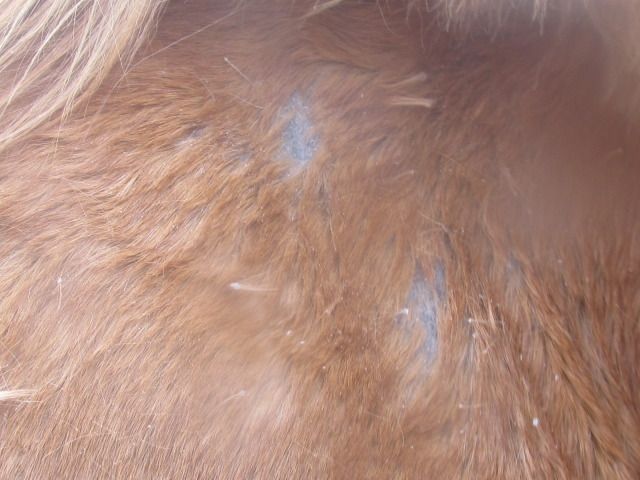 Here is the pics of her left front arm pit area.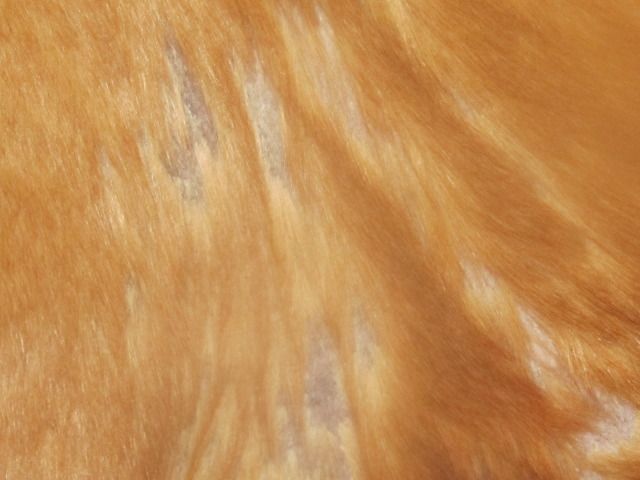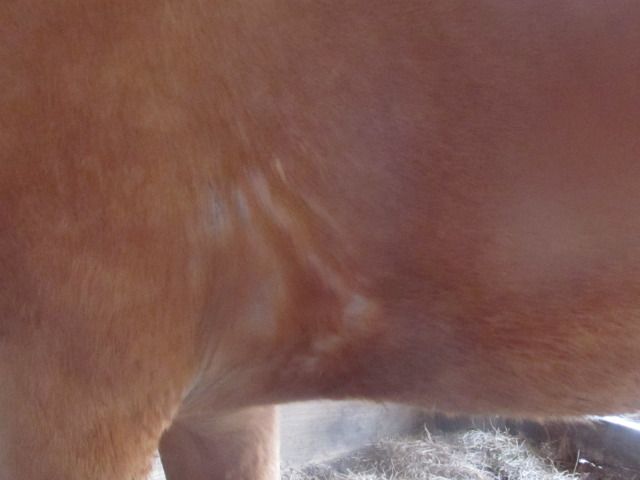 I looked over the other 3 and they only have bitten off hair and spots you can tell came from the others biting and such. Nothing like hers.
Super Moderator
Join Date: May 2012
Location: CT USA an English transplant
Posts: 24,609
• Horses:
3
That looks more like rain rot to me especially if its scabby.
Giving them a good curry combing at this time of year to help remove loose & clumped hair and dirt helps get the air to the skin
Any good treatment that attacks bacterial and fungal infections should help - iodine based or hydrogen peroxide based are cheap and effective as she doesnt look sore
Plus a good vitamin supplement added to her feed. I use wheatgerm oil - Vits A,D & E - all good for healthy skin and coats
@roadyy, yours looks like rain rot to me too. MTG is this topical treatment, stands for 'mane, tail, groom' and treats a plethora of skin conditions. It has worked for me for rain rot several times in the past, with a lot of different horses. A lot of people report an allergy, I have never had an allergic reaction, but its something to watch for.
Original M-T-G Shapley's
Super Moderator
Join Date: May 2012
Location: CT USA an English transplant
Posts: 24,609
• Horses:
3
MTG -
I would think its the Cade oil in it that can cause an allergic reaction so probably best to try a small patch first. Cade oil has been clinically proven to have excellent bacteria killing qualities - and combined with the sulphur which is one of the oldest fungicides it explains why it works well
Ok thanks. I contacted the couple we got her from to find out they didn't have her long enough to get her worked so I went ahead on dewormed her this morning after posting the pics. I will pick up some MTG tomorrow on my way home from work and will have my wife or daughter to run the curry comb over her as they are all starting to shed now. Again thanks for the info.