VERY odd coat markings...Fungal infection? Lacing?
---
So my filly came to me extrememly sunburned. She's been healing and getting far less sun time. Then we've had 2 weeks of rain off and on. Her back has started to show this very, very odd splotchy pattern. It almost looks like a giraffe's coat.
Aside from the bite mark on her rump she came with, none of the hair is missing and the hair isn't clumping off. It feels healthy, though is still a bit dull. She was wormed a week ago, so I expect some coat health to return.
Anyone ever seen this? A friend linked me to something called "lacing". I've never heard of this. My thoughts were a possible fungal infection (she's the only one showing this "symptom") or a result of the sunburn? NO IDEA. Any advice or opinions would be helpful!
Poor little giraffe girl.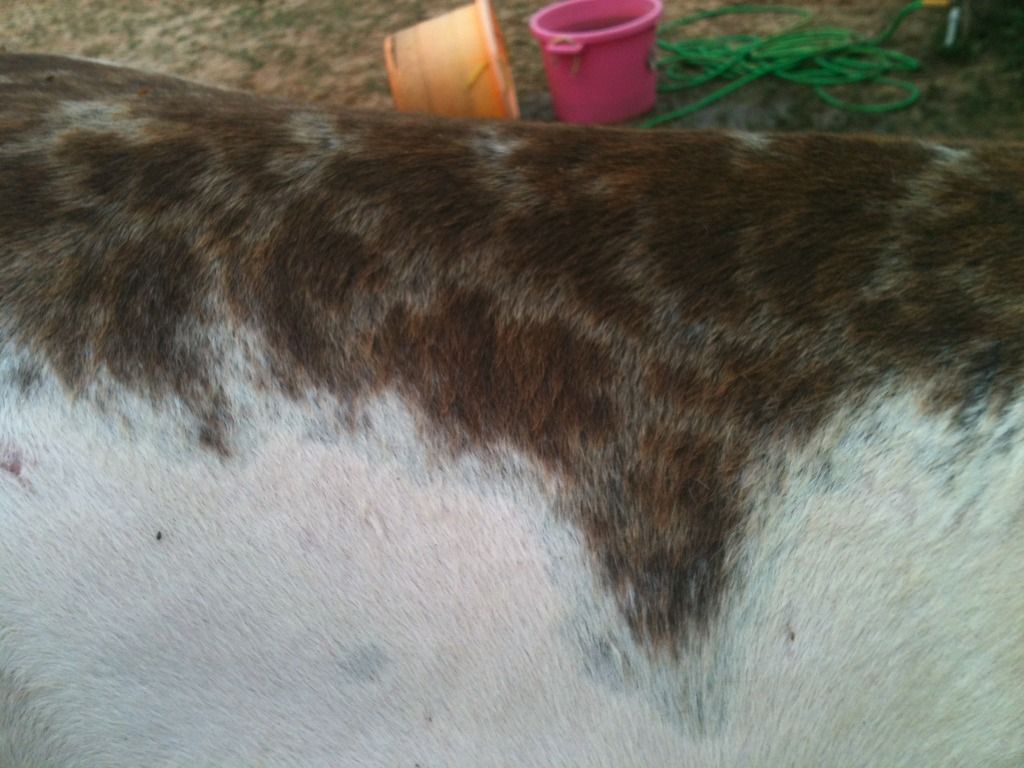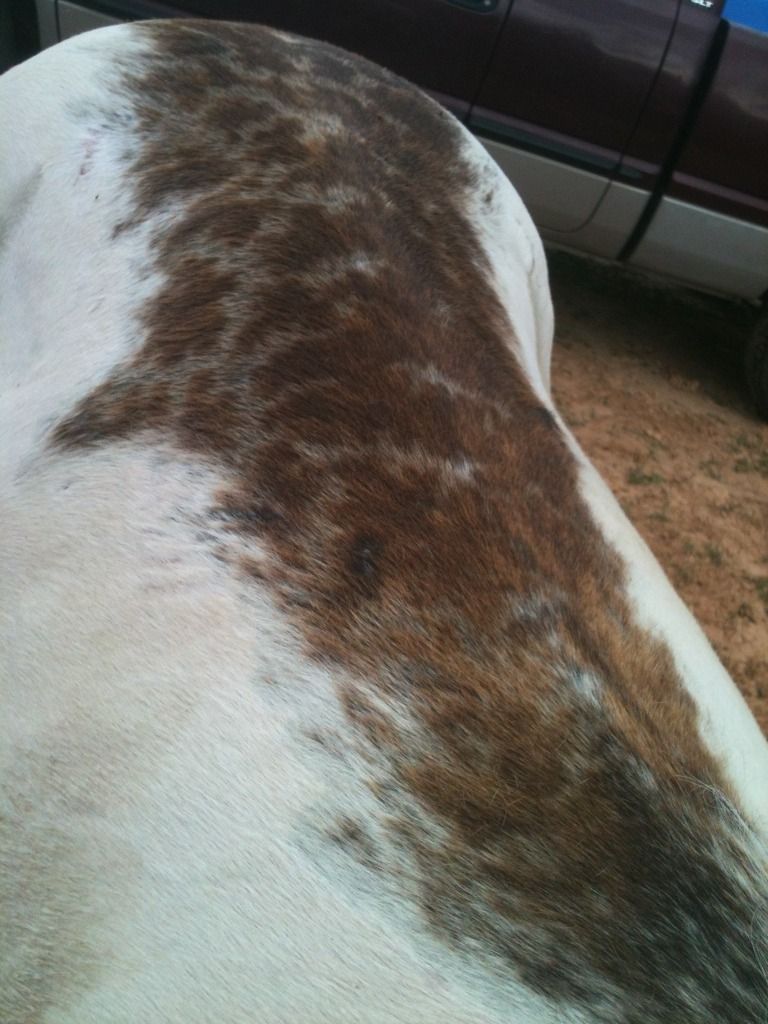 ---
Riding: The art of keeping a horse between you and the ground.
What breed is she?

That is quite odd.
---
subbing, i don't think i've seen something like that
---
I live to ride and I ride to live
Horses are just angels without wings
11/01/09 <3 my horse left hoof prints on my heart
Sadly, unsure about the breed. Don't know anything about her parents. I CAN say she's a non-gaited breed. She is a frame sabino. 3/4 white.
---
Riding: The art of keeping a horse between you and the ground.
A few notes about "lacing":
"Also called giraffe markings, marble, cobweb or lace
Can be from a fungal infection called rain rot or a blood disorder
Cause is unknown
Generally develops over time" (from The Equinest | 100% Horse Crap!)
I've never personally seen lacing on a horse.
Interesting. Gonna have to sub to this one, curious what the pros have to say.
Can you show us some pictures of the whole horse? It might help people to figure out what is going on.
---
Celeste
Carpe Diem!
Subbing!
Posted via Mobile Device
Wow pretty, my pony is sooty, he has lacing on his legs, not a fungal infection. You're horse I'm not so sure. You could give her a bubble bath with some antifungal shampoo - won't hurt and will rule it out.
Teen Forum Moderator
Join Date: Dec 2010
Location: South East Texas
Posts: 7,157
• Horses:
2
Subbing. This is really strange!
---
Everyone in your life is meant to
be in your journey, but not all of
them are meant to stay till the end.