Weight?
---
Maybe it's his winter coat but Davinci looks like he is losing weight. I know he needs wormed. He was wormed three months ago. I have the wormer but I wanted to wait until Saturday when the Arab mare comes and worm them all at the same time.
He gets six flakes of hay a day (I just upped it four days ago from five to six). The hay is timothy/clover/orchard grass. He gets 20 ounces of 12% and a scoop of soaked beet pulp, I give him a few alfalfa cubes as well. I cannot do free choice hay. It's not an option with my Haflinger mares.
I do have some mare and foal feed that says that you can feed through 2 years. Davinci won't be two until April. I was thinking of switching him to that. Anyway..what do you guys think about his weight? Should I up his hay some more?
The attachments are from three months ago.
These are from an hour ago.
(he just came in from outside so he's wet and dirty and no he doesn't have a tennis ball attached to his butt, lol)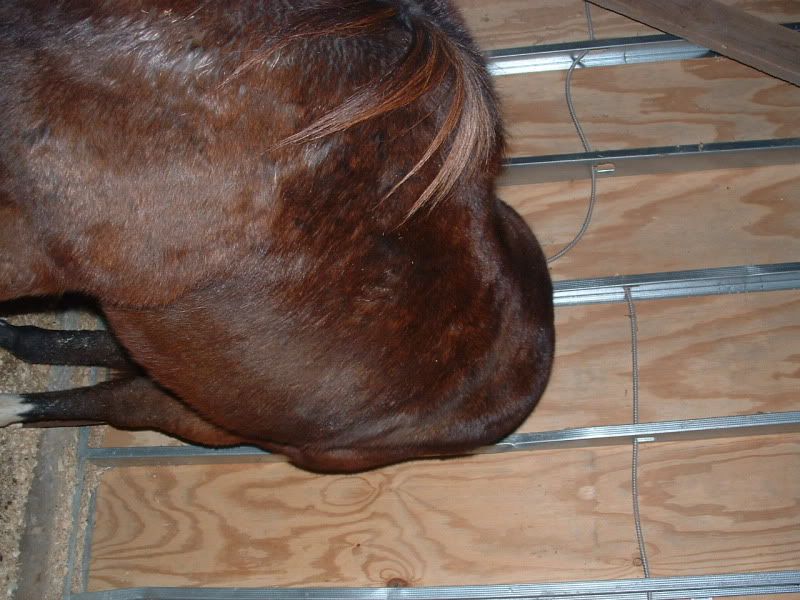 ---
100% Anti-Slaughter and PROUD of it!

We were warned by a vet against feeding a coming 2 year old mare and foal feed. It is a little too rich for their growing bodies. I think you are on the right track with upping his hay and getting him wormed.

He looks like he may be going through a little growth spurt. He looks a good bit bum high and that could be making him look different to you.
He doesn't look thin to you? : / Maybe I'm worrying over it too much?
---
100% Anti-Slaughter and PROUD of it!

I think you are. He is still a baby. By next week, he is going to look fat. They change so much. Especially at his age. We had a little filly that grew up at the farm. From 1 to 2 years, she completely changed. By 2 1/2 she didn't look like a baby anymore. He still looks like a baby.
Ok.. I'll up his hay a bit more and leave it alone. Another flake shouldn't hurt him. Maybe I think he is thin because my Haflingers look like this:
---
100% Anti-Slaughter and PROUD of it!

*laugh* oh I am familiar with Willow! Fatty McFat. I know whatcha mean! We have a farm full of fatties and one boarder has a saddlebred gelding that we all sneak extra food to. Partly because we worry that he is too thin (he isn't) the other part...he is making the rest of them look even fatter!
lol My Haflingers get three flakes of hay and a handful of 10%. They MIGHT get a little treat every now and then but I try not to.

Davinci makes up for it in the food department, lol. Silly stock horses.
---
100% Anti-Slaughter and PROUD of it!

I would def change from your feed to a ration balancer. A ration balancer will provide all the nutrition they need in just 1lb a day. RB's are awesome for any horse, but def for easy keepers, and they are cheaper.

As far as his weight goes, it is normal for a horse that young to be a tad ribby. He looks fine to me in the pics, but pics can be deceiving. Only you can tell if he really is too thin. How easily can you feel ribs? He is def lacking in muscle on his topline to me and this can be a cause of not getting adequate nutrition and amino acids.

Hay? he should be getting a MIN of 2% of his body weight in hay so unless you get an accurate weight on him, I have no clue how much that would be. You saying that you feed X number of flakes does me no good without knowing how much each one of your flakes weigh.
---
*RedmansFoxyChic*Starlites Chapparral*ICF Take a Chance On Me*Jay Bar D's Sunshine Jaybar
Joe,
His weight is perfect! Really.
Thanks TinyLiny.

OneFastHorse-If I gave my Haflingers 2% of their body weight they'd look like Hippos. I have been looking into RB. But right now I have 10%, 12%, Mare and Foal, Beet Pulp and Alfalfa cubes. Until I get close to running out I don't want to switch. These are decent weighted flakes. I can get a weight on them. You cannot feel his ribs easily. : )
---
100% Anti-Slaughter and PROUD of it!