Weight help for older horse
---
My mare turned 26 this year and I'm having trouble getting her to gain a bit more weight, she was sick in late may/early june for a couple of days and lost some fat and muscle and has gained most of it back but I'd like her to be heavier. He ribs are visible but she does have a layer of fat over them and her hindquarters need more cushion, so any advice? She gets senior feed twice a day, but she is very picky so she gets 2 cups of senior mixed with 1/2 cup sweet feed morning and 4 cups mixed with 1 cup sweet feed night and 3/4 cup conola oil at night. She refuses to eat senior feed without the sweet feed. Should I be feeding her more? I am terrified of foundering a horse, and she does eat her grain, but not nearly has interested in it as the other horses she'll eat about half, then eat the rest by alternating between hay and grain. She is fed 3x a day but has constant access to good quality grass hay. Honestly, she's an easy keeper for a horse her age if I look at what she actually does eat, even if she has constant access but does anyone have any tips on getting her to gain more? The vets coming out to float her teeth in about 2 weeks and has been wormed, though to me she doesn't look or act wormy at all. Any advice at all is welcome.
Paige late March: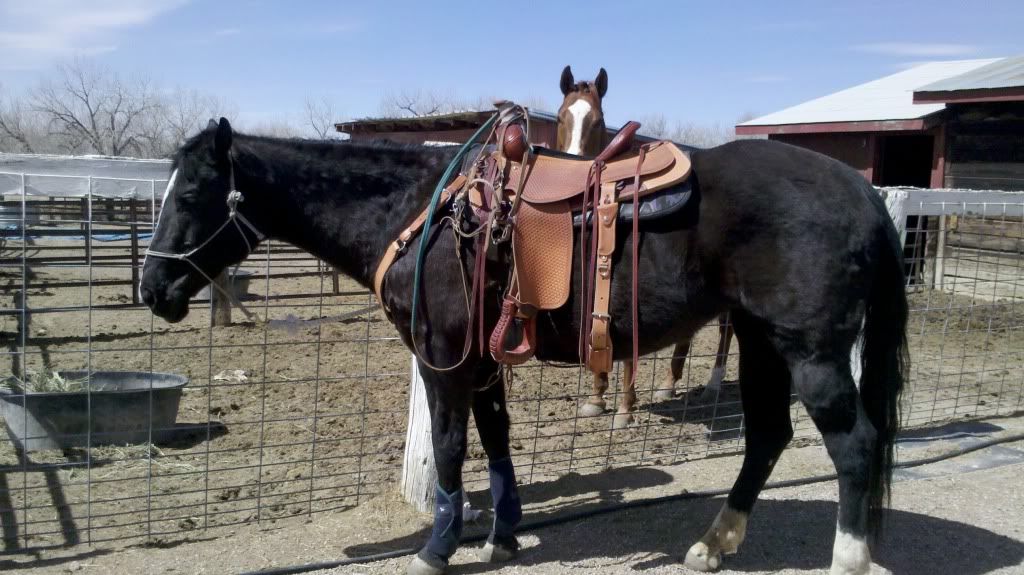 Paige later June: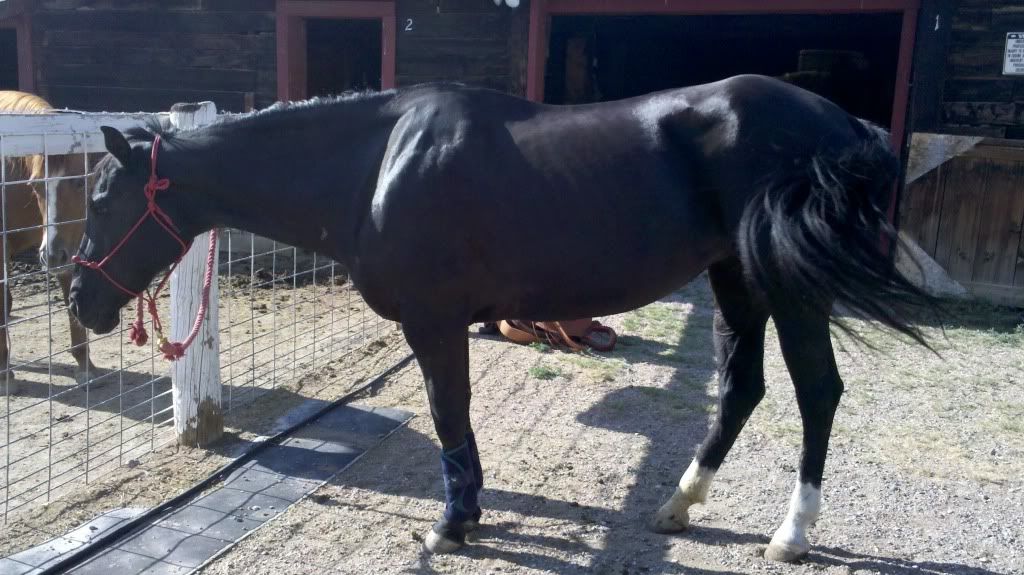 Agreed, she doesn't look bad, though she could use a bit more weight. I am a huge believer in alfalfa for putting weight on a horse. It's healthier than most processed feeds, you don't have to worry about founder with it, and it doesn't carry the risk of colic like sweet feeds or grains do. It also is a good source of protein that will help her build up some muscles. I prefer it in hay form when I can get it but you can also buy it in pellets or cubes (cubes need to be soaked before feeding).
She does get alfalfa, 3 flakes 3x a day
Do you recommend another flake at supper so she can snack longer on it at night? I should probably also mention she IS colic prone, which is why she is fed 3x per day, and it has helped tremendously. Hasn't had a problem for going on 2 years now.
If she is cleaning it completely up before her next feeding in the morning, then giving her another flake couldn't hurt. With her age and condition like it is, I would probably keep upping her hay ration until she always has a bit left over at the next feeding, that way, she has good hay in front of her 24/7.
Okay thank you smrobs! I'll keep an eye on her extra hay tonight and tomorrow morning and see. She always has grass floating around somewhere (whether outside or in her stall) but I'll be checking for any scrap alfalfa
Senior's contains everything the senior horse needs, extra fats, probiotics, beet pulp and is a very safe feed. You should feed by weight. I used to mix a tbsp of household molasses in a cup of hot water and pour that into the seniors, to make it a bit of a mash. Some horses don't like the hard pellets, especially senior horses. Her hay will last longer if stuffed into a small-mesh hay net. Because the horse is forced to nibble at the hay, it is better digested.
I am not sure, actually I'm pretty positive she would not eat the recommended 13-14lbs senior feed in one day, she doesn't even eat all of the grain she gets right now at once, she nibbles on it for 1+ hour, same goes with her hay
. Do you recommend still buying a hay bag even if she is more naturally a nibbler instead of a big eater? She is very excited at feeding time, and theirs always a good sized dent in her hay by next feeding but she is a very slow eater, takes more time than any horse i've ever seen. Oh and she likes the pellets, conola oil? fine on her grain. Water making mushy grain? Thats a Paige no-no
.