Weight update
---
Lately, my horse has been really energetic, besides the slight thrush(which has gotten better because I am taking care of it everyday) and the cross firing, he has been doing exceptionally well.
I was in deep denial about what he looked like a few threads ago, where I started an uproar and said he wasn't skinny but, now I know he's doing well. My BO says she is very happy with the way he looks and a lot of people I meet on trails say he looks pretty awesome.
side view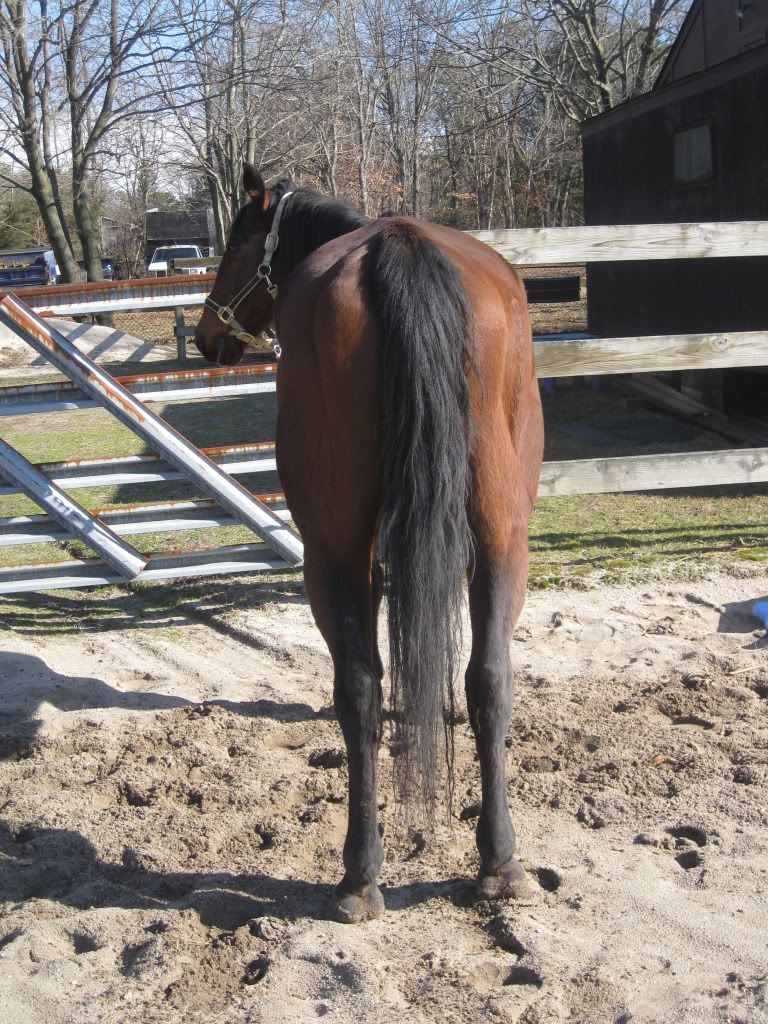 hind view
That's what he looked like in March
Right now he's on 3qt 1 scoop of Decade Complete Diet 13 (morning & night)
DECADE™ COMPLETE DIET 13™ | Equine | Poulin Grain - Dairy, Equine, Pet, And Livestock Feeds
Free choice hay (morning & night)
He's out grazing 3hrs (morning & afternoon)
and he's worked twice a week walk, trot, small canter and sometimes crossrails depending on how hot it is. He gets worked about half hour each time.
Well this is what he looks like now (don't mind the date I haven't reset it on the camera)
034.jpg
side view
040.jpg
hind end
So, I'd like a little more input what you guys think :)
He looks well his hind still needs alot of musceling up as it looks quite weak His hind poverty lines are also quite prevelent still.
Overall he look well though
---
To give a horse your heart guarantees a love that will last forever undamageable
Yeah, I've noticed that. I swear I can shove a crap load of food down his throat and there still something missing but, thank you
He is looking a million times better. Great job! Keep up the good work.
---
Always remember that feeling of looking at a big, open country over the ears of a good horse, seeing a new trail unwind ahead of you, and that ever-spectacular view from the top of the ridge!!! Follow my training blog:
http://robertsontraining.blogspot.com/
Thank You smrobs :) I appreciate it
He looks good to me.

My horses are such fatties, so I am battling weight issues also, but in reverse to you.

I think it's easier to get weight ON than to get it OFF. sigh
Your horse's before and after pictures do show he has put on some much needed weight. Good job of it!! To help him develop muscling take him on long trot and walk trail/road rides, but mostly at the trot. Long trot work builds muscle while canter/gallop builds stamina/lung function.
He looks much better! Looks like you are on the right track, good job!
Posted via Mobile Device
Thanks, I have been trying to take him on trail but, he's so terrible on trail and gets so over excited that I can't do it because, it's to the point where it's like "will he be bad, will he be good"

I am actually probably going to get a trainer to help us out there.. Thanks everyone :)