What Body Condition Score would you give her?
---
Like the title says what BCS would you give her? I know she could use some muscle and toning, but I want to make sure I have her on the right track with her weight gain.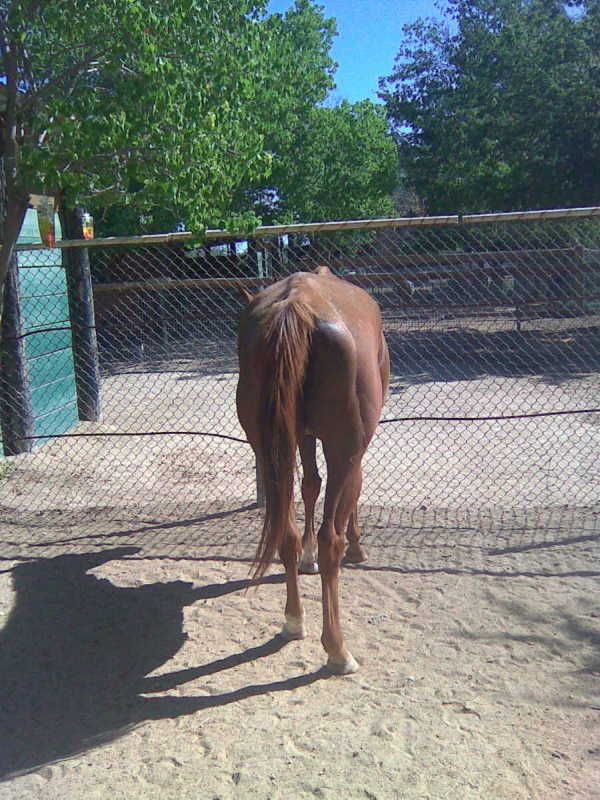 ---
Donna
Truth is meaningless in the absence of understanding.
Out of 1-9, I would give her a 3.5, she could defintely use some more weight and she looks pretty thin from the behind picture. Muscle tone would help increase her score as well. Other than being thin and not overly toned, she's a very pretty lady!
I'd give her a 4 or 4.5
If you Google "Henneke body conditioning score" it should come up so you can do it yourself whenever needed
Posted via Mobile Device
Well she's worse off than my mare that the vet just scored at a 4 so I would say a 3/9.

Her back end is still slightly sunken in, hip bones protrude more than they should, ribs are visable. Her back appears to be sunken in as well. That is the last to go. The dip on the withers is what says to me she is sunken in there.
between 1 and 10, i'd give her about a 3.5
---
Horseshoe Loop Farm: Home of Gypsie (22 y/o TWH mare), Dakota (10 y/o TWH gelding), Codie (18 y/o Walkaloosa gelding) & Harlow (9 y/o APHA mare)
Stop giving her scores and give her some groceries instead! I'm in agreement with the 3.5
If I remember right, the OP has been having issues getting weight on this horse.
I agree with the 3-3.5. When she gets to a 4, she will be flat across her back, rather than having the spinous processes protruding.
Posted via Mobile Device