Can't tell from the pic. Looks ribby and rafter hipped indicating needs weight/condition, possibly wormy, hair coat doesn't look great so again...... but would need more/better pics to actually be able to give a serious condition appraisal/BCS score.
---
Trained
Join Date: Sep 2011
Location: Germany- but not German =D
Posts: 5,151
• Horses:
2
GH to be fair, I'd say not too bad. Fluffy winter coat which is good as horse appears to be living out, though dull. Maybe give access to a mineral lick in case anything is lacking.

Second picture looks like a healthier horse, but that may be due to the flash. You can take pictures at different angles, different lighting and it looks like could be two different horses, could be the same one.

I'd just make sure worms are clear, espcially if horse's sharing a paddock, mineral lick and possible feed up.

Also, the top one doesn't look ribby ribby, may be a bit on the slender side, however any ribby look appears to be higher than where I would expect it to be.
My first thought was haflinger..I see a belly, fatty withers and butt which indicates overweight, but if it is a haffy I would consider this fairly normal lol. Its hard to tell with the hair, but looks like some ribs?? If so I would reccomend worming. But otherwise looks heathly and has his winter woolies.
---
Love to laugh, laugh at life, live to learn, learn to love
Ok after I saw the second pic, defintely haflinger lol. Lovely shine and glean to a woolie winter coat. I would say looks pretty good :) Haffys are just a little chunky already, but a good weight for winter.
---
Love to laugh, laugh at life, live to learn, learn to love
Quote:
Just give this one photo, what would you say the condition of this horse is?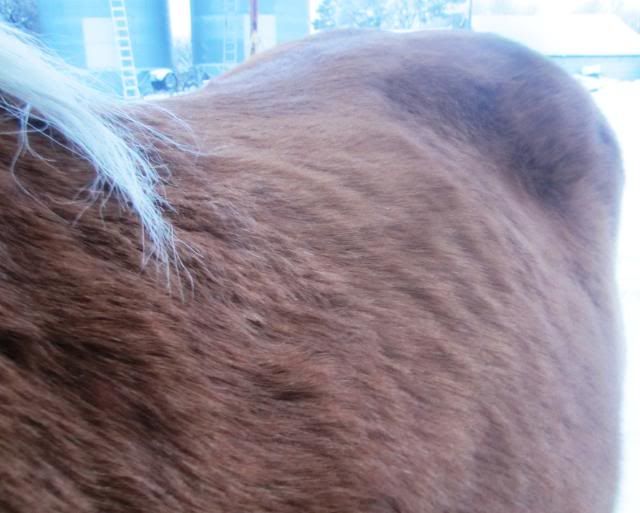 Hairy ?????????????
Trained
Join Date: Sep 2011
Location: Hour and a Half from Town!
Posts: 6,324
• Horses:
2
With that last pict I'd say a 5. Maybe preggers with the dipping withers??
Shoulder & neck looks fleshy and muscled. Still cant tell...
Dying to see the whole picture! Coat looks nice in this one, not dull even for a winter coat.
Looks like the same horse to me with different exposures or tweaking of the film.
It's the same horse.
---
For those who don't like me-- it's mind over matter; I don't mind - - and you don't matter.
www.obsidianarabians.com