Cool calories is endorsed by Bob Avila and Amy Tryon which didn't mean alot to me, but it impressed my BO....
So I gave it a try.
Feeding him only free choice hay, SmartDigest probiotic supplement, 2 scoops of Cool calories, 1 lb shredded alfalfa cubes and 3 lbs of Purina Strategy....while on DRY LOT with only 1 hour grass time daily, he went from a body score middle two, looking like this the day we bought him:
to looking like THIS in only 5 months:
Since his weight gain, we have modified his diet somewhat and moved to a private farm with 23 acres of lush green grass.
Almost two years since we bought him, His current picture, taken last week shows him looking like this: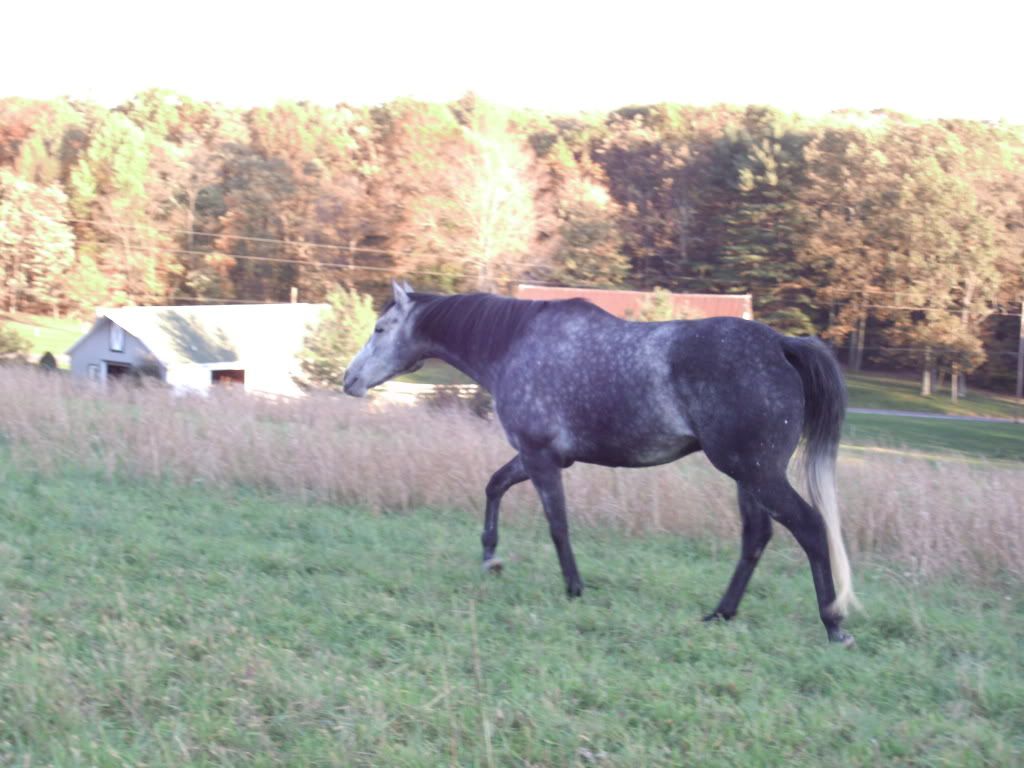 Rather plump for aN OTTB, we are told and he is constantly mistaken for an Appendix...
He has grayed out dramatically, and his dapples have exploded!! lol. He was mostly black before.....
His current diet consists of daily
1 scoop Cool Calories
1 LB shredded alfalfa cubes
Probiotic supplement
2.5 lbs Strategy
7 hours of grass time
free choice timothy hay
I don't know if it's just his genetics or what, but he is one fat dude!! For an OTTB, that is....for a standard horse, he is about right. I don't know how he came to look like he did in the green picture we took the day we bought him, but since he is a definite easy keeper, I can only assume he was purposely starved....because when fed properly, he will eat and eat and eat. He literally eats more than our draft. For real!!! He gets two extra flakes than her....and almost always eats every last stem!!!
Vet was out yesterday to see Epona for an allergic reaction and commented on Beau: "he looks good but PLEASE don't let him gain anymore weight".
---
Last edited by Beauseant; 10-28-2011 at

08:55 AM

.
Senior's is a completely balanced ration for the senior horse even if he has no teeth. It has extra oils and probiotics. It's best to weigh the scoop of feed. I dump it into a plastic bag and head for the grocery store. He can have no more than 5 lbs per feeding. I like to scatter them well. A feed pan allows the horse to bolt them down. The faster in, the faster out. An old table top with sides makes the horse nibble them, better digestion. Also consider using a small mesh hay net, again to slow him down. They are less than $10 from Chick's. Tie it high so he doesn't paw at it, which breaks it.
If he's already growing a good coat, do not blanket him. Blanketing causes them to overheat and dehydrate. You live in Geogia. Our horses are fine in -35 which you people have no concept of. I was in Georgia in November and tho't the cooler temps were great, good working weather for us Canadians.
Saddlebag, you have to take into consideration that our horses are acclimated to the colder weather. To the horses where the OP is the winter temperatures are cold to them. You can't compare the situations without taking that into consideration.
OP - Have you had your horse looked over by the vet to make sure there isn't an underlying condition as to why he won't gain/keep weight? It is at least looking into.
If you have already mentioned that he was looked at, I didn't see the post.
Thanks beausant for the detailed diet of your guy and the pictures!

I've never had hunter looked at by a vet because of him being a hard keeper, ive just noticed that he loses weight when he is ridden more or when it gets cooler. He's a pretty good size in summer with warmer weather and being ridden less. He's only lost weight in the summer with heat indexes like over 100F and him sweating a lot.

His food is somewhat spread out for him to eat, and he doesn't rush to eat like some horses do. He also takes his time eating hay, so I don't think how fast he eats big bites is a problem.
I totally agree with Bubba in that oil is just as good. I tried all the oils and for me the cool calories seems a lot cheaper. it's like 30. for a bag that will last me with 4 big Tbs several months. when i but corn oil for olive oil or canola oil i go through a bottle a week at about 8 to 12 each time so the cool calories seem to work really well and be cheaper, or at least it seems that way to me. unless Bubba has some secret place to buy real oil on the cheap LOL in which case I'd go with that.
My horses love the oil and it has really helped with their coats. Also it really put the weight on my VERY hard keeping Tbs.
---
"Action cures Fear, take a small risk every day". Jane Savoie
I also have a 17 year old, he is TB-QH cross, I live in NB Canada, it goes down to the -40's here in the winter, my guy is out 24/7,with access to a barn and shelter, I dont blanket at all during the fall, early winter, he grows a beautiful thick winter coat....By putting a blanket on, the horse cant adjust, I feed my boy BOSS, Flaxseeds, MSM, free choice hay. ..He gets Probiotics for 3 months out of the year..He was a hard keeper until we finally found what works for him..My boy cannot have any starch or sugar, I tried feeding him Soya bean meal which had 0.003% starch, he went crazy with his nerves..You would think such a small amout of starch on a 1200 pound horse wouldnt make a differnce...anyways, back on topic.....I will blanket my boy during the winter if it goes below -30, At his age, Im just trying to prevent him un nessasary weight loss from shivering, I have not seen him shiver, but, I want to make sure he doesn't..
NDAppy, a horse begins his new winter coat before summer, based on daylight hourse. It has nothing to do with the weather. With our longer nights, being farther from the equator, Canadian horses, with some exceptions, grow coats like grizzly bears. And they are warm. I've looked out at -38 to see a bay horse appear snow white from frost on top of his coat. That is because of all the heat he is generating. It takes a lot of hay to create this balance so we feed more hay. The temps in N Geogia don't begin to drop this cold. Just because people feel chilly doesn't mean a fur bearing animal does. He likely is most energetic at these temps.
we choose the Cool Calories vs. oil because our boy is weird about his food, and he wouldn't touch anything slimey or wet....plus, I just didn't wanna deal with messing with the oil or spending time.
The cool calories works for us because it smells terrific and BOTH horses think it tastes fantastic and they gobble it right up....even our fat draft. In case you are wondering why a fat draft is getting cool calories, she isn't. But one day my son wasn't paying attention and accidentally put the scoop of cool calories into her feed bowl.....needless to say, she was quite pleased. She gobbled it up so fast we didn't have time to remove the feed dish...
And she is the worlds most picky eater.
So, I like the Cool Calories for the convenience, just scoop and done, and for the fact that our boy licks the powder off his feed bucket...so it's not wasted, nor is it a trial to try to get him to eat it. Oh, and because it really really worked for him......he is now a FAT PIG, thanks to Cool Calories and his probiotic supplement.
---
Last edited by Beauseant; 10-29-2011 at

09:17 AM

.
Similar Threads
Thread
Thread Starter
Forum
Replies
Last Post
What Happens in The Winter?

Trinquete

Horse Talk

10

11-17-2010

11:52 AM

Winter hay

Poco1220

Horse Health

16

11-01-2010

06:35 PM

Winter FUN!!!!

juneau

Horse Pictures

6

01-05-2010

11:15 PM

Winter

kko

Horse Talk

10

08-05-2009

01:50 PM