What does this look like to you?
---
I noticed my gelding rubbing his rear on his stall wall about a week ago. Then, I noticed this dirty spot above his tail bone on his rump. When I rubbed it with a brush to clean it, it didn't clean off AND he noticeably tucked his rear end. Attached are pictures to show what it looked like yesterday.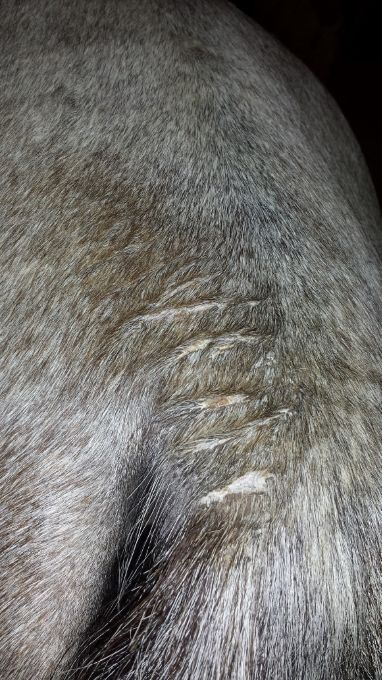 This is the first day I noticed it being scabbed up like this. Before yesterday, he was just sensitive there (from rubbing, I assumed).
Any thoughts on why he suddenly started doing this and what I can do about it? I've washed the area 4 days ago and rinsed him off after every workout. The BM put MTG on it when she first noticed it, but not since.
---
The wind of heaven is that which blows between a horse's ears. ~Arabian Proverb
maybe put some diaper rash cream on it or hydrocortisone creamskin conditions are hard to figure out. that almost looks like something scratched him .
He might be in need of some sheath cleaning, if it's not insects causing an itch, which he, off course, wants to scratch, and seems to have found a place a bit too high, hence the rub marks high in the tail bone.
I would check for need of the dreaded sheath cleaning, apply flyspry to the tail and treat the wounds like any superficial wound.
His sheath was just cleaned by the vet a couple of months ago when his teeth were floated. I also check on it whenever he drops. I'll try some Desitin that I have at the house and see if it does any good. He's supposed to get fly spray every day, but it wouldn't surprise me much if they aren't doing it in the morning before they put him outside.

Thanks!
Posted via Mobile Device
Those were the two possibilities for tail rubbing
Not everybody has a boy like in my avatar, who aims and backs into me and asks for some scratching when in need of a sheath cleaning, lol
Makes my life easy
In your case....probably bugs and he just found a rather unfortunate spot to scratch.
I put some MTG on it today. Hopefully it does the trick!
Posted via Mobile Device