What height/weight person can this horse carry?
---
Hi all,
I know this is a strange question and may be in the wrong section but im not sure where to post it.
Anyway, im looking at buying a welsh sec d and the majority of these are about 14h-15hh.
I am 5ft5 and weigh about 91/2 stone. My horses have ranged from 13.2hh-15.2hh and I have looked okay on them all and welsh sec d are cobby so they are wide but anyway, im just wondering if people think i'd look okay on a pony of 14.2hh as I want this horse to be my final horse for life. I doubt il grow and if I do it'l be a tiny bit and I hope to loose some weight.
I know they can carry like 20% of their bodyweight or something but I cant work it out and partly I think its just paranoia that people will comment on my size.
If people could post pictures if theyre similar size on similar size horses that would be helpful
Thanks,
Sarah
Ok I am not 5'5ft ( I wish XD ) but I am 5'2ft and about 9 stone..
This is me on a 14hh pony..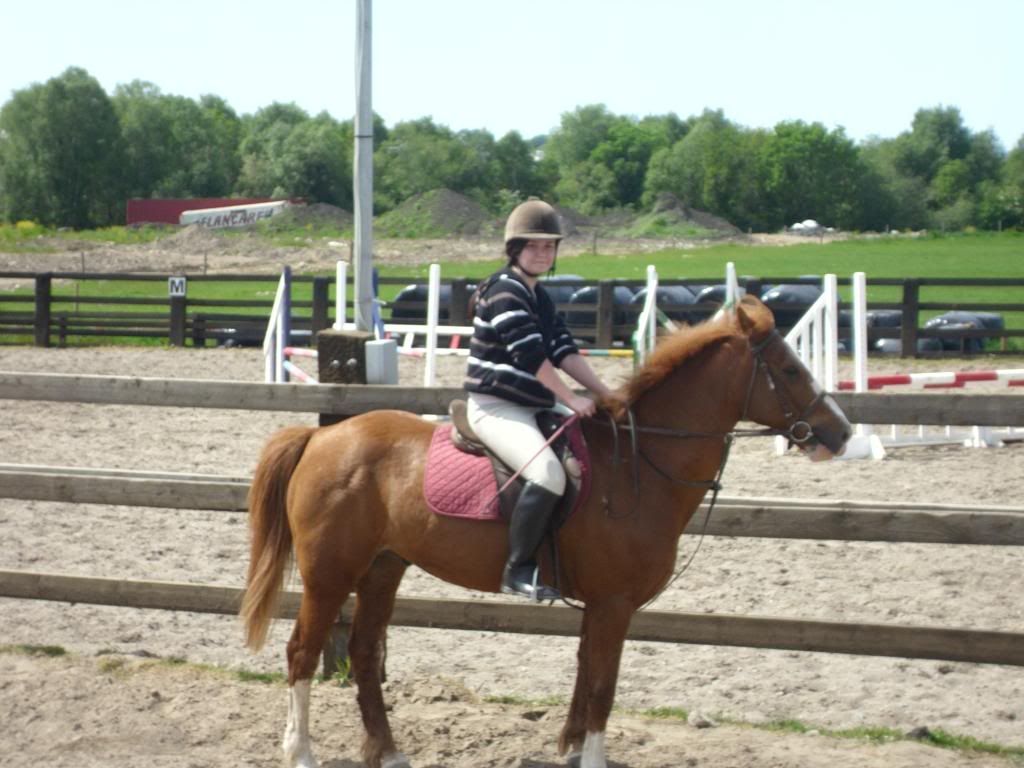 It depends on the horse. Factors include conformation, muscle tone, fitness level, etc. It also depends on the person. A balanced experienced rider will be easier for a horse to carry than an inexperienced wobbly or bouncy rider.

I am 5'8" and 260 lbs. I ride all of our horses, from a 14h QH mix mare to a 16h long-backed paint mare, all in the 900-1,100 lb range. The long backed mare isn't as suited to carry my weight, so I don't ride her for long, just 20-30 minute schooling sessions to tune her up. She's one of my lesson horses. The 14h mare on the other hand is short backed with great muscle and has no problem toting me around as long as I want.

133 lbs is nothing for a 14-15h horse to carry, especially a Welsh. Welsh ponies usually have short backs and compact conformation, making them able to easily carry more than the 20% rule of thumb. As long as you condition your new pony/horse well and let his/her fitness build, then you won't have any problems.
I am 5'3" and weighed about 135lbs in this picture. The pony is a 14.2hh TB/Morgan cross. He has been turned into my child's pony now, and I weigh a good bit more than I did then (I'm about 165lbs now) but I still get on and ride him regularly to keep him in line, and I don't think I look to big on him even now, and he certainly has no trouble carrying me around.

(And don't worry, I bought the proof, so it's mine to post. This was from a charity horse show and they were selling photos to raise money for a rescue group.)
---
"Keep a leg on each side and your mind in the middle"
Thanks guys. I think im just a bit paranoid from people saying at 19 I shouldnt be riding a 13.2hh pony... But she was a gypsy cob and well up to carrying my weight.
I dont think they'll be a problem as the horse in question was a mans horse so I should weigh nothing haha but keep the pictures coming
they make me feel better lol!
I'm 5'2, 105 lbs and ride a 14.2 hand Quarter horse. It is a great height to ride I think.:)
Me on Pesky>
My daughter is about 5'6" and 120lbs, riding a 14.2h Haflinger below. The bay is the 14h mare I mentioned, being ridden by a student who is 5'7 or so.
Okay this might sound stupid but your all about 5ft2 and your feet are very near the bottom of their bellys which is considered too big in the UK so me being 5ft5 will surely be too big? however, looking back at my past horses my feet come 2 same place on all of them ranging from 13.2hh-16hh.
Thanks everyone...'Luvstoride' thats made me feel much better seein some1 so tall(5ft7) on a short pony and she looks fine
I have this problem with my horse.....I always feel too big for him. He is 15.1-15.2 and I am 5'8 HOWEVER he is extremely narrow and I have VERY long legs so my feet are below his belly a tad (ride western) which makes us look weird to me in our pics. :( I know there is no problem carrying me and he feels like a mountain to climb up on LOL but it always seems funny cause of where my legs hit.