What I got to the barn to see :( (Warning: Graphic)
---
So left home this morning and made my way out to the barn to have a lesson...my bf was actually coming with me to test some new hack on his camera or something...well didn't really get to test it.
When I got to the barn, everything seemed normal, Stella was in another horses stall like always because the other horses are jerks and always push her around. She sees me walking up and gets happy to see me and makes he way to her stall...everything seems normal...till she turns around and I see her skin hanging off on her rib cage!!!!!!!!!!! I freaked out, called her mom (I lease her) and she freaked when I told her about it and got in the car to drive over. Gave her some love and kept her from messing wtih it and starting looking around...Found chunk of horse meat on latch of stall across from hers.
Someone must of chased her out of her stall and the door wasn't open all the way or something so it hooked into her!!!!
The vet came out, cut off some of the skin and sewed up what she could :( Any suggestions of other things we could do with the healing process and to help it heal with hair growing back?
---
Last edited by iridehorses; 06-06-2012 at

08:55 AM

. Reason: Language edit
Oh wow! So sorry you have to deal with that. What did the vet suggest? ps, your title should say graphic, lol! That turned my stomach a bit.
Ouch! Hope she heals quickly.
too bad the latch was put on so that it stuck out like that. it's an accident waiting to happen.

The wound looks like it will heal nicely. Some folks talk about a medicine called "Underwoods", but I have no expereience with wound care.
I would say just keep it clean and dry. Atleast when hair grows back it will blend in with that coat.
Second thing is fix that latch on that stall door it sticks out way too far.
Poor horse hope he heals quick.
TRR
Vet said to keep it clean basically and keep flies off. Her mom went to pick her up a fly sheet, since its on her rib cage its not really a spot to wrap :(

Yeah where shes boarded at right now is terrible, but cheap and close to her mom so shes able to get over there everyday I'm not going to check on her :( I think this is the last straw though and we are finally going to move her to a nicer barn. She's gotten hurt a few times now shes she moved there at the beginning of March...never this bad though :( I'm often amazed their horses are alive and not torn apart...I guess shes just really accident prone.

luckily they agreed to take the latches off the doors because we don't even use them, the stalls are always open unless they are eating so they can come in and out as they please, and they don't even have a spot to latch into...so the doors just have random latches on them...that the younger daughters often forget to make sure are all the way open and latch pushed back so its not sticking out :(
Out of curiosity, it sounds as though stalls are left open and the horses move freely about in the barn into and out of each others' stalls).....correct? If there is a known bullying issue such as what you seem to reference, it might be time to reconsider that approach. At the very least, reconsideration of hardware placement and procedures for assuring doors are properly open would be something to consider as a "how can we prevent a repeat".......which is a good thing to do after any injury/accident situation
OW, poor girl, glad the vet came and treated it.
I recently went out in the morning to see this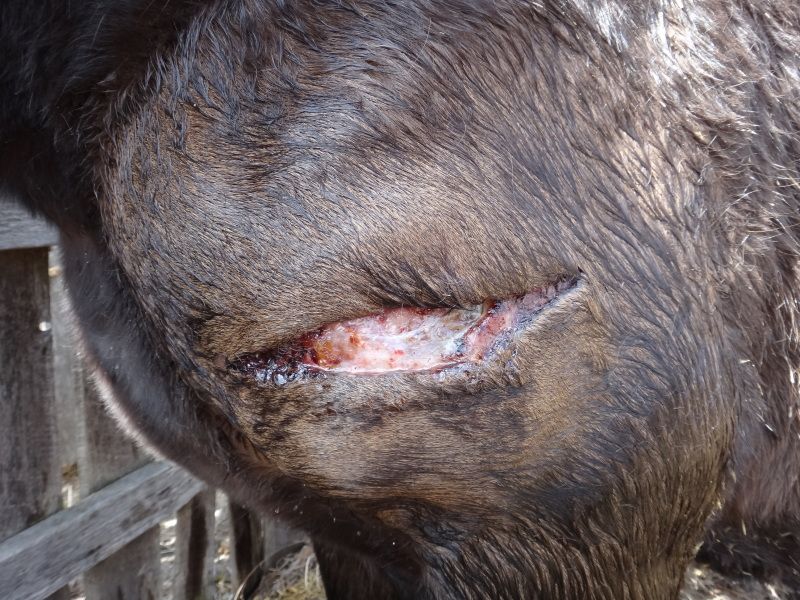 I used Underwoods on it, twice a day every day, and one month later it looked like this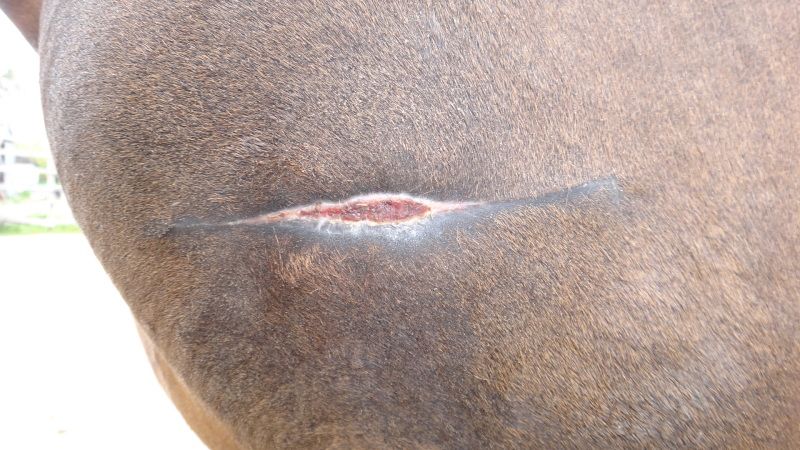 It is the first time I have used Underwoods from the beginning and I am a BIG BIG fan.
Hope your girl recovers as quickly
A filly at a stud I worked at got caught up on a gate out in the field, same type of injury and her's was also on her ribcage. Washed it daily, kept it clean and it healed quickly enough. She did have a mark left but it never affected her again.

I would also be very concerned about the horses running in and out of the stalls. In a herd situation there is always going to be bullying, and it is down right dangerous that the horses be put in a situation that they are trapped in a stall without the ability to get away from the other horses. I would think that this is a very serious accident waiting to happen.
---
Stop for a minute, open your mind, learn. You may not agree with what I say, I may not agree with what you say but we will both learn something new.