Quote:
Originally Posted by
whitetrashwarmblood
View Post
The barn manager and I took a ride to the pasture today, and she showed me what she was talking about. I don't have a picture of it, but it's a straight up & down plant that has prickly thorn thingys with little white flowers. The thorns and stalk look kinda redish brown.
If you get the chance to get a picture, I would like to see it.
It's very possible the horses are going after the grass beside these plants and are getting poked with the thorns. Whatever toxins might be in thorns could be causing a reaction on some of the horses.
From a horse perspective, it seems like the tastiest morsels of grass are found right up against any bush that will poke them with something toxic - lol lol
Sounds like a plant rather than an insect - most of the sores are on the lower parts of the horses . We have tics in Hungary and they tend to concentrate under the jowl area or in the horses crest / mane area.
I check the horses every night for ticks under their jowels, in their anal areas, up under their hind legs and I have even pulled a tick or two out of the insides of their sheaths
I don't do a thorough check because I'm wore out by day's end, so I check them again in the morning as they get brushed, sprayed and medicine put on their boo-boos before I turn them out.
Lo and behold, I flipped the Arab's mane to the other side and found a tick that wasn't there the day before
I took this picture to give some idea of how he swells from tick bites. He swells a lot worse if the bite is in the soft skin under his hind quarters.
Most of the swelling is in the circle but does extend downward. It's easy to see the bite mark in the center.
The tick was still attached but already dead; I'm pretty sure regurgitated what it had drawn out back into Streeter (they will do that). I don't know if this will end up with the yellow-oozing serum coming out of it or not.
This is the only horse that doesn't get garlic because he has ulcer issues. He is getting 4,000 I.U. of Vitamin E daily to help with his severe allergic reactions; I don't know if that had anything to do with the tick's early demise or not.
This was a Lone Star tick; we are polluted with them in Middle Tennessee.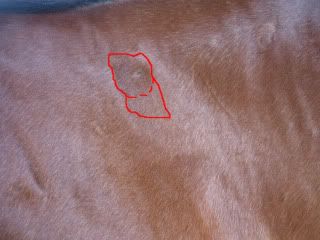 IMO I don't think it's a plant because Athena has bites / sores that go past her teats they're so far under her legs. I doubt a plant could have reached that far. I bet it's some kind of bug. Ticks maybe? But I usually notice ticks since I groom her / check her over every day. I think it's some sort of flying bug. I will take a picture of Athena's and some of the other horses chests tomorrow. Since the vet's been out some of Athena's sore/swellings have gone down, but they're not completely gone.
Some more wonderful news... Athena was bit by a spider under her jaw and between her cheekbones. It's nasty, and you can clearly see the two puncture holes. It's swollen up to about the size of the top of a coke can. I doubt it's a brown recluse because her skin isn't rotting away or anything like that. It's just really swollen and she really likes it itched.
This isn't my horse, but I found a pic with a similar sore in one of the spots some of the horses are getting them.
Along with that, there's the oozing clear/yellow serum that dries with some blood/dirt, but I peeled off a scab just to see what it would look like underneath and it kinda looked yellow? Explains the serum I guess...
That could a pic of my Arab's face you posted
I had everyone shut out of one of the pastures for a couple weeks because my 21+ horse, that is metabolic, injured a tendon in the pasture. It is on a really steep hill and the turn at the bottom, coming back into the main pasture, can get slippery.
Anyway, I opened that back up and, just as I suspected, the Arab and the metabolic horses' faces have been "poisoned" by something up on that ridge.
I know we have a variety of pig weed, a variety of nettle, poisons ivy, oak & sumac, and who knows what else up there.
I wouldn't even know where to begin fencing because the "stuff" could essentially be traveling so far down the hill that I wouldn't get it all anyway.
We put D-2-4 on it in spring, 2007 and that didn't help, so that tells me that I would have to put an all-kill down (and most likely still not get it all). In turn, that would mean keeping the horses out of there for "months" as far as I'm concerned. I know the beef owners put their cows back on sooner than that, but I would fret too much over the horses.
The skin issues only last from about now until mid-September where I live. Hopefully the Vitamin E I have them on will help the healing process from the sores. If skin allergies get too far out of control, I will put them on Tri-Hist for awhile
Life sure has changed - I was raised on dairy farm, my grandpap had beefers and Welsh/Morgans. We never had issues like this. Back in those days we fed our own corn, oats & hay and the seed used to grow those things was not "hybrid" seed, and the fertilizer was probably of more pure quality.
No skin allergies, the only ticks we saw were on the dogs, coggins didn't exist, no one got shots except the farm dog for rabies.
Our worst worry was picking up a bale of hay with a "live" swamp rattler in it. Yes life really was simpler and I miss it - lol lol lol lol