What kind of shoes to put on a horse that's had laminitis?
---
I have a 9 yr old Tenn. Walking Mare who had laminitis about 3 or 4 springs ago that was caused by her being slightly overweight and eating to much rich spring grass. She came around and has done well, the only complication was an abscess in one of her front feet, which the vet said was common in horses who have had laminitis. We're not exactly sure how severe she got but we caught it the first day she acted sore. (we didn't do any x-rays, our vet doesn't have an x-ray machine).

Anyways, since then she has come through all that and she has been barefoot. Now I'm starting to do a lot more trail riding and riding on roads. There is also a possibility that I will be traveling to Tennessee to go on a pretty adventurous trail ride weekend down there, and I'm thinking that I need shoes to protect her feet and for traction. What shoes do you think would be best for her? (if you could articulate why that would be great).

Another thing about her that we've noticed this spring is that she has been growing more sole than toe, not typical of other horses in the spring, and they are growing very slow. I'm thinking that it's due to us keeping her up in her stall off the grass to prevent founder and laminitis and feeding a mix of alfalfa and grass hay which is like a winter diet. What do you think? Would a feed supplement containing biotin help her feet grow faster? Should we give her more grass to see if that will help her feet grow?

Thanks for your help!

also: Her stall that she's kept in is connected to a small turnout corral so she isn't in a 12x12 stall all day, and she does walk around in that pen. And she does get exercise from being ridden about 3-4 days a week.
I am thinking if she has foundered and has had laminitis I wouldn't let her eat grass. That's just my opinion. Does she seem sore at all with the riding you are doing now?

Depending if you want her to stay barefoot, why not go with boots if you take her to Tennessee? Otherwise, toes short and heels long. Mustang roll in front. Have a farrier take a look at her feet if the sole is growing more than the wall of the hoof. Biotin is always a good idea but my suggestion is have your farrier look and give his/her opinion. Good luck
Posted via Mobile Device
You are just taking a 'shot in the dark' without x-rays. Find a Vet that can take x-rays so you know what you are dealing with. A Vet that specializes in horses and lameness issues would be best. Find how much rotation she has in her P3 (coffin bone). She needs to be trimmed and/or shod to a prescription worked out by the Vet taking the x-rays. To do anything less is just guessing and hoping for the best.

Horses that have considerable rotation of the P3 have a very poor growth rate at the toe. If you look at the growth rings going around the horse's hoof, the difference between the width of those rings at the heel (usually wider) and the toe (very narrow) show you how much the growth is hindered at the toe. The 'dish' in a foundered horse's feet are from the faster growing heel pushing the slower growing toe up.

The heel is the healtiest part of the hoof, so most trimming and shoeing techniques try to transfer as much weight and stress as possible to the heel and away from the toe. We have had the best response taking ALL weight off of the front third of the hoof wall and placing all weight on the back 2/3 of the horse's hoof.
I agree with mbender that boots could be a great option for you, as she sounds comfortable right now bare. The great thing about boots is you can take them off once you're done your ride and let the hoof have a break.
I really like the Easyboot Epics or Easyboot Bares. To make them work optimally, measure your mare's feet for the boots perhaps 3 weeks after her trim, unless she grows at an alarming rate. That way they should fit throughout her growth, except perhaps at the very end.
Quote:
Otherwise, toes short and heels long.
Be careful with this concept. High heels put the foot out of balance, and transfer weight to the toe. If your mare has had laminitis then it is her toe area that is weakest, and this will cause her potential pain -- especially if she has any rotation in P3. Goal should be to keep P3 (the coffin bone) as ground level as possible so that, as Cherie mentioned, the horse can bear weight in the back half of the hoof. Mustang roll is always a good idea to aid in breakover.
It would be great to see some photos of her feet, I'm curious about the extra sole growth.
---
Last edited by Magaidh; 06-07-2011 at

09:18 AM

.
To answer some more questions/concerns that had been raised

* No, when I go out riding, even when riding on pavement, she does not act sore or lame in any way during or after.

* I'll try to get some pictures when I go out there tomorrow
Just posted pictures
---
Hey, just took pictures today when I was out at the farm today. Did the best I could with what I had to work with. See what ya'll think.... Just click on the facebook link below and it'll take you to an ablum...
Facebook
My gelding had laminitis and I keep him barefoot with regular trims. He's on a low starch/sugar feed and is on pasture. I just watch him in the spring when the new grass is starting and dry lot him if I have to. I try to stay away from shoes if at all possible.
Her hoof quality looks pretty good. When was she trimmed last? From these photos her feet look a little bit long and a little imbalanced. Her heels are quite long, and her toe is stretching at the white line (can you see how the angle of the wall changes about 2/3 of the way down, where the toe wall becomes less steep).
It's really difficult to give good hoof analysis over the internet, but I'd suggest looking over this website to get more info on bringing back laminitic feet.
Treating Founder (Chronic Laminitis) Without Shoes--Home Page
Here is a photo from that website that looks similar to your mare, though this hoof is much worse:
You can see the similarities: long diverging toe, heels that are excessively long and becoming underslung (growing under instead of down). Here is a photo of much better hoof angles: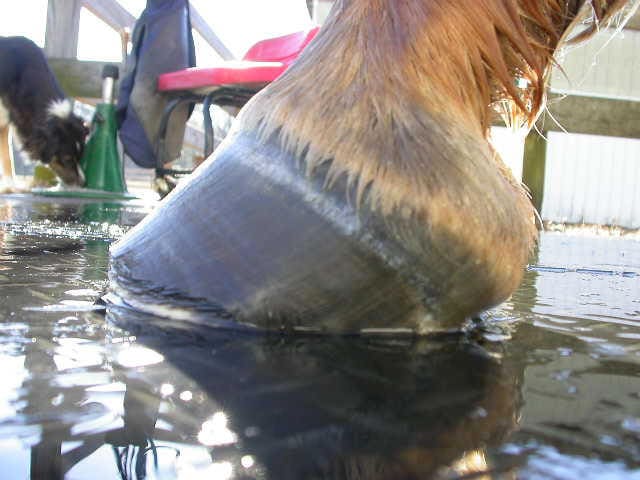 This foot is very achievable for your girl! She has lots of excess hoof, and I think in a couple of trims you can get her heels and toe to a reasonable length before they do more damage (her toe will continue to flare if not trimmed back and her heels continue to collapse). Ultimately you want her frog to come into ground-contact, developing the back half of her hoof, so lowering her heels is important.
Good luck with your mare. If you can get her trimmed soon and measure her for boots I think that would be the best option for the continued recovery of her feet.