Here are the legs of a horse out at where I use to ride: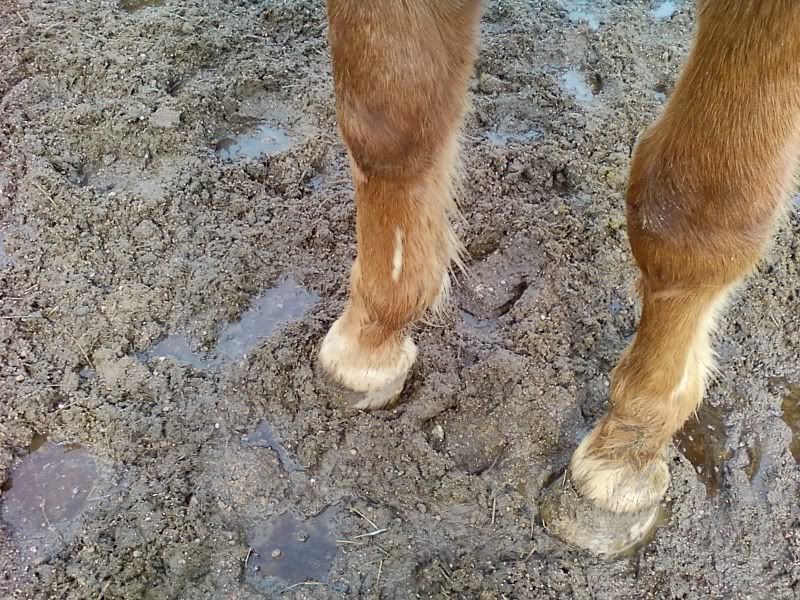 Those lines are on both sides of the leg on both front legs. They said they thought he has been pin fired too, but all the pin firing scars I have seen have been dots where his are lines. He was a rather valuable WP horse at one point in his life.
---
RH Queen O Anywhere "Sydney"
2009 Sugarbush draft
Banned
Join Date: Jul 2009
Location: In a land far far away, or so I wish.
Posts: 12,825
• Horses: 0
QH, that does not really look like pinfiring scars to me. That looks more like someone used ill fitting splint boots or such.
I agree w Alwaysbehind

Those marks are not from pin firing. Those are from ill fitting boots.

Pin firing marks are tiny dots in straight lines...generally all the way down the front of the cannon bone. And dont grow back w white hair. At least the ones I have seen are just like black dots.
---
Horses are like chips...you can never just have one
What do they actually do when they pin fire though?
---
♥When riding a horse, we leave our fear, troubles, and sadness behind on the ground.♥
They use a small tank of liquid nitrogen with a trigger and applicator. The vet marks the areas to be treated with a sharpie, and then puts the applicator to the leg. If I remember correctly it's 25 seconds of liquid nitrogen directly onto the skin, and often times there are up to 30 separate points to be 'treated'. The horse is heavily sedated for the procedure.

I assisted several times in the short amount of time I worked for one of the local vets. It's not a practice I agree with, but I'm thankful for the experience of seeing it first hand. I even had to take over (under the vet's supervision) when her hands would get too cold (I worked there through the winter, and you couldn't wear gloves to do it).
I have a horse that was pinfired by his previous owner, adn now he's lame where he got his marks. What now? I'm really not interested in having that procedure done to him again, cuz i know how terrible it is.
my horse has pinfiring marks on his hind hocks and he randomly mysteriously goes lame on the same legs. Could the injurie3s jsut be returning?
I know I'm a little late but those marks on his leg were made from him dragging his shoes up his leg - either scratching at flies by rubbing opposite shoe with clips up the leg (what my farrier says) or because the nails in his shoes were a little long during the same activity (what my common sense says). Injury was not serious in my guy's case - he had these superficial cuts down both legs that did not even merit serious care (cleaned and rubbed corona on them) but the hair still came back white.
Seeing pictures of a fresh pinfired horse makes me hate the procedure even more. Especially since the new guy I just got had both his front legs pinfired before I owned him when he was a racehorse. He's gray so his dots came in all white, and most of the pinfire scars I've seen are white not black.
This is in reply to QH - sorry. Could be ill-fitting boots but my case was dragging the shoe.