What would make these?
---
This is a friend's QH gelding. We have scratched our heads for a long time over what kind of procedure would create these types of scars. They are on both sides of the leg and all four are the same length and in the same spot. He is sound, even though I think the stride of his front legs looks kind of stunted for the length (if that makes sense).
Any ideas?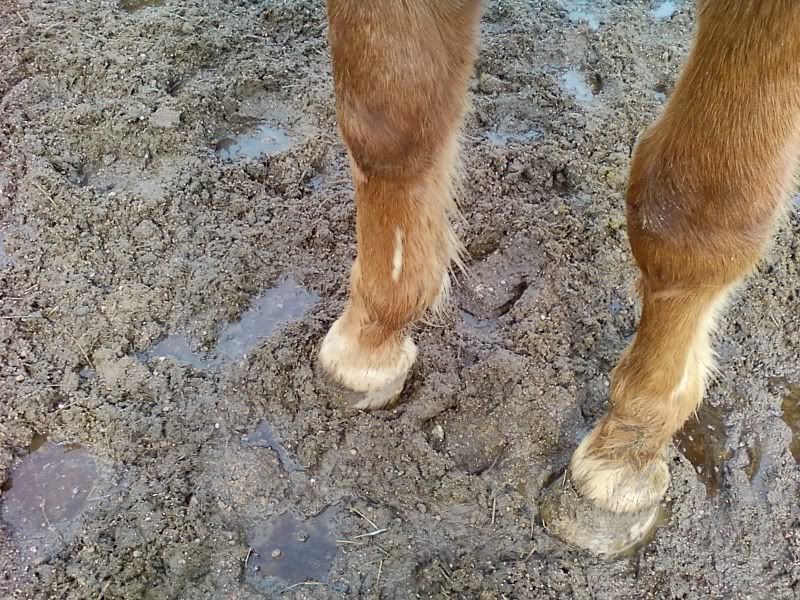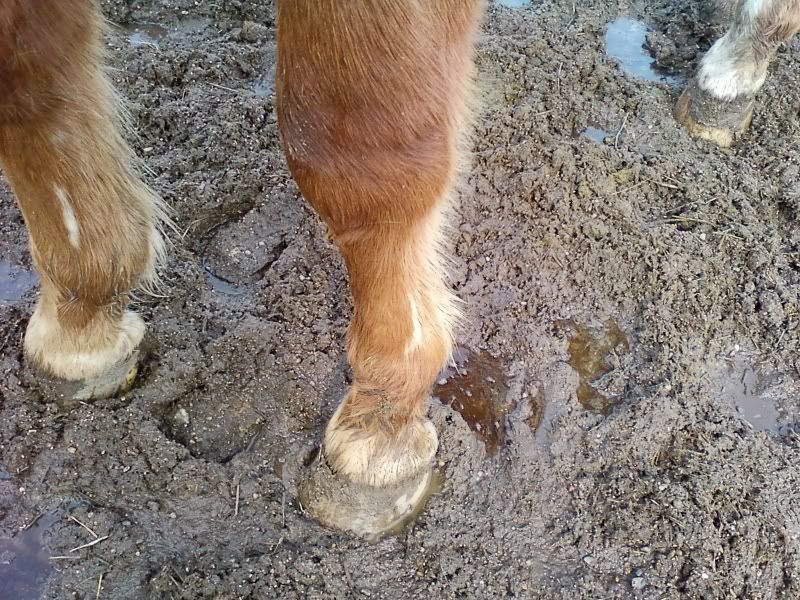 ---
RH Queen O Anywhere "Sydney"
2009 Sugarbush draft
I've seen those kind of scars once before! I had a friend who bought a QH that had them. He was told by the sellers the horse had been born with weak tendons, and the vet had surgically "sliced" the tendons to make them heal in stronger. I can't remember if he said they were just weak, or if they were too long and were shortened? I am sure there is a more technical explanation for the procedure, it's just what he described to me. His horse was completely sound and he team-roped off of him, just had the scars.

Just as a side note, the rt front fetlock looks a bit swollen in those pictures.
Hm, interesting. I didn't know that they did stuff like that. Yeah, he is sound and is now being leased by a little girl that adores him and rides him everywhere. She wants to make him into a jumper, but he is a western pleasure horse through and through.

I think his leg is actually turned a bit funny and it makes it look swollen, it didn't look swollen in person when I was taking pictures and examining the scars again.
---
RH Queen O Anywhere "Sydney"
2009 Sugarbush draft
Pinfired possibly
---
<\__~
.// \\
I read a couple of articles on pin firing and none of them really made sense. Can anybody explain it in normal people terms?
---
RH Queen O Anywhere "Sydney"
2009 Sugarbush draft
Pin firing, as I understand it, it scarring an area with acid or heat to increase blood flow and speed healing. It's generally done in track situations, where they need a quick turnaround. Most horses would heal the same with stall rest, it just takes longer.

Gunner has been pin fired at some point in his life, and it looks like two rows of dots, straddling the tendon or ligament. The skin will either feel smooth, or there will be white hair growth.
---
"Sit tall in the saddle, hold your head up high. Keep your eyes fixed where the trail meets the sky. And live like you ain't afraid to die...don't be scared, jut enjoy the ride." - Chris LeDoux
---
Last edited by HooverH; 03-08-2010 at

11:05 PM

. Reason: because you don't scare the skin, you scar it.
I would say his tendons didnt grow as fast as him and they sliced so scar tissue would make them longer. My old 4H leader did that to one of her fillies that grew up too fast.
---
Mom of:
Tiva: 17.1 thoroughbred mare and
Maverick: Paint yearling colt.
I don't really know but I am willing to be that it has something to do with the tendons. From the pictures, the horse seems to have extremely upright pasterns. Maybe they did him like the horse that SmoothFireman was talking about.
I am not sure that it would be pin firing, because from what I understand, pinfiring creates a line of small circular scars. Though it may be similar, I don't know.
Here is an example of what , I believe, are pin firing scars originally posted by xLaurenOscarx
Yeah, they're not circular, its one solid line on both sides. When I go out next time I will try to get a picture of his whole body. He is kind of awkwardly put together but apparently he has halter points.
---
RH Queen O Anywhere "Sydney"
2009 Sugarbush draft
Here are some more pictures of his legs.
---
RH Queen O Anywhere "Sydney"
2009 Sugarbush draft