When to say "enough is enough"
---
I guess the passing of my beautiful gelding Hugo yesterday has inspired me to start this thread, I suppose with the hope that maybe a handful of people in similar circumstances will take on board the advice given.
Both within this forum, and in the 'real world', we so often see horses enduring long, painful treatments or ailments, because the owner just cannot let go.
For the last 18 months, I have been fighting with the process of hock fusion, which, although not terribly painful for the horse, they are unsound to work for quite some time, and often need to be on courses of bute when the hock swells.
For 18 months, I said that if I thought Hugo's quality of life would be affected, I would put him to sleep. On a number of occasions, I called my vet, asked him to come and look and if he thought putting him to sleep was the best option, then I would agree to that.
Recently, Hugo managed to hyperextend his front leg in the paddock, and tore his suspensory ligament.
From this moment, there was a very pressing thought in my mind that putting him to sleep would be the best thing. I tried for 2 weeks, keeping him stabled, poulticed, bandaged and so on. There was a significant improvement, until I found him one day in the stable, with a bowed tendon.
Now, for these injuries, I could have opted for stem cell treatment, shock wave treatment, putting him in a full leg cast for 8 weeks etc. And maybe, he would have been able to walk on the leg at the end of it.
But was the treatment worth it? Would it be fair to make a horse, that is so used to being able to move freely around a paddock with other horses, stand in a tiny stable with no equine company, for months on end? Would it be fair to make that horse, also have to withstand constant pain, discomfort and stress, in the hope that maybe, just maybe... he might walk again? Even if that hope was quite far fetched?
Would it be fair, to expect the horse to then go through painful side effects in his other limbs, such as rotating pedal bones, and arthritic changes in major joints... because maybe, just maybe, he will walk again?
The same scenario applies to severe colic, long term illnesses and so on.
Is it REALLY fair, to expect an animal, thats lives only for today, to go through so much pain and stress, because you as the owner, can't bring yourself to let go?
I feel guilty that I didn't put Hugo to sleep as soon as he did his suspensory. He was never going to make a full recovery, and his legs were so worn out from his huge amount of time on the track, that even if the ligament did repair, I'm sure another problem would have emerged shortly thereafter. But that ugly, selfish human emotion that cannot let go of people or animals that we love, reared its head and I couldn't bring myself to do it when maybe.... just maybe, he could have recovered.
Now that he is gone, a weight has been lifted off my shoulders, and I no longer feel riddled with guilt. He went peacefully, I opted to have him sedated heavily, and then given the 'green dream' by his regular vet. He was then buried beside my friend's young mare, that was put to sleep under similar circumstances.
I can feel at peace with my decision, knowing that he is no longer in any pain. He had no idea what was happening, there was no stress involved what so ever. He left us, surrounded by people that loved him, and passed with his head in my father's arms.
Even though it hurts terribly, and I miss him dearly, I am glad it is done. I can feel glad that I let him go before he was in too much pain and began to suffer. He was still happy and bright, and eating well.
Why wait until a horse is in agony, when it can't stand but has been trying to tell you to let it go for weeks on end? The horse does not think about tomorrow, next week or next year, when it might be better. It only knows, now. Is it fair to make the horse's 'now', full of pain and stress, when there is not a great chance of recovery in the end?
I suppose you could call this all a bit of a ramble, and really, it is. My head is still swirling, I've been crying for hours and I miss my special Hugo terribly. But the knowledge that I did the right thing, is getting me through.
Maybe others in the same situation can learn from what I, and many others, have had to do, and decide to this time, put their horse's needs before their own, no matter how badly it hurts.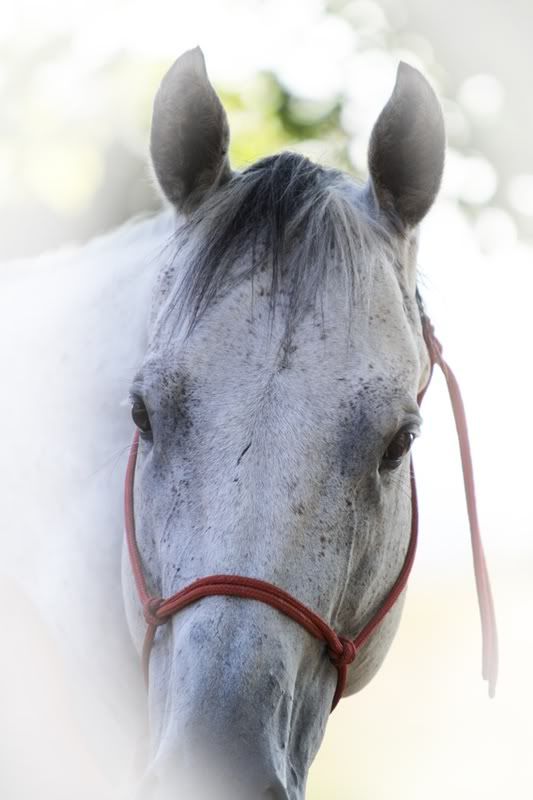 So sorry for your loss Kayty....
I have to commend you for your brave desicion for thinking of the quality and not just the quanity of life just maybe to spare your feelings.
I wish more people were more considerate and when it comes time for me to make that desicion I can do the same.
Posted via Mobile Device
I also have to agree with Cowchick. Quality of life is so important and it's a hard to call to make but it's the right one.

Bless your heart, and may Hugo rest in peace. I aspire to be as brave and compassionate as you, Kayty.
---
"Strength is the ability to use a muscle without tension"

May Hugo Rest In Peace.. Lots of people would make their horses go on and on, but you realized that that is just not right, and you had enough courage to know he can just not live happily like that. He sure was beautiful !
---
"Good things come to those who wait… greater things come to those who get off their ass and do anything to make it happen." - Unknown
Awww...I'm so sorry. He looks like a real sweetie. You did the right thing, of course. It does take bravery to do that, and love. Lots and lots of love.
I am sorry to hear you lost Hugo, but it was the right decision there is no doubt about it.

I am probably guilty of letting my horse's ailments drag out longer then they should have.

I had two older horses that we had to put to sleep for colic but that was after about a week of treating them non-surgically. In hindsight it was probably too long. But at the time I was praying for a big pile of poop and a miraculous turnaround. And they did get treated with banamine so hopefully they weren't in too much pain. But still, I probably should have called it quits sooner.

And then I had a 30 year old Paint with really bad arthritis. The vet said if he was still eating good he wasn't in too much pain and still had a decent quality of life. I didn't want to loose him so I kept him alive probably a couple of years longer than I should have. He was the most wonderful, affectionate horse.

Each horse I loose I pray that the next time I will have the courage to make the right decision sooner. It's just that emotions always end up getting in the way. But if the owner loves the horse and is thinking about euthanasia, then it is probably the best decision, because at that point you already realize whether you can deal with it emotionally or not, that the horse has come to that point or is very near it.

Stay strong and know you did the right thing for Hugo. I've been in the same situation and know how hard it is to make that decision for an animal we love.
Trailhorserider, that's the thing - I think that if euthanasia has crossed the mind of an owner, then that is probably going to be the right decision.
When my vet put Hugo to sleep last night, he commended me on my choice, as he could see that his hock had started to swell again, and the pedal bone in the opposing foreleg was beginning to rotate. It was really comforting to have somebody that knows my horse, his history and his temperament, to tell me that. It put my mind at ease knowing 100% that I had made the right choice for my horse's welfare.

My last mare was euthanised after she broke her leg beyond any hope of repair, and to be honest, it was a lot easier to do it with her, than with Hugo, where there is always that 'maybe' in the back of my mind. It's just a matter of putting the horse's needs before your own, as much as it hurts.
I am normally a pretty tough lady with these things, but hell, even I've been crying non stop for a couple of days, I loved him so much, but it had to be done for him and not for me.
he was beautiful! i almost had to make this desision but it was my moms horse and she kept saying i trust you while she cryed. he had colic and he passed away within 24 hours of colicling.
When we had our oldy put down because he was not keeping weight, had digestive and arthritis issues and winter was coming the vet that did it actually thanked us. He said the worst thing with old horses is in the middle of a blizzard in a snowbank the horse is stuck down because he's emaciated and arthritic and the owner calls the vet in a panic to have the horse poor put down.
It was a tough decision for us as well as the horse was still bright eyed and in high spirits, but post mortem the vet looked in his mouth and he had only a few teeth and I'm fairly sure a full autopsy would have shown a failing renal system too. It helped that not 12 hours after having him pts we had the first snow of the season.

We have "saved" horses as well too. One horse had his withers crushed (almost 2 years of healing surgery wounds for that one) and a severe hoof abcsess. Either of those could have warranted the horse to be pts but he pulled through and is now retired packing kids around on a ranch and neither injury affects him too much. The other is my old mare had a cracked tooth and ensuing sinus infection which got into the bone. She was at the vets for a year and never went back to how she was before and is now retired to brood.

It's important to have a sense of what is too much and I think the better you know the horse, the better you know when its time... it takes a lot of courage to make that decision.
Posted via Mobile Device
These situations are the absolute worst.

What do you do with one, that's bright-eyed and full of attitude, but has a horrible bum leg? A leg with extensive soft tissue damage from old and repeating injuries, that's not going to heal, most likely ever. The horse is visibly lame at a walk to the knowledgeable eye and pitiful head-bobbing dead-crippled at a trot, but still chooses to run and buck in the pasture when the herd get stirred up (which is probably why the leg won't heal). Points the bad leg most of the time and is starting to force the opposing "good" front leg to turn out crooked from the strain. All veterinary and farriery options have been exhausted. But again, still bright-eyed, still full of piss and vinegar.

What do you do in a case like that?