Who likes to quiz themselves on X-rays?
---
Thought I might put these up for people to see what they can see, and guess what's wrong with my horse.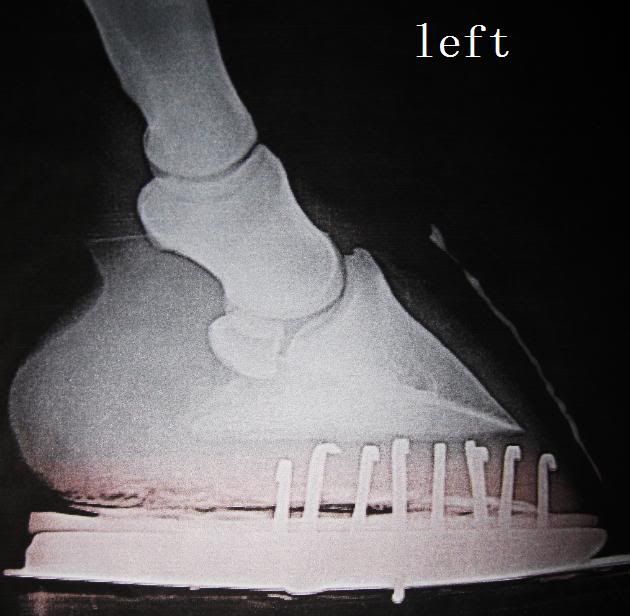 im going to say navicular...i might be way off...
---
- Ashley -
Dolly - Misty - Mable

Weanling
Join Date: Feb 2011
Location: In a house,w/ dogs and cats, a woman and a kid.
Posts: 275
• Horses: 0
0 to neg palmer angle, possible changes of nav, rt side. More views needed to determine nav.
---
For all your farrier needs, GET BNT!
Bone density is definitely changing in both feet at the heel.
Bubba,
Is this a test and YOU already know? I know nothing about horse's xray'd feet. One think I see is that the left is angled upward a little (the pedal bone has what looks like a flatter angle than the pedal bone of the right foot, or the pasturn bone above it) But , honestly, I have ZERO idea.
Some people like to play and guess the answer to build their own knowledge, so yeah, I'm trying to give that opportunity if anyone wants to take a stab. I do know the answer (well, possibly one of many, but I know AN answer, or at least plausible explanation for lameness)...put it up later?
Well I don't look at x-ray's much at all. I only trim my own horses hooves so that's the extent of my experience. But I'd like to play too.

The neg palmar angle that's been mentioned.

And

I also see that the coffin bone is dropping. Which leads to a host of problems including thin sole.
---
Truth passes through three stages. First it is ridiculed. Second it is violently opposed. Third it is accepted as self evident.
All right, looks like people are done guessing, so here goes.
The biggest issue, and the egg that came before the chicken so far as my vet, farrier, and myself are concerned, is that the angle of the coffin bones is 0* to even negative, while they should be a healthy positive 3*-5*. And that's putting everything else out of alignment, stressing the joints and soft tissues, overloading the heel region, and so on. As a respected farrier on another forum kindly drew for me: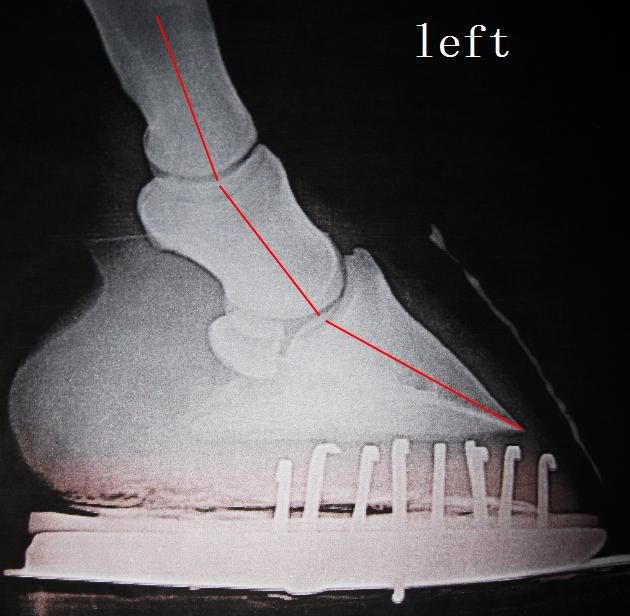 But the issue wasn't noticed until the horse came up hobbling lame. Suspected soft tissue tear, AGAIN. This horse has a HUGE history of damaging the soft tissue in her left front leg--she's done the deep digital flexor in three places, her suspensory, collateral ligaments, and still counting, apparently.
But with these radiographs, at least the most recent lameness makes sense. Corrective shoeing for now: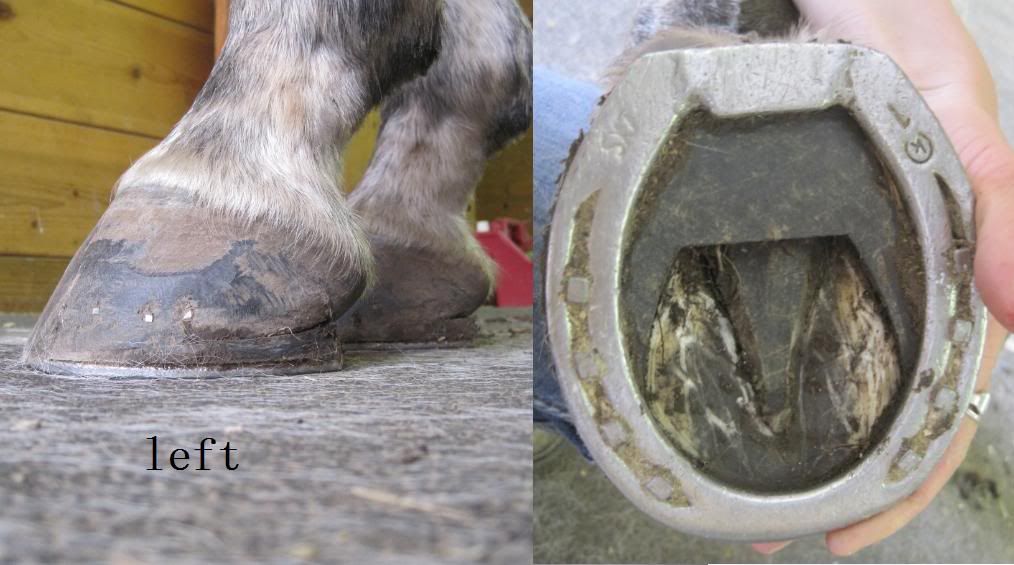 so there is a rotation? did he founder?
---
- Ashley -
Dolly - Misty - Mable

No founder--actually, it's the opposite sort of rotation that you'd see in founder, with a highly positive versus negative rotation of the coffin bone. Compare my horse to this:
Also check out how inflamed and torn-up the front of this poor horse's coffin is, due to laminitis.