Thanks I'm not givin up on my lil man. He has nice movement so I think he will eventually be a nice ride.
Green Broke
Join Date: Mar 2009
Location: Kansas in the summer, Kentucky most of the time
Posts: 3,028
• Horses:
3
Like everyone else, I believe he will grow. Especially because of the malnutrition, he may be stunted a bit but should grow more. He could grow until he's 5 or 6. Heck, my TB cross mare grew until she was 7!
---
Look like a SUPERSTAR, Ride like a FOUR STAR, Win like a ROCKSTAR
Eventers: Making BAD Dressage look GOOD!
my mare was 5 when I got her 6 months ago and hadn't had proper nutrition and hadn't been worked. Textbooks say she'd stop growing by then, but once I started her on a proper diet and training schedule she grew from 15 to 15.3. She grew like a see saw, her rump was so high it was very discernable.
wow thanks you guys. I have always been hopeful but I guess I just needed some backup. I have been researching this and a lot of people say they are almost their full height by now. But I know he will grow :0) I won't give up on my lil man
Aw how adorable he looks much better. I think he will still grow. Nice horse!
Wow, his coloring is absolutely gorgeous. I love those darker palominos. It woudn't suprise me at all if he gets to 14.3. He is still pretty much a baby and has several more years of growing to do. My bay mustang shot up another 2 inches in height (from 14 to 14.2) after I started riding him the fall of his 5 year old year. Just keep him on good balanced feed and give him time to reach his potential.
Started
Join Date: Aug 2009
Location: In the barn whenever possible.
Posts: 1,910
• Horses:
2
Yah! An update! He's absolutely GORGEOUS! He really does look like he has the same size/stature as my Lillie. Have you tried the measuring method (measuring from the middle of the knee to the coronet band)? They say one inch = 1 hand in height. I'd love to know what his measures. I'll throw a recent picture of Lillie on here for you to compare. She's 21 months.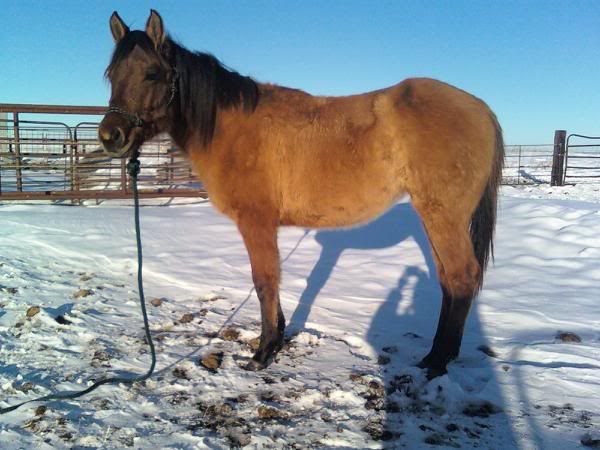 Ps. I just think he and Lillie are going to be late bloomers when it comes to height.
---
"Riding a horse is not a gentle hobby, to be picked up and laid down like a game of solitaire. It is a grand passion. It seizes a person whole and, once it has done so, he will have to accept that his life will be radically changed." -Ralph Waldo Emerson
---
Last edited by Plains Drifter; 01-26-2010 at

11:37 PM

.
Thanks you guys you should see him in the summer, cant wait to take picts then. He is a gorgeous golden color.

He has grown and still is so thanks for the votes of confidence.
Started
Join Date: Aug 2009
Location: In the barn whenever possible.
Posts: 1,910
• Horses:
2
I hope my Lyric is that dark of a color when she sheds her baby coat! :)
---
"Riding a horse is not a gentle hobby, to be picked up and laid down like a game of solitaire. It is a grand passion. It seizes a person whole and, once it has done so, he will have to accept that his life will be radically changed." -Ralph Waldo Emerson