Wow i had no idea!
---
So about a month ago someone gave me the formula to calculate my horses weight. I finally got around to doing it today and man I was WAY off with my guestimation! I also measured height today as well. I was pretty right on about that. So I thought it would be fun to post pics of my babies and have you guess who weighs more and what their weight is :) I will come back and post my calculations and we can see who is right or close
Lucy 11 y/o grade mare (looks to have some appy in her...she kind of has those appy eyes) 15.2 hh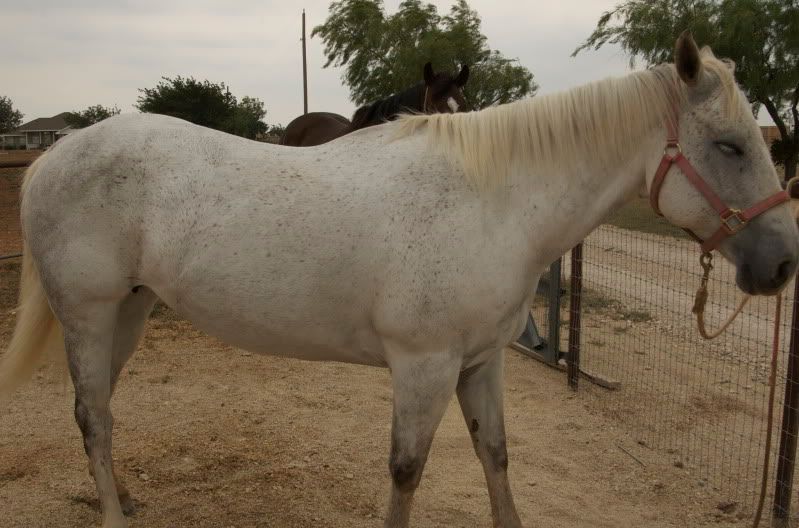 Hank 11 y/o OTQH 16.3 hh
Little Luci 11y/o 12hh grade pony This is the only side pic I have that is recent and baby is in the way lol.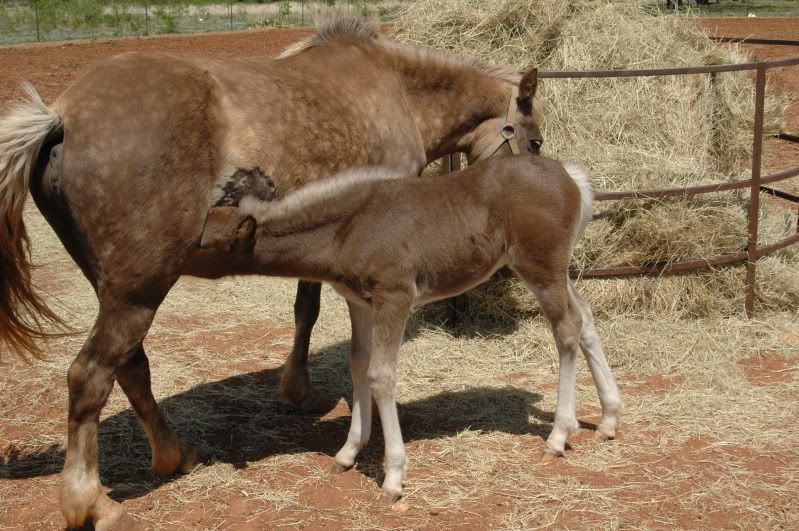 Lucy: 950 lbs
Hank: 1,100 lbs
Little Luci: 600 lbs
I usually guess too, or use a weight tape. What kind of calculations do you have?
Hank could stand to gain some topline. You might consider adding Alfalfa pellets to his feed, and
Uckele's Tri-Amino
. Both will help put on quality muscle, even without a lot of riding or work.
I measured the heartgirth and then length from shoulder to croup.

The formula is heartgirth x heartgirth x length/300 +50

Yeah he needs some work. I will check out the alfalfa pellets.
I found the same formula but the formula was 100lb over the horses actual weight so instead of adding 50 i subtracted it.
Yeah the site I went to said it could be off by 3% either way. so I guess that would be + or - 50 or so. I think that is where looking at the horse and deciding whether to take it off or put it in comes in to play.
Lucy, 1,000
Hank, 1,150
Luci, 700
tell us! =)
---
When God Made Horses, He Painted The Good Ones.
"All I pay my psychiatrist is the cost of feed and hay, and he'll listen to me any day."

Ha ha ok. Lucy estimated weight was 1243 Hanks was 1298 and Little Luci 626. I think the big horses are probably off by about 100 lbs. Although I think the fact that they are close is correct. Lucy is a shorter stockier horse and Hank is taller and leaner. Little Luci is probably off a little but not enough to make a difference. Just goes to show how hard it is to eyeball how much a horse weighs without measuring.

I forgot to ask my feed store today about a weight tape but I have to go back later in the week anyway for dog food. I will be curious to see what it says as opposed to taking the measurements.
I wasn't too far off.
I used this website to calculate my horse's weights
Horse Weight Calculator
found it to be somewhat more accurate
Quote:
Originally Posted by
appylover31803
View Post
I wasn't too far off.
I used this website to calculate my horse's weights
Horse Weight Calculator
found it to be somewhat more accurate
Great tool! i went back and entered the info and it came back to be about the same weights when I took off 100 lbs. Little Luci ended up being about 100 under as well. So I guess that formula I used is about 100lbs off.