RIP Danni
---
Lacey's best buddy ever (they had the same previous owner and they had been together since Lacey was 13 and Danni was 10) was put down this week. =( Danni foundered a year ago last June and she kinda went down hill from there. She was just one of those horses that suddenly got old, yknow? She got a swayback and she started losing muscle mass. Then last week Lacey and Lacey's friend Ditto chased Danni around too much (Ditto is Lacey's "boyfriend" haha and he's only 5 or so and Lacey thinks she's 5 so needless to say, they're an active couple, =P ) and caused Danni to pull a muscle or something (she got super stiff and it wasn't getting better no matter what they did) then she foundered again.
They decided that the best thing to do was to put her down becuase she wasn't likely to regain any sort of useable quality of life and she didn't have anybody willing to commit to her.
She was only 22.
Thankfully Lacey has Ditto so she's not too broken up about it but I wish Danni could have had more time. She was great back when I first started working with Lacey. I'd pony Lacey off Danni to get Lacey some rule following trail time since Lacey was almost impossible to ride at that point. I'm not sure if she'd ever been ponied off of before but she could have cared less, even when the lead rope went under her tail a few times she was fine. She was a good steady horse.
I don't seem to have any good pictures of Danni's front half but here are two of her rear! Haha She's the bay.
Lacey stealing the show but as you can see, Danni is right there.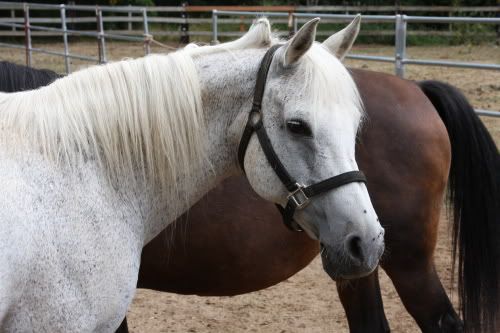 Lacey and Danni chilling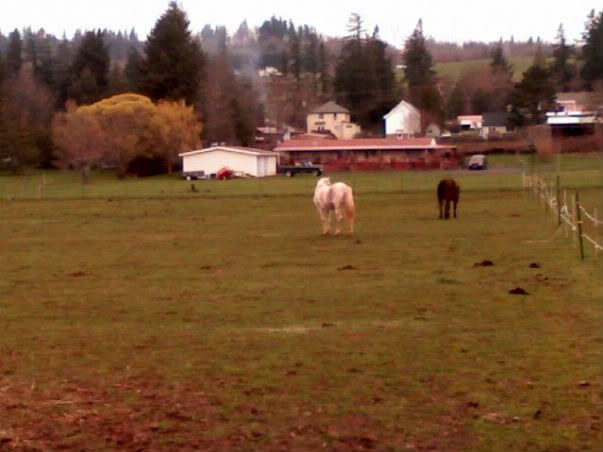 Even though there were many times that I threatened to personally turn her into dog food with my bare hands I still liked her. She will be missed.
RIP Danni.
---
Fabio - 13 year old Arabian/Lipizzan gelding

~
Rest peacefully, Lacey.

Aw, I'm so sorry. It sounds like she had a pretty good life even if it was cut short. At least Lacey has another friend to keep her from being terribly heartbroken.
i am sorry for your loss of your horse. she was pretty
Green Broke
Join Date: Apr 2009
Location: Queensland, Australia.
Posts: 4,488
• Horses:
1
Sorry for your lose.

Think of the good times,
---
Sir Success. Eventer.
2000 - 2013,

Thanks.
I feel really bad for the people who were working with her (like I'm working with Lacey) though. It was a single lady with a 5 year old and a 9 year old and they were all in absolute love with Danni. My trainer doesn't have any other really rideable bombproof horses that are "available for adoption" so I'm not sure what they're going to do. Hopefully my trainer will be able to find another bombproof horse for them but it's just sad.
---
Fabio - 13 year old Arabian/Lipizzan gelding

~
Rest peacefully, Lacey.

I'm so sorry! R.IP Danni! :(
---