RIP Harlee
---
i remember riding Harlee when i was only 7 years old, she was my aunt's horse, and the first horse i learned to ride on. she was a palomino mare and an all around great horse. almost a month ago she died, she was well over 30 years old. but we barried her in the pasture beside her other old friends Luke and Twisty who died last year. and she has a nice tombstone and a ton of flowers. it upset us all when she died and i thought i would post a memorial for her. here is some pictures.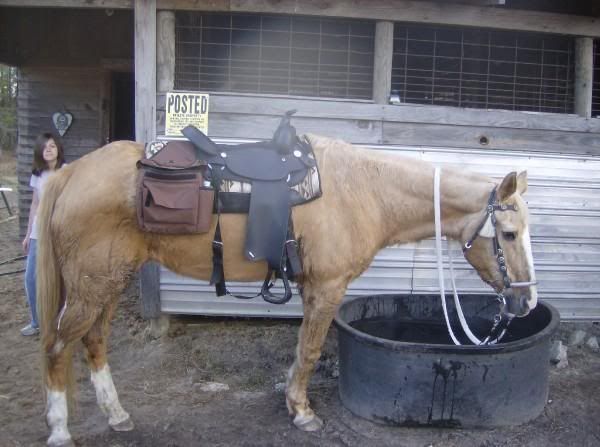 Banned
Join Date: Jul 2008
Location: Oklahoma where the wind comes sweeping down the plains...
Posts: 752
• Horses:
9
aww im sorry. the lesson horse i learned on died recently, and even tough i only had 3 lessons with her i miss her.
RIP Harlee.
---
The Wind of Heaven is that which blows between a horses ears.
Awe sad.
So, my name is Harlee and I was looking through this and I was like, They can't think I'm dead right?
---
"Doing what you like is freedom, liking what you do is happiness."
Started
Join Date: Apr 2007
Location: Australia-The best Country!
Posts: 2,192
• Horses: 0
She looked wonderful! I love Palomino horses. The good thing is she lived a long and happy life! I am sure she enjoyed you riding her!

R.I.P
Harlee
---
Rach
WE ARE GEELONG! THE GREATEST TEAM OF ALL.....