RIP Rafiki; You Can Now Run Free Without Pain
---
Today a very special horse was laid to rest. In making a very difficult decision my friend set her horse free from pain and gave him the wings he needed to go find a special little girl in heaven who had been dreaming of a horse of her own.

Rafiki was and is one of the sweetest Arabian horses I have ever had the pleasure to know. He used to take my friend through barrel patterns winning so many awards to being the first mount of many kids in the local 4H club.

He touched so many hearts and made so many people happy. It's going to be really hard going to my friend's house and not being able to visit my Fiki Man, but he is now free from pain and making a little girl in heaven very happy.

RIP Rafiki, you were the sweetest horse that ever walked the planet. We all love you and will miss you forever.

Here is a song for Rafiki

Below are a few pictures I took just one week ago. I'm so glad we took these pictures, so many memories to every one of them. The last one is my favorite....it's my friend kissing Rafiki in the sunset.
---
~ Hope is never light years away ~
Showing
Join Date: Jun 2011
Location: Cariboo, British Columbia
Posts: 11,940
• Horses:
3
Running in that crazy pasture cloud. Condolences.
What a beautiful set of pics as a memorial, I hope in time she can look at them and remember all the good times.
Thank You Golden. I actually took over 300 pictures that day I spent with them last week. These are just some of my favorites.
---
~ Hope is never light years away ~
Green Broke
Join Date: Oct 2009
Location: Outside of Oklahoma City
Posts: 2,653
• Horses:
6
Wow. He has such a sweet face....my condolences to you friend, that was a very mature decision she had to make. I honestly don't event think I could make that decision, I only wish I had the choice when my horse passed away. *hugs*
RIP Rafiki.
---
Be wary of the horse with a sense of humour. - Pam Brown
He was a beautiful animal who's time here on earth touched your heart. Morn his loss, but at the same time, find peace in knowing we will all soon arrive at the same place.

When you arrive, I hope he's there to meet you, for I can't imagine heaven without those creatures we've come to love.
May he rest in peace. Gone, but never forgotten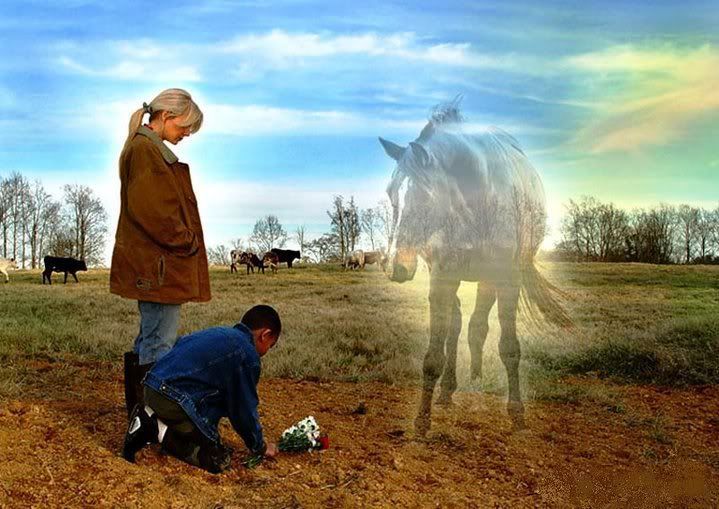 Allison that's a beautiful picture =)
---
~ Hope is never light years away ~
I'm sorry for your friend's loss. It's never easy to lose your best animal friend. How old was he? He was quite gorgeous.
---
Being horseless is the pits!!