Barry:

I have the same bond with my mare. It's incredible how much we come to love these animals.

I know how much this must hurt, and I hope god finds a way to heal your heart soon.
---
For we wrestle not against flesh and blood, but against principalities, against powers, against the rulers of the darkness of this world, against spiritual wickedness in high places.
Barry, I am so sorry for your loss.

You should not feel guilty. You were a fantastic owner that did everything possible for the animal he loved.
---
Life is like a camera. Focus on what's important, Capture the good times, Develop from the negatives and if things don't work out, Take another shot.
Oh my, I am so sad to hear this. I so enjoyed your posts about this mare and your struggles to make her into something she didn't want to be. Her heart was always in the dressage ring and you, a wonderful owner, realized that and allowed her to follow and achieve her dreams of becoming a dressage horse.

You are in my prayers.
---
"The greatest pleasure of a dog is that you may make a fool of yourself with
him and not only will he not scold you, but he will make a fool of himself too."
-Samuel Butler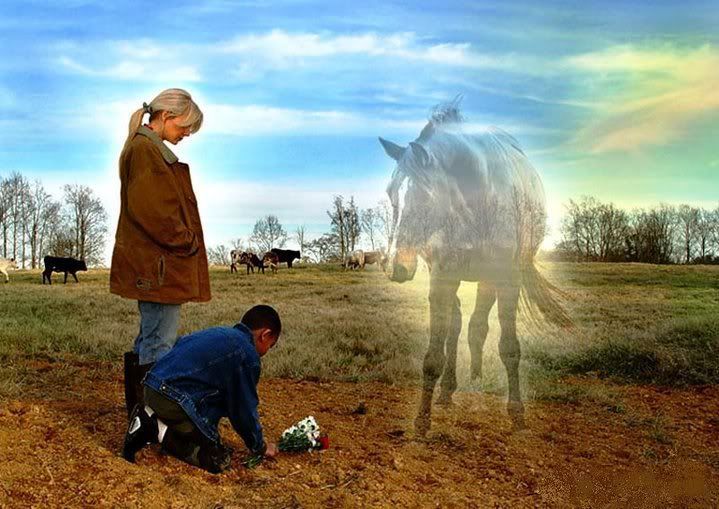 I am so sorry, Barry. I respect what you did for your beautiful mare. One of the things we really owe our beloved horses is a dignified exit when the time comes. Hugs sent to you, my friend.
Barry, so many others have said it better but when we loose a friend such as Didi, a piece of our hearts go with them and we are better for having them touch us for a time.

She is no longer in discomfort and that can give you solace.
---
I'm not arguing with you, I'm just explaining why I'm right.

Nothing sucks more than that moment during an argument when you realize you're wrong.

It's not always what you say but what they hear.

As I have blundered more and more into old age, writing has become a hobby for me. At times of stress I find it very cathartic to sit to record my thoughts on paper. The effort involved must be akin to that of making a confession, not that I would know much about the ways of religion. At least I get some relief from the thoughts which otherwise would circle aimlessly around in my head.

Strangely, I do not want to keep repeating the discussions I have had with people close to me on a day to day basis, particularly those who knew my horse. They may have met with the same horse which I knew but they have their own memories of her, which at the time I did not share. Perhaps they came to think of her as a sharp horse to ride and one to be handled with care. Indeed from time to time she could be a 'baggage'. Undoubtedly I always regarded her through rose coloured glasses. It was only when the level 4 ulcers were belatedly discovered when they realized that she had a good reason to be fractious on those occasions when the stomach acid was sloshing around the raw ulcers. I shall always remember her as a kindly mare but one who had her moods.

Undoubtedly the young woman on whose private yard my horse was in livery has been deeply upset by the whole affair. My horse was but one of the five which she cared for and trained for dressage on a daily basis. She has her own favourite, a very competent if sensitive gelding, who was rescued by her for a nominal sum of money. She shelters him from the vicissitudes of this world much as I tried to protect my mare. She cannot afford to insure him from disease, so if he were to need expensive drug treatment then she would not provide it for reasons of cost. She had recognised my horse's distress early on and was for the euthanasia route a lot sooner than me. Somehow despite her otherwise caring concern for my horse, I did not like the notion that she would give up on her and write my mare off as being irretrievably busted. I felt that my strong minded mare had the spirit to live and the fortitude to fight her corner and merely needed some help and understanding from the humans around her.

The chief vet in whose hands my horse's life and level of care rested was a specialist. I did not like that he saw the disease to be an interesting one. For him my horse was just another horse in distress but one which was suffering from a rare complaint. I could not erase my thinking that he saw her as a guinea pig. In truth, I do him a disservice because at the end he was positively helpful and openly honest in his view of the situation. I, as the owner, was saved by him from having to make the final decision. We had no option but to put the horse down and thereby ease her distress.

The insurance company managers were clerks who read the rules and responded accordingly. When speaking to them I found it difficult when my voice broke as invariably it would. I had to stop talking and hold the phone away so that they could not 'hear' my tears. But nevertheless their financial support was forthcoming.

Neighbours, friends and relatives, all showed concern but when they raised the subject, mostly out of compassionate politeness, they became embarrassed when they recognised the despair in my distress. In reality they did not know what to say to me beyond: "sorry for your loss". To them I was a man whom they knew to have a hobby of horse riding but they had very little idea of what the horse really represented to me. To watch me burst into ears was for them an extremely uncomfortable experience. In many cases they had over the years formed an image of me and there I was shattering that inaccurate perception into pieces.

However here on the HorseForum there is an outlet for my thoughts and my writing. Only a horse owner who has formed a true bond with a horse can understand the impact which the loss of that horse can represent. Undoubtedly many of you out there in the ether have had similar experiences when your own horse has died. Some of you have yet to experience the grief of losing a loved one, be it of another animal species. Some of you are also dog owners and you will know that the death of the four legged companion which has become part of the daily routine of your own life represents a traumatic and highly emotional event from which it takes time to recover. I must apologise for reminding some of you of your own personal past grief at the demise of your own horse.


Thank you readers, especially to those who have expressed their sympathy in a few words tapped out on this thread. You have given comfort merely by your invisible presence and understanding.

As my father once said: " noone, and for some of us, no animal, is really dead until someone still living ceases to remember them." DiDi lives on in my head and now resides with the other horses and dogs which I have been privileged to know during my lifetime.


Thank you all for your concern and kindly thoughts. Much appreciated.
Barry G

PS As I write this note, I look down at the nine year old Rottweiler, who these days appears a little tatty from the side effects of the Cushings disease from which he suffers. He sleeps, as he does for much of the day. I have told him that he is not going anywhere. His sole job now is to keep me company and not to mosey off to pastures new up in the sky.
Allison,

The photo you have posted somehow sums up the scene so beautifully.
I have been trying to think of a single word which would act as a title for it.

It is lovely. Thank you for thinking to post it.

Barry
Barry, I lost my beloved heart horse almost 5 years ago. While you'll never not miss her, the good memories will eventually outweigh the bad, and with that will come an easing of your grief.

DiDi wasn't 'just a horse'. Those of us who have been through it truly do understand the devastation.

I'm also keeping an eye on an old dog. My Great Dane will be 9 in October, and I know the time is fast approaching when I'll have to let her go.

I was angry at the world when I lost my gelding. Why wasn't everyone in mourning? How could the sun shine, birds sing, and life go on as normal when my heart was shattered and a part of my soul was missing? Oh yes, I understand very well.
---
You want the truth? You can't HANDLE the truth!
Barry,
My heart is breaking for you with the loss of your lovely DiDi. You so eloquently describe the virtually indescribable joy of owning and partnering with a horse. And I so inadequately offer my deepest deepest condolences to you.
And a virtual
(if I may be so bold).
---
Barry, I sat thinking about this last night and shed a few tears with you. Memories of those I've had to say goodbye to came flooding back as fresh as they were when it happened. As Speed said, those of us that have been through it truly understand how hard it is.

My heart horse has been gone for over 20 years. My heart still gets heavy and the occasional tear falls when I ride past her marker in my woods. Last summer I had to make the tough call with my 16 year old german shorthair. I'd had her since she was an 8 week old pup, she was a gift from my dad on my 16th birthday. I learned to shoot a gun because of that dog, found a love for bird hunting, found a lifelong friend. I still miss her more than words can express and a week doesn't go by that I don't think of her and wish for one more day in the fields doing what she loved.

I won't tell you that the pain goes away but it does get easier. Cherish the good times you had and look to those memories for comfort.
---
Life is like a camera. Focus on what's important, Capture the good times, Develop from the negatives and if things don't work out, Take another shot.