tough month back home...
---
Started off with our little Corgi, Dinky dog, passing away. She was 11 years old, which made her passing not as hard to cope with as our latest two...
My mom's 1998 Sorrel Overo gelding, Scooter, passed away of colic a week after Dinky left us. He had coliced before, and survived but this time he flipped his intestine completely around and passed away within an hour. Scooter was truly her closest friend, he was a handsome guy, very calm and patient. He was a reining horse who could run like the wind, but if you put a kid on his back he'd walk like he knew they were fragile and special things. He was excellent with children, and mom used him for emotional therapy work she does with people of all ages. He was an amazingly understanding and caring horse... I miss him a lot.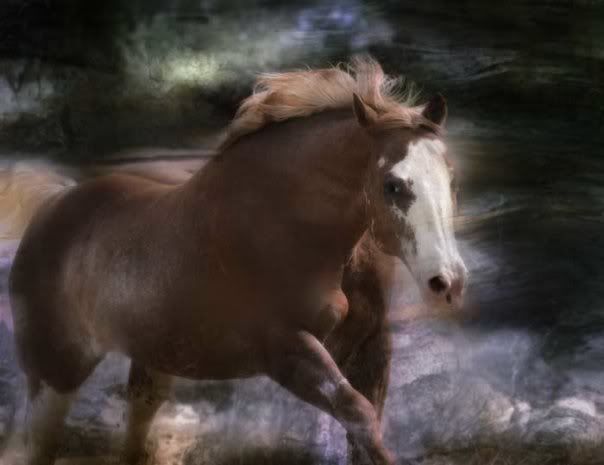 That photo was done for her by a photographer friend a week before he passed.
Today, she texted me to tell me Powerbar, or PB had passed. I didn't believe her, I honestly thought it was my brother making some kind of terrible joke- as I had told him I was worried because deaths of animals come in threes. I called her immediately and she confirmed it. PB was by our 3 time world champion stallion, and out of a mare she has been showing since before I was born in all kinds of classes. He was a gorgeous pleasure horse with a lap dog personality. His most distinctive feature being his half blue eye, something that I still have never seen on any other paint.
They don't know how PB died, the have sent him to university for a autopsy report. I am so sad for my mom, and all the animals on the ranch that can feel the loss and have heavy hearts. My mom has only one baby from her champion stallion, who himself is still alive but much too old to breed at 24 years old, and that's my gelding, Bali.
The fact these horses died when they were at such prime ages of their lives (11, both) is heart breaking. My mom is scared to death something is going around the ranch, and worse- has been out of town for the weekend so she didn't even get to say goodbye to PB. Apparently he was fine last night when they fed him, ate well, but this morning was laying there dead.
:( I want to give my mommy a giant hug. I think I may go visit for Columbus day.... she needs my support...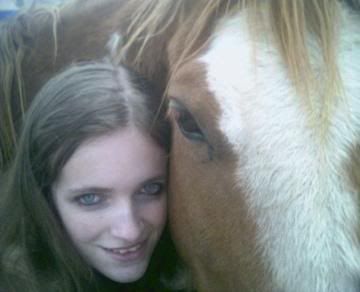 That's the only photo of powerbar i have on my computer- awful haha. I am about 14 there... he was pastured with Bali and I'd always play with him, he loved taking pictures.
---
Proud owner of 13yr old Paint Gelding, Bali! <3

Aw Im Soooo Sorry For Your Losses:(
---
a silent night,wen friends are few,I close my eyes nd tink of u.A silent night,a silent tear,a silent wish dat u wer here♥ Is maith liom cąca milis:) lol
I'm so sorry for your losses. How awful to lose so many in such a short time. :(
---
Horseriding- The art of keeping a horse between you and the ground.
I am going home to visit her this weekend. Another of her horses is sick, but recovering. She is very shaken, and worried something is in the barn or in their feed that is making them ill. I am hoping none of the others will get sick and that whatever this is will go away. I can't imagine her sorrow if she lost another horse.

The autopsy showed all kinds of problems with Powerbar(PB), all of which were EXTREMELY puzzling, because she takes EXCELLENT care of her horses.... I don't know what to think.

Thank you for your kindness, ladies.
---
Proud owner of 13yr old Paint Gelding, Bali! <3

I am sorry for your losses. I will pray that this will pass rather quickly. You are right though that death seems to happen in threes rather you are talking about animals or people. You are in my prayers.
Started
Join Date: Aug 2009
Location: In the barn whenever possible.
Posts: 1,910
• Horses:
2
My thoughts and prayers are with you. I'm so sorry for your loss.
---
"Riding a horse is not a gentle hobby, to be picked up and laid down like a game of solitaire. It is a grand passion. It seizes a person whole and, once it has done so, he will have to accept that his life will be radically changed." -Ralph Waldo Emerson