Am I feeding my boys right?
---
All three of my boys are at different stages right now, so I'm having to fix their feed accordingly. Here's some info:

Bubba - 16 yr old Welsh Pony
1 pound of Wendlands Senior
1/2 pound of beet pulp

Gulliver - 12 yr old draft cross
3 pounds of Wendlands Senior
7 pounds of beet pulp

Henny - 4 month old QHxPaint
4 pounds of SafeChoice
2 oz. of GrowColt

Bubba is packing on the weight, so I am cutting down on his feed. Gulliver needs to pack on weight and rebuild his topline. Henny lost muscle mass during weaning and the 4 hour haul home. I also throw a couple flakes of coastal/bahia hay a day out to them. They're only fed once a day, and have 24/7 turnout on 8 acres.

Am I feeding Henny enough? He needs to gain his muscle mass back and could stand to gain about 10-20 pounds.

Am I feeding Gully enough/too much? He's definitely gained some weight in the past couple months that I've had him.

Am I feeding Bubba enough/not the right stuff? He is a chunk and I don't want him to founder.

The first picture is Henny before he was weaned. He was an absolute tank. Gully is the bay pinto and Bubba is the brown pony.
---
There on the tips of fair fresh flowers feedeth he; How joyous his neigh,
there in the midst of sacred pollen hidden, all hidden he; how joyous his neigh
I'd add some oil or black oil sunflower seeds (don't know how the rest of the horse world feels about them) to Gully's feed. You could probably drop the grain completely for the bay. Your baby will gain back, so I wouldn't worry about him or you could add some oil to his feed too. I do feed my horses a mix with sunflower seeds in it and the young 'uns get it too. I tried both Safechoice Senior and Safechoice Performance for my skinny, older horses. The performance had more calories in it and seemed to be more complete to me. Our older gelding started losing on the Senior feed, but picked back up once I switched back to performance. That was my experience with it anyway....
Could I replace the beet pulp with stabilized rice bran pellets? I'd like to avoid the soaking time, and it seems like rice bran holds alot of calories as well. I did read that it can go rancid within a week, especially in hot humid conditions? I live in coastal Texas, so there are no other conditions LOL.
---
There on the tips of fair fresh flowers feedeth he; How joyous his neigh,
there in the midst of sacred pollen hidden, all hidden he; how joyous his neigh
I have a custom mix that gets fed to ALL (sheep, goats, pigs, horses, etc) my animals. Ground corn, rolled oats, alfalfa pellets, sunflower seed and molasses to hold it all together. I have also mixed beet pulp in it and didn't soak. I've never used the rice bran so know nothing about it. The oil from the sunflowers or if you buy a gallon of oil will do as much as the beet pulp (in MY opinion). The seeds won't go rancid as quick nor will the oil. There are also powdered or meal-like additives for weight gain. Can't help you much more than that....

The only reason any of my horses get grain now is to bring them up from pasture and make them "like" us more. Oh, and just added a couple weanlings so they'll get a scoop of the above mix with their hay every day.
That sounds like a great mix, but will it make my boys hot? I've always heard that corn and molasses make a horse hot, which I don't need to make them any hotter than they already are hehe. I will look into the sunflower oil, though. Do you just mix in a couple tablespoons?
---
There on the tips of fair fresh flowers feedeth he; How joyous his neigh,
there in the midst of sacred pollen hidden, all hidden he; how joyous his neigh
I don't feed enough of it to make them "hot". LOL Plus, since you are only feeding horses, you could mix to your requirements. You'd have to find a mill to mix it and see if they'd mix small enough amounts for you (I get no less than 500 pounds at a time so that might not work for you either.) Mine gets fed to animals that need to put some weight on so corn is fairly high in the mix. If I'm not feeding to butcher, I up the oats and pellets and less corn. There is also only enough molasses to hold it all together so way less than is in your average "sweet feed". You could also add oil to it instead of the molasses. I've been known to take a couple gallons of oil to add to the mix along with some apple cider vinegar (which is good for animals too).

Yep, just pour a "dollop" of oil onto their feed. They'll usually lick it right up. I've seen some on here say that flax oil is best, but it's expensive and goes rancid pretty fast. I've also seen some that say NO corn oil, but it's pretty cheap and will work too. I got the oil I use at a farm supply store, it was in the horse feed aisle. Expensive as all get out.....$30/gal!! BUT....it was recommended by a vet and I KNEW it would work. I used a 1/3 cup per day for the 1st month. Just poured a "dollop" after that. Only used it for a couple months. My mustangs and burros absolutely LOVE the sunflower seeds. The other horses took some time to get use to them.

If you go to my horses and look at Cyclone, you can see the difference from when we first got him. He was on the oil for most of the summer.
---
Last edited by kccjer; 09-05-2012 at

10:53 AM

.
I'll have to look into the sunflower oil and corn oil! I think adding a bit to my colts feed will keep him from tossing half his food on the ground
---
There on the tips of fair fresh flowers feedeth he; How joyous his neigh,
there in the midst of sacred pollen hidden, all hidden he; how joyous his neigh
If you can, I would seriously look into getting a 1 month subscription to
FeedXL
. It'll tell you if your horses are getting what they need or need more. It's truly fantastic.
At first I thought it was all smoke and mirrors but it's truly not. I finally got my mare's diet "perfect" and she is soooo much happier and friskier than she was to begin with. She's 27 so I can't even imagine how much feedxl could help a younger horse.
I would steer heavily away from BOSS/corn oil. Both things are not "the best" for horses. Horses can get some nutrition from them but not the full amount (I don't know the exact details) and personally, I want whatever I feed to be directly 100% nutritious, not 50% nutritious. Also, corn oil is super inflammatory so if your 18 year old has any arthritis, CO could exacerbate that. :/
All your horses look to be in really good weights to me (and I seem to like my horses FAT haha) so I probably wouldn't be worried about adding more weight. I'd just focus on maintaining what's there.
Personally, I'd get them all on a ration balancer (like Purina's Enrich 32, here's info on finding one, also this is a superrr informative ste - read it:
Ration Balancer
) and add beet pulp (it's your choice to soak or not, especially with the pellets - it's been proven that the previous "need" to soak BP was larger unfounded) as needed.
As an example of a balanced diet, so you can visualize, my girl gets:
1lb hay pellets
2oz MSM
free choice "Nature's Essential's FreeBalance 12:12" mineral supplement
2oz flax seed (whole seeds, they don't go bad+horses CAN digest them enough to get nutrition)
3tbs salt
1oz Red Cell
plus a variety of painkillers etc for her eye issues
And 24/7 crappy pasture, wearing a grazing muzzle for half the day
Anyway, try to get FeedXL for a month -it'll probably save you so much feed $$- and you don't have to get the "multiple horses" one. You can just get the single horse one and re-enter differing information... :)
And read that link.
---
Fabio - 13 year old Arabian/Lipizzan gelding

~
Rest peacefully, Lacey.

---
Last edited by Wallaby; 09-05-2012 at

11:57 AM

.
I've used cocosoya oil with good results. It is fairly expensive, but you only feed 2-4 oz per head per day.

For Bubba, I would use a ration balancer. If he starts losing too much weight, you could put in a little beet pulp.

Gulliver could probably use more senior feed. It would be much more effective if you could feed twice a day. He could also benefit from oil. Proper exercise will build his topline.

Henny probably just lost a bit of condition due to weaning stress, which is normal. Keep an eye on his body condition, and if he is not improving, add calories.

Rice bran is a good source of fat. Make sure you buy fortified, stabilized rice bran. You can add it to what you're feeding if you want: you don't have to replace the beet pulp.
Posted via Mobile Device
I was always under the impression that a ration balancer was for easy keepers? My pony is definitely an easy keeper, but Gulliver needs about 100 pounds packed on him. His profile can fool you. Here's the best pictures I have showing his topline, or lack thereof.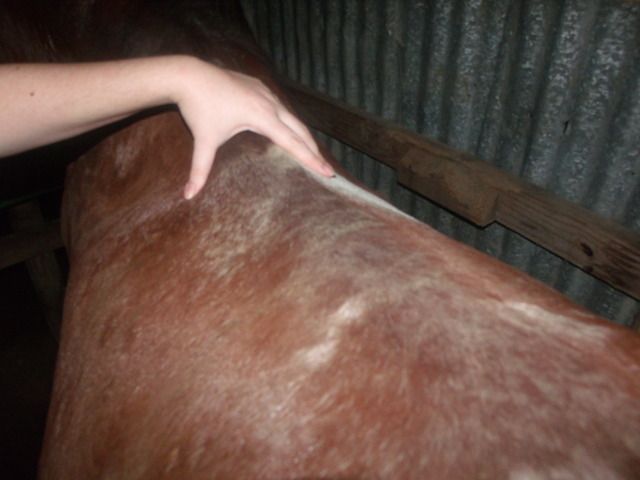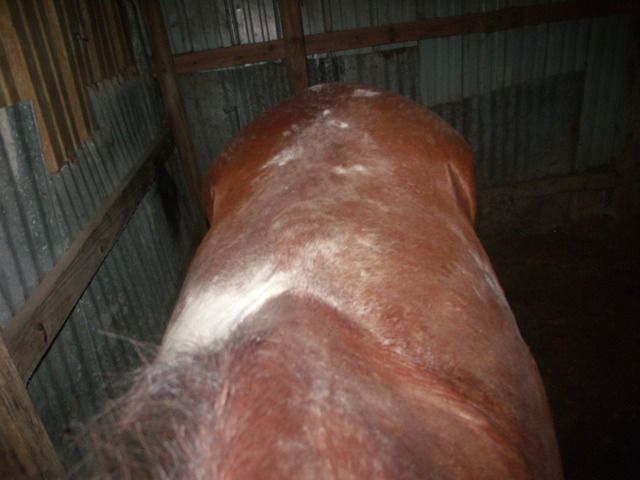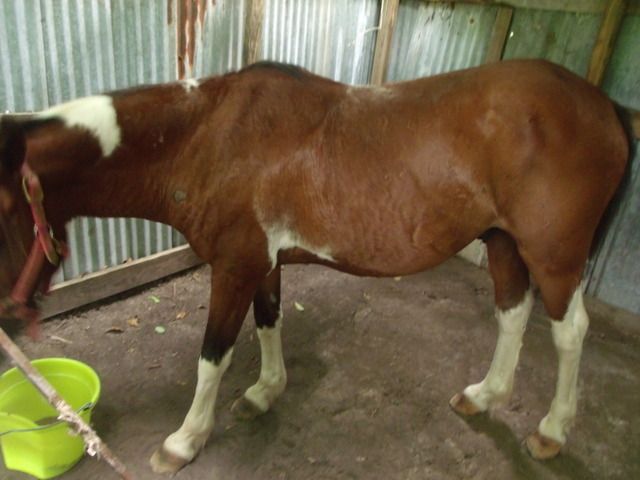 The last picture is the first day we brought him home. He's lost the wormy belly and has gained some weight, but I still have a lot of work to do on his topline.
I have heard of using coccosoya oil, and I was interested in that. How quickly does the rice bran go rancid? Someone said within a week, I don't think I can go through a 50 lb bag in a week.
---
There on the tips of fair fresh flowers feedeth he; How joyous his neigh,
there in the midst of sacred pollen hidden, all hidden he; how joyous his neigh