Green Broke
Join Date: May 2009
Location: Winnipeg, Manitoba, Canada
Posts: 4,510
• Horses:
2
Am I overreacting or underreacting?
---
This is a bit of a new one for me, as for 99% of my life, my horses have always been free grazers. I've always battled obesity, not underweight issues. I'm going into a blind panic and Shay-la thinks I'm overreacting, but the idea of having a skinny horse is just absolutely unacceptable to me.
Jynx started looking like HELL in the last few weeks. I know being covered in bites and kicks from the new herd and being filthy because she's white (bathing her is a waste of time, I have a fly sheet on order right now to hopefully alleviate both her dirtiness and her skinniness) isn't helping, but now with her ribs showing I'm just like WHAT AM I DOING WRONG?! All four have lost weight, but for two of them it was needed (Zierra and Justus look amazing), Eve barely lost any and Jynx was already sitting at a good weight. She's gone from 1,000lbs when we dewormed in April, to 938lbs at deworming in July. I know that's not technically a lot, but she was a GOOD weight 60lbs ago. My Arab mare has lost about 100lbs, but she was FATTY MCFATFAT when we came to the new place.
If SHE lost another 50lbs, she'd look bad too.
Anyway, here are some pics - she just got dewormed again, her teeth were done a few weeks ago, and I've stopped riding her. She seems to be picking the weight back up, and Shay-la finally hollered and they have two round bales in the pasture now instead of being fed morning hay and evening hay. She's currently eating the following:
2 scoops wet beet pulp (would equal roughly 1/2 scoop dry, which is 2lbs dry)
1 scoop (3lbs) Front Runner Cool Command (Lower Starch)
1/2 scoop (1.5lbs) Front Runner 10% Pleasure Pellet
1 small scoop electrolytes
We're actually working on discontinueing the pleasure pellet, it's just what we were feeding before this started and now I've introduced the Cool Quench and it's the same price, so we're just going to start using that.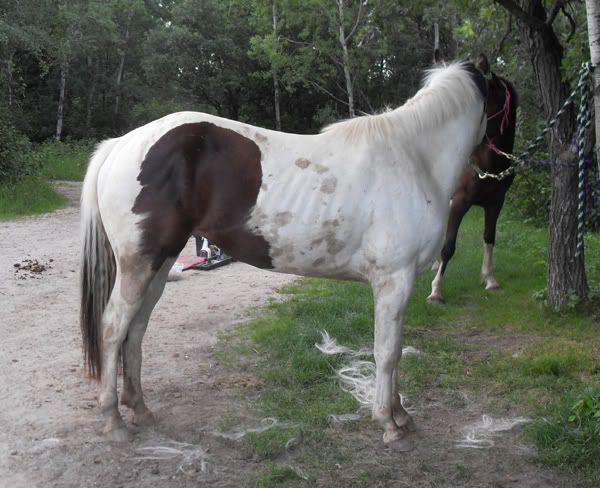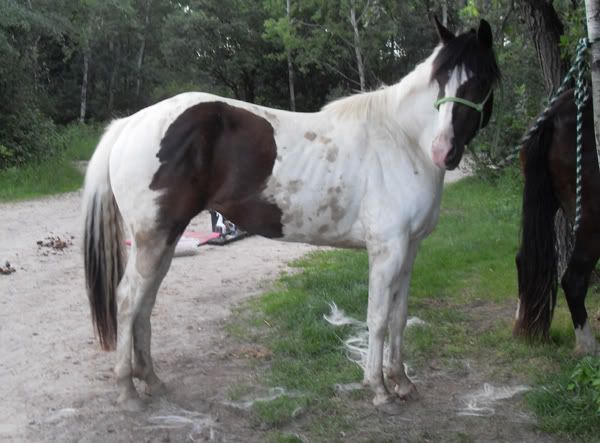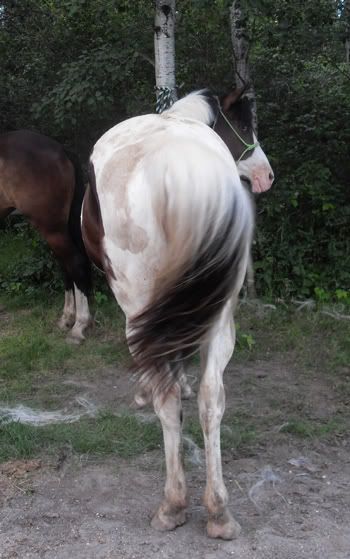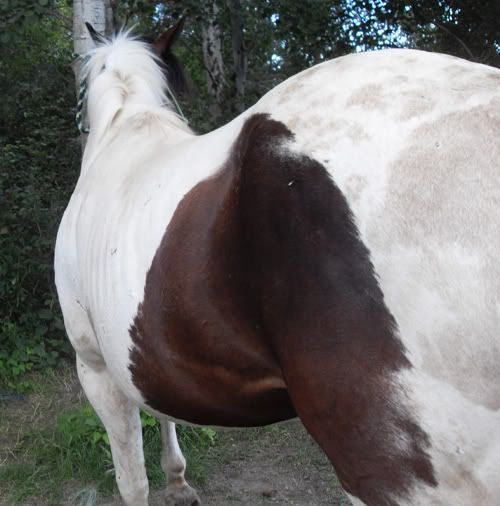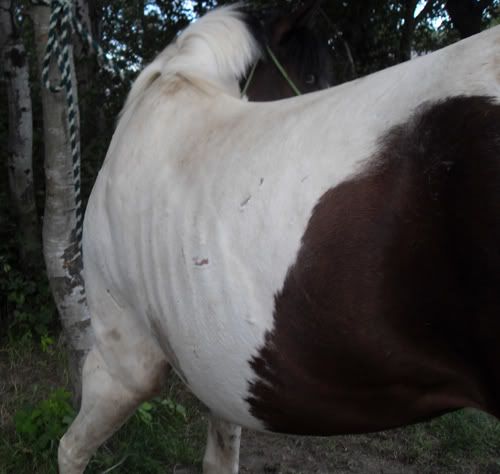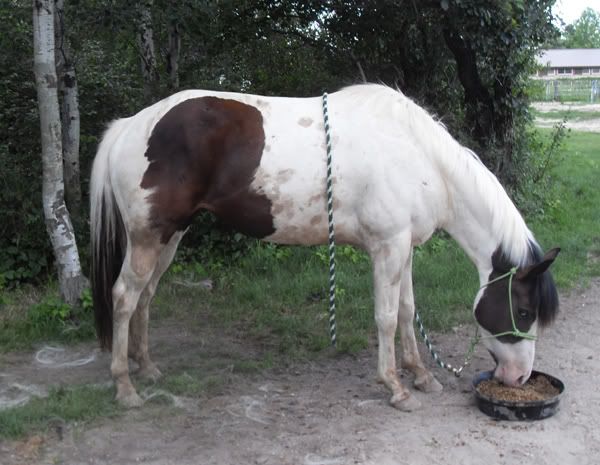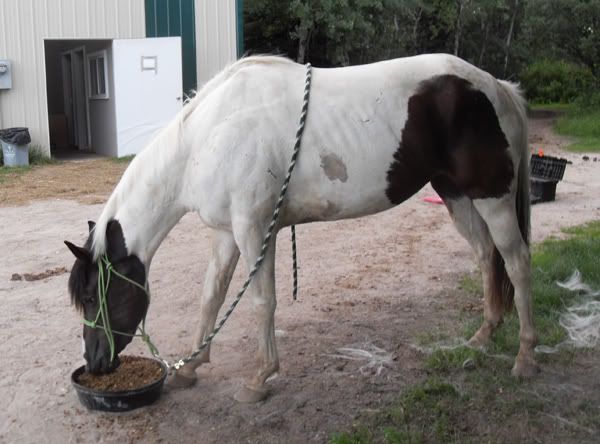 She also hasn't grown at all height wise, so a growth spurt isn't the reason.
---
Quote:
I hope God tells her to smash her computer with a sledgehammer.
I don't think you need to worry at this point. She doesn't look too thin to me. I know thin horses- she looks lean and in good condition.

If you want to help her gain, a good fat supplement like Weight Builder powder by Farnum helps.

Even just the stress of being chewed up by bugs will cause a horse to drop weight. I bet once it cools down she will settle right down. Can you keep a fly sheet on her?
---
Spent a whole hour today laying in a pasture, waiting for a sparkling vampire to show up. Alas, I woke up and looked over, only to find a mound of horse crap. Sigh.
She is a little bit ribby but she is a long way from being thin. I personally would keep on riding her and just give her some time to build it back up. You said that she was in with a new herd, does that mean that you moved yours or does that mean that you got some others in to your pasture, I don't remember? Anyway, it could be that she is a little stresssed over the change in herd heirarchy, the other horses may even be running her some. I am the same way as you and I hate seeing a rib on anything of mine but I have seen some really thin horses and she isn't even close. One of the reasons that I suggest to keep riding her is to keep her from losing muscle mass which could make her look skinny. However, since she is slowly starting to build back up, I wouldn't worry.
---
Always remember that feeling of looking at a big, open country over the ears of a good horse, seeing a new trail unwind ahead of you, and that ever-spectacular view from the top of the ridge!!! Follow my training blog:
http://robertsontraining.blogspot.com/
Green Broke
Join Date: May 2009
Location: Winnipeg, Manitoba, Canada
Posts: 4,510
• Horses:
2
Thanks guys. We moved them just over 2 months ago now, and the drastic change in her weight has only occurred in the last couple weeks - she went from good to shadow ribs to protruding ribs in a matter of weeks.

I don't think she's getting enough hay. When we first moved, there were round bales 24/7. With all this rain, they changed pens and for whatever reason, the ranch hands are feeding morning hay and night hay. Which is REALLY ironic considering the round bales were absolutely terrible quality, and the hay they're getting now is fantastic - but maybe she's just not getting her share in?

I have a fly sheet on order, it's been such a god awful year our stores have been RAPED - we're lucky we even found bug spray!

She's definitely starting to pick some weight back up again, so I'm going to continue feeding her what she's getting now and start riding her lightly just walking and jogging, working on transitions so we keep it low energy but muscle building.

Thanks guys! I've never really experienced this before, as I said, with free grazers it's always a battle of the bulge and not vice versa!

---
Quote:
I hope God tells her to smash her computer with a sledgehammer.
Quote:
When we first moved, there were round bales 24/7. With all this rain, they changed pens and for whatever reason, the ranch hands are feeding morning hay and night hay.
I bet this is the problem right here. Even with a bale available full time, that allows certain horses to eat at different times and everybody gets their share. But, you suddenly start feeding them at certain times, the lower members of the herd will often get run away from the food so they have to take a bite, run, then look for an opening to take another bite, then run again. This is especially common if the piles of hay aren't spread way out. Don't worry, it won't hurt her to be a little ribby for a while.
---
Always remember that feeling of looking at a big, open country over the ears of a good horse, seeing a new trail unwind ahead of you, and that ever-spectacular view from the top of the ridge!!! Follow my training blog:
http://robertsontraining.blogspot.com/