Corn baled in 2012, instead of harvested
---
Here is a picture of the cornfield that was harvested as cattle round hay bales this Fall. The corn crop just sucked. It's 2 miles north of my house.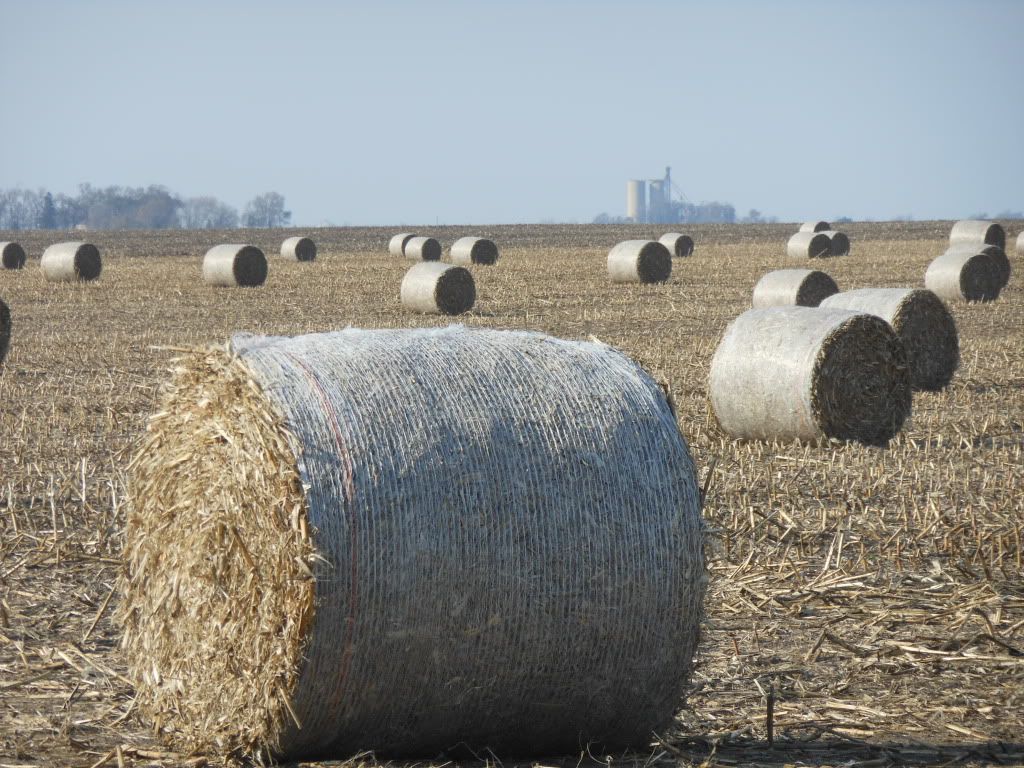 My hay man told me that some farmers are doing this so that they is a little bit more hay for horseowners. I, for one, am grateful. He also said that horses could eat it, but I think the grain content would be too high.
Actually, that sounds like a great idea, Corporal. It was a pretty sucky year here in VA for corn too, although the hay crops were okay.
---
You want the truth? You can't HANDLE the truth!
They been doing that here for years. They usually harvest the corn then bale the stalks and leaves though.
Posted via Mobile Device
Yes, if there's corn in it, that can be problematic, but the plant is quite sweet too, so I'd think soaking it before feeding would be necessary, in which case any corn kernels should fall to the bottom so be able to be removed easily before feeding.
When the green has changed to brown is there any food value remaining or is it mainly roughage. I could see feeding a small amount to horses as a hay stretcher. Oat straw can be fed as a stretcher to horses if no more than a flake per day. During WW11 in Cechoslovakia, the corn was hand harvested for the people, the plants were then pulled with the stalks going to the cattle and the roots were gathered and dried and used for fuel in a cookstove designed for wood fuel.
It's cow fodder here. I've never heard anyone try giving it to horses. Not saying it hasn't been done though.
Posted via Mobile Device
You don't feed it to horses because it has a propensity to be loaded with mycotoxins. Stressed corn is going to be even higher than corn grown in optimum conditions. Horses can eat the stalks, we've all fed them as treats, but not as a major source of feed. They're high in non digestable fiber and low in nutrients. Don't even offer it as filler to horses. Cows and goats? Sure.
Left Hand, thanks for the valuable info.
Interesting! I've heard that people are trying to advocate feeding more of it to cows to allow for more hay for the horses. The farmer behind my property had to plow his soy bean crop over. He didn't even bother harvesting it; it looked like a field of dead brown sticks. Praying for rain next year....
The soybeans did pretty well here this year. I've noticed that farmers have been planting a lot more soybean than tobacco and corn the last several years. Figured it must be a lucrative crop for them.
---
You want the truth? You can't HANDLE the truth!
Similar Threads
Thread
Thread Starter
Forum
Replies
Last Post
Corn

Missy May

General Off Topic Discussion

2

07-30-2012

09:22 PM

Corn Cobs???

shaggy

Horse Talk

11

07-23-2012

06:08 PM

Corn Oil?

JustDoIt

Horse Nutrition

13

06-04-2011

03:21 AM

corn oil

dreamrideredc

Horse Health

9

07-20-2009

04:17 PM

corn oil

KANSAS_TWISTER

Horse Health

4

06-05-2008

07:12 AM