Given Emaciated horse
---
I wasn't going to ask because I know opinions on feed are as different as people and horses and many but I'm a worry wart so I'll ask...
About 10 days ago I was given an emaciated TWH mare. She is probably a 2 on the Henneke chart. 16 hands, 13 or 14 years old. The woman I got her from couldn't tell me much because she had her less than a month. Vet has gone over her. She just needs groceries. She has been wormed twice since her escape from hell. I will probably worm her again in a week or two.
I've had thin horses before but not this bad. The woman I got her from had her eating a quart of Blue Seal's pacer 2x a day plus free choice hay. She had been slowly adding more by the handful each day. I was using Blue Seal's trotter on my air ferns so stuck with it and increased handful by handful too. I also added a big dollop of soaked beet pulp and now I'm adding Nutrena's equine senior bit by bit. Also a 5lb can of tractor supply's hay stretcher each meal and standlee alfalfa pellets. Hay is free choice, mixed grass. There is also still some grass in the pasture but it's largely dormant. The pasture is around 16 or 17 acres so there is plenty of sleeping grass. So she has food around the clock.
Starting to slip a little corn oil into her meals. Again bit by bit. I have some Rice bran ordered but it won't be here until Friday.
I have to stand guard over her meals so my obese pony and fat pony don't get into the high fat senior food. No way to really isolate them during mealtime. Barn is a 40 x 16 run in. I don't mind standing out there. It's actually nice just brushing her and giving her a little extra needed attention.
I admit it is very hard to only increase her food little by little but this mare was in deep trouble. I also have some doubts about just how much the lady that gave her to me was giving her. Some of the things she told me have proven to be untrue but nothing major. So I have to go on what I know to be true from here.
So handful by handful, bit by bit we are increasing the good food. She is actually getting full between the hay stretcher, beet pulp and alfalfa pellets. The trotter and equine senior is served on the top so she finishes it first.
Is there something I can do different?
She also has a really bad case of rain rot going. I've been treating it with fung-away, iodine and listerine but it's cold here so I'm hesitant to get her skinny body too wet. It does seem I've got it on the run. I'm probably being impatient. 10 days isn't much.
My daughter swears she can already see a difference. I don't see it. I do see improvement in her demeanor. She is now actively taking notice of her surroundings and she has already got me pegged for probably having a treat of some sort in my pocket.
She actually doesn't look that bad in this picture. I think the cell phone camera is dropping a lot of the detail. She is so skinny the poor thing.
Great for you for taking her on!! As for the rain rot, see about bumping her vitamin A a bit. It seems to help. Are you in the position to bathe her this time of year? If so, I use a "shampoo" of 1/3 dish soap, 1/3 mouthwash, 1/3 white vinegar to scrub and wash an infected horse with. It does wonders on rain rot and leaves the coat clean and shiny.
Read this sticky about emaciated horses.
The Care of an Emaciated Horse
I've seen vitamin A mentioned. I guess it can't hurt.

No place to bathe her. It's spitting snow and cold here now. Real snow comes any time after Thanksgiving. Like I said I really don't want to get her soaking wet in the condition she is in. So I guess I will keep working iodine and listerine down into her coat with my fingers and keeping her as clean as possible. I haven't noticed any new lesions and the worst have fallen off.
She is bald in a few places along her spine. I may daub some MTG on the bald spots see if I can get hair back faster. I don't want to get her coat oily so she can raise and lower it.
Is she on a probiotic?
When we got our OTTB, his body score was also a 2. We had alot of trouble getting weight on him at first, then we added a probiotic and used a product for weight gain called Cool calories, and even while on dry lot, he gained weight fast.
Seriously consider adding a probiotic to his feed. It can work miracles!!!
On only 2 lbs. Strategy, 1 lb. alfalfa cubes, free choice hay, 2 scoops Cool calories and a probiotic supplement, our boy went from this:
to this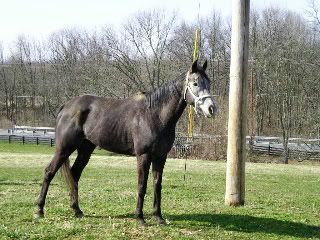 to this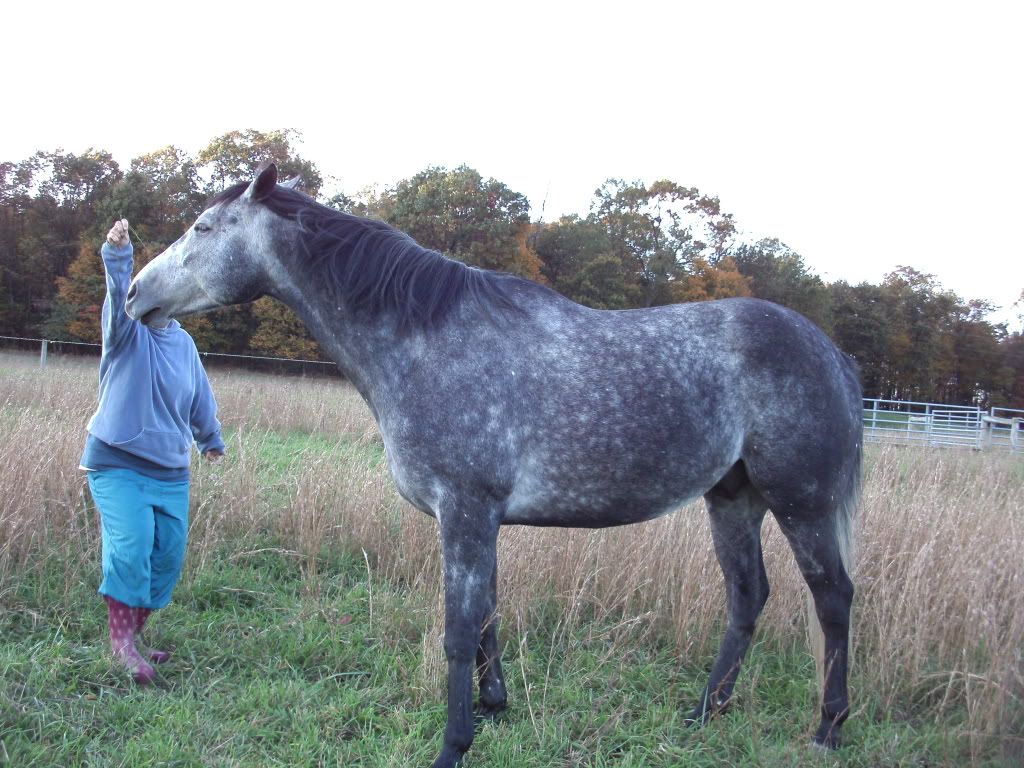 He gained weight even while on dry lot at our ex farm. I credit the probiotics.....
---
Last edited by Beauseant; 11-12-2011 at

10:05 AM

.
find a generic brand of athletes foot powder, Like gold bond or whatever you can get in a larger container. Brush it into the areas with the rain rot. Its basically the same fungus. Leave the powder in. Vitamin A will also help kill it from the inside.
Go easy on the concentrated horse food, small quantities frequently. Let her go slow with lots of grass and hay.
Caveat: I'm not a nutritionist and I don't play one on TV.

But, I've been feeding horses for 40 years and have come to a few conclusions and found some things that work really well for me.

1) I feed one thing consistently. I feed everyone here Strategy and free choice bermuda grass hay.
2) I read the bag and the manufacturer's website for instructions and recommendations and I follow them.
3) If it says, "Complete feed" I don't feed less than what is recommended and mix a bunch of other stuff in. USUALLY, a rescue horse is a little different story.
4) I give it 60 days to make sure it is or is not working.
5) I feed for the weight I want, not the weight the horse is. So, if the horse weighs 700 lbs and should weigh 1200, I work them up to the amount of food the bag says I should be feeding. In the case of an extremely thin horse once they are up to and digesting the correct amount of food, if they're still thin and the weather is turning bad, I up the amount I'm feeding. So, if my horse is now at 900 lbs, should be at 1200 and is being fed for 1200, then I increase it to how much you'd give a 1400 lb horse to give them a little extra.
6) I break it up into small feedings several times per day
7) When I add anything to the feed it's something that is recommended by the manufacturer.

I have a mare here who is thinner than yours. She gets Strategy 4X/day with Amplify (Purina's high fat supplement) 2X/day and working up to 4X/day and she has free choice bermuda hay at all times. She is in a heavy winter blanket because with no fat, she cannot self regulate her temperature properly and she will shiver off all the calories I feed her.

The Strategy bag calls for about 1/2% of her tota body weight as a maintenance amount of feed, so she weighs about 600 lbs, if I want her to stay there, I'd feed 3 lbs of Strategy/day. BUT, she needs to weigh at least 1000 lbs, so to get her there I need to feed more than 1/2%. First I worked her up to the 1/2% which is 5 lbs and split that into 4 feedings of about 1 lb each. Then I took her to 2 lbs for 2 feedings and now she's getting 3 lbs 2X/day and 2 lbs/2X/day and she's getting 1 lb Amplify 2X/day now. I'll leave her at this for a couple of weeks and then I'll add another pound of the Amplify but I'll split it also. So then she'll get 1 lb Amplify 2X/day and 1/2 lb Amplify 2X/day. And so I'll slowly increase her intake until she's at the weight she should be and then I'll dial back until she's at the amount it takes to maintain her through winter.
---
I agree with Dreamcatcher, and prefer the KISS concept. If there is nothing wrong with them other than lack of groceries, there is nothing you need to do than add groceries. Just good food fed at a rate for the the weight they SHOULD be or slightly higher. Free choice hay, a grain or ration balancer and maybe a little fat, split into several small meals over the day if possible. Otherwise you're just making it needlessly overcomplicated. If there are medical issues, that can change things of course.

If you're happy feeding five different things and she's heading the right direction, then that is working too. :)
If it's spitting snow, I'd be blanketing her to keep what she is eating going to building her back up not keeping her warm. She's getting plenty. You've only had her 2 weeks. If you can break down what she is getting into 4-5 smaller meals per day, you will get better utilization out of it. Don't deworm her again. It's hard on her body. Give it a month before you do her again. The vit A will do wonders on her. Give her 5ml orally. Follow it up again in a few days than once a week for a month. I guarantee you will see results by the end of the first week without one bath.
I went with the senior feed for this horse because it does have its own probiotics. High in fat without being real high in protein.
Nutrena: Products - Horses - Life DesignŽ - NEW Life DesignŽ Senior
It also seems to be loaded with vitamin a though I have no idea what a horsely amount of vitamin a really is.
I have no way of knowing how long this animal has been in this shape so I have to assume the worse and say its been a while. That's where the hay pellets come in. I can fill her up without overloading her with the rich, fatty senior feed.
My other 2 horses are obese without grain. The hay pellets allow me to feed them and keep them out of the skeleton's feed.
I will wait on the worming. I was just trying to get her on the same schedule as mine. I can wait or move the healthy ones to her time table.
Posted via Mobile Device
I have seen the vitamin A\rain rot connection mentioned in a few places. Anybody know why it seems to help?

I'll check the feed stores on my way home from work but there are few cattle in the area so its most likely something I have to order.

I remember now what I used on the draft I had that would get a little rain rot on her rump just when the thaw would start, garden sulfur. The same stuff you sprinkle on plants with a fungus. It would knock it out almost immediately. Dry, cheap, effective.

I wish I could break up her feedings more but alas I have to work. She has hay and there still is some grass so her tummy isn't getting empty. 2x a day is it.
Posted via Mobile Device