Grr...hay shortage, need some ideas!
---
I've always had my horses on an approx. 50/50 mix of timothy/alfalfa hay in large square bales. My thoroughbreds did exceptionally well on it, we were able to cut back their feed quite a bit which was great since they're both colic prone. Unfortunately our dealer ran out, and we found some similar quality small square bales that lasted us the winter. Coming into spring I was very happy with their weight, I've never had any weight issues with either of them.
We've hit a total rut, I swear nobody has quality hay
anywhere
in this area. We now have to feed last years cut of some lady's cruddy timothy hay and I've noticed both of my thoroughbreds have dramatically lost weight, more so my 17 y/o gelding. I know I'm going to have to up their feed until we can find a new dealer but with them being so colic prone (neither of them have coliced since last fall, knock on wood) I'm very nervous about it. They're utd on all worming, shots, teeth floating, and both were scoped and treated for ulcers in the fall.
Charlie - 17 y/o, 17 hh OTTB (AM & PM)
1/2 lb rice bran
3.5 lbs Purina Ultium Competition
.5 lb Purina Equilizer
1/4 cup vegetable oil
free choice timothy hay
Before (April 2011)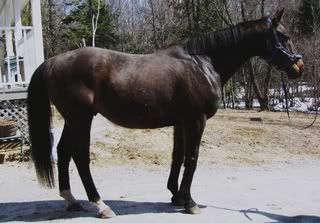 After (July 2011)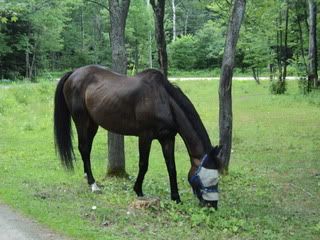 Abbey - 10 y/o, 16hh OTTB (AM & PM)
1/2 lb rice bran
4.5 lbs Purina Ultium
.75 lb Purina Equilizer
1/4 cup veg oil
free choice timothy hay
*she tends to lose her weight over her rump and topline rather than over her ribs, but has not lost as much as my gelding. I have yet to weight tape them, my paint x mare chewed it apart
Before (April 2011)

After (July 2011 - on left, note her withers,over the shoulders and rump)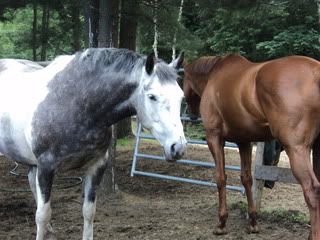 I'm just on the fence about what exactly I can add to their feed (wether it be beet pulp, alfalfa pellets, keep in mind - I'd prefer it be fiber/forage types of feed, maybe give them the full 2 lbs of rice bran daily?). I'd like to know what you guys think would be most beneficial to them considering they are colic prone, I'd like to safely put some weight on them until I can find a reliable, good quality hay dealer. I was leaning towards alfalfa pellets but I'd like a few more options before I jump the gun.
Thanks in advance for your replies!
Banned
Join Date: Jul 2009
Location: In a land far far away, or so I wish.
Posts: 12,825
• Horses: 0
Neither horse looks thin to me. Both look to have lost some muscle tone more than anything.


I personally like hay stretcher pellets and beet pulp.

Keep an eye on your calcium/phosphorus ratio.
It seems that way, but my gelding has been retired for 3 years now, he's strictly a lawn ornament. My mare sticks to a 4-5 day a week schedule - w/t/c, over fences, basic lateral work, hacks, hills, etc.

I totally agree with you that they seem to have lost muscle tone, I just don't understand how exactly? Nothing has changed but their hay.
My thought is they are missing protein.
I would ditch a couple things on their menu but without question, ditch the vegetable oil and add soybean meal back in its place. Your local feed store should carry soybean meal. Tractor Supply may even carry it, just make sure it is pure soybean meal and fit for a horse. Nothing should be added in to feed other types of livestock.
Soybean meal is the highest source of protein and amino acids (this is provided your horses are not soy intolerant).
How to Feed Soybean Meal to a Horse | eHow.com
My 25 yo Arab is 13.3H and weighs around 840 lbs. During the lush grass season he gets 18/th cup daily. Once the grass turns brown his weight (and muscle) start to go south so I up the amount to 1/4 cup daily.
I also feed him
well soaked
timothy/alfalfa cubes by Standlee. I get those at Tractor Supply.
He is doing so great that I have cut his rice bran back.
Standlee Hay Company - Home
This would also help you with your hay shortage issues. I prefer the cubes because they mush up like grass, but Standless also makes pellets.
Hope this helps
Thanks so much! I'll definitely have to try that out. Our feed store is sort of a garden center more than anything so the guys who work there aren't really knowledgeable in much besides lifting heavy bags of topsoil
so I'm not exactly certain wether they'd have soybean meal or not, but they're pretty good at ordering feeds in that I request. I'll check out the link you provided and try and learn as much as I can about feeding it, and hope to god neither of them are soy intolerant
Thanks again for the helpful post
What about bluestem hay? Not sure where you live but it is a high protein hay that is great for horses.
Posted via Mobile Device
Have you contacted local tack shops, feed stores in your area? Somebody can normally point you in the direction of a dealer. I had both local feed stores run out of the hay i use a few weeks back and I had no shame calling my tack shop and some horse people i knew. I got 2 phone numbers and went with someone who was 45 minutes away but my horse had hay.
My area isn't exactly horse country, anyone who has horses usually boards them - I keep mine on my own property because the services around here are terrible. There is one feed store in my city (it's mostly a garden center - but they sell basic horse necessities like fly spray, dewormer, buckets, and feed you must order in yourself). The nearest tack shop & feed store besides that is approx. 30 minutes away which is strictly an equine tack and feed store. They usually have adds posted up on bulletin boards for hay, horses for sale, etc. If you want anything remotely close to decent quality hay you'll have to look 45 mins + out of town and the dealers will only sell in 200 or more bulk, which I simply do not have enough storage for.

The lady we're currently purchasing our hay from now is 45 minutes out of town, and she just sold her horse which is why she's selling her hay. I can stack about 18 bales in my short-box truck, and that lasts me about 6 days.

My problem is not that I don't have enough hay or can't get hay at all, it's that I'm having difficulty finding adequate quality hay and am having to settle. I did a bit more research and am certain they're lacking the protein they were getting from the hay I was previously using before it ran out.

I really appreciate all the help and different opinions. Sometimes your own research just can't cut it, or it takes you in the completely wrong direction.
If you are needing that much hay and don't have a storage could you have some round bales delivered and tarp them?? maybe you could get some better quality hay that way. i always find the good stuff in the big round bales and it's a lot cheaper. I have OTTBs too and have a really hard time finding alfalfa down here. I'm going to try starting Perennial Peanuts for forage for my horses this fall. it' supposed to be the alfalfa of the south. very nutritionally simular to alfalfa hay. soybean hay is something that folks down here get too that puts weight on the hard keepers and the horses love it too....
We just had some round bales delivered this week, the only issue is getting them into the paddock. We don't have a tractor or anything like that so we have to roll it, and when it rains/snows (in winter of course
) it makes it really difficult.
Our old hay guy will actually be doing his first cut of large squares if the weather keeps up this weekend which is awesome news :)