Is a hay belly just to be expected?
---
I'm hoping the feed gurus can help me make sense of what I'm learning about my mare's nutritional needs (first time owner, owned her for about 10 months). This is a bit long, so I can give all the details upfront...but here's my overarching question:
In an older mare with light exercise on a diet of primarily average quality hay, is a hay belly just inevitable?
The basics about my horse
:
She's a 900 lb, 19 year old Morgan mare. She's a pleasure horse- ridden about 4 times a week for 30-45 minutes at a time. She is turned out in a 2-4 acre pasture (pastures rotate every other day) every day from about 7am-7pm, and stalled with a run out paddock in the evenings. She doesn't do a ton of self-exercise in the pasture, but is already moving around a lot more now that the snow and ice have finally melted. She is on a regular deworming program.
The basics about her feed
:
I feed the hay provided by the barn, a grass mix. She gets 2 flakes morning, 1 around noon (morning/noon rations are sort of hypothetical- flakes are put out in the field, and I suspect she actually eats more than this), 1 around 7pm in her stall, and then 2 overnight in a slow feeder net. Hay has been so-so quality all winter. Here's an analysis of the hay quality (green bars represent the hay):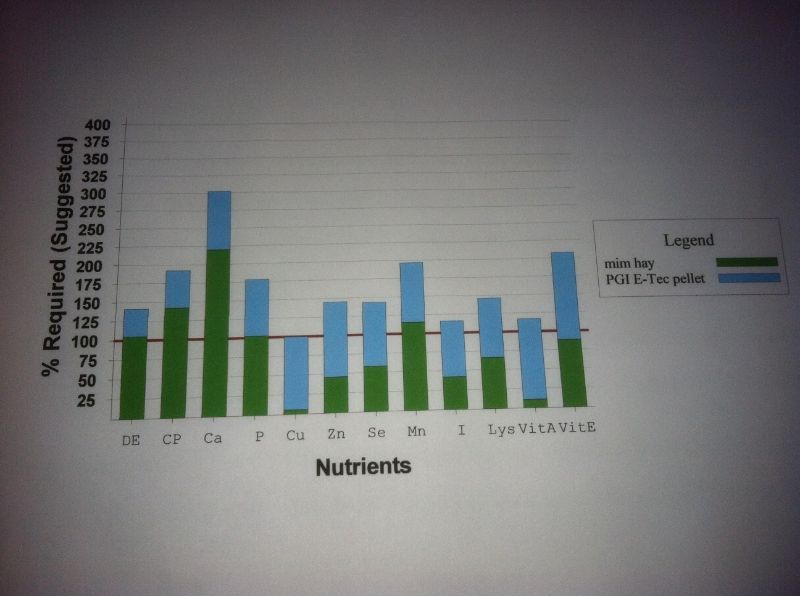 She also gets 1.5 lbs of Poulin Grain's
MVP
morning and evening. The vet feels she needs some grain because of hay quality, or she would drop weight, and he likes the weight she's at now.
Finally, she gets a tbs of raspberry leaves each feeding (the equivalent of "mare magic") and 2 oz. of ground flaxmeal each feeding.
Vet saw her today for spring shots and floating, and his overall assessment was that while her primary diet is primarily 1st cut hay, given her age, build, and activity level, she probably is just going to have a hay belly look to her (worms are not an issue at this time). He thinks the hay belly will go down as she a) gets more grass as the pasture recovers from the winter; and b) gets ridden more in the nicer weather.
I'm new to all this and trust the vet's opinion, but being new to all these feed decisions, it's just nagging at me that she shouldn't necessarily have such a swollen look to her abdomen. Do you all think it's just a given that with her living arrangements and feed, she's going to have a hay belly?
This is clearly not a confo shot, but shows her belly (as well as her weak topline, which is a different issue to work on, but also probably just a sign of her age):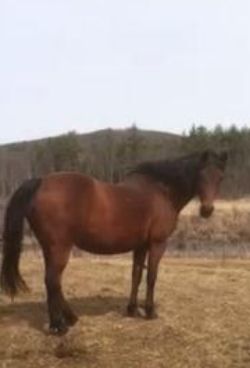 It's not uncommon for older horses to get a bit of a hay belly but it doesn't have to be. Feeding a mature, high fiber hay that is slightly harder for her to digest as her GI tract is less efficient is part of the problem as well as a loss in muscle tone along her topline. More work to get her to collect and use herself, adding a pre/probiotic (I like Diamond V and it's cheap, cheap) and green grass are all going to help. I like a lesser quality hay for a number of reasons the biggest one being it takes them longer to eat so they have hay in front of them for a longer period. What are the actual values of the hay? That will tell you more about the quality, maturity and digestibility than a bar graph. Plus was the actual hay tested or are the values generic?
Thanks, Left Hand. Your explanation is also what the vet told me. He didn't mention the probiotic though, I will look into it. I have seen it mentioned on the forum and believe another one of the horses at my barn is getting it, so it should be an option.
The hay was tested, I don't have the paperwork with me though. The chart I posted just compared it side-by-side with her previous grain (and showed I would have to feed her
double
her grain ratio to get her to optimal nutrition
- no thanks! We switched to something more appropriate).
And yes, working on her topline is my spring project. Being able to ride outside again should help.
As LHP said, haybellies happen. Since you have no influence over what hay she eats, you'll have to work her, which will help with her top line, which then pulls the belly up.
Your hay is lacking most minerals and vitamins, not knowing the feed you give, I hope it adds them.
Diamond V if you can get it, or brewer's yeast will help with breaking down the fibers.
Nice girl
She should do fine on Equipro MVP as long as she has plenty of hay or grass to eat. I feed mine that. I also feed Poulin's forage extender otherwise my oldest one would act like I'm trying to starve her to death. Then she takes her bad mood out on my other two.

She isn't hungry. It's kind of hard taking an 11 hand pony seriously when she's having a bucking hissy fit between 2 - 900lb bales of hay and the remains of a third.
Sue- I love the image of your pony telling you how mad she is.

Thanks for sharing your opinion on MVP- many of the horses where I board are switching over. We had the Poulin rep at the barn a few weeks ago for a mini-nutrition seminra, and while I'm leery of taking advice from someone who has a clear financial stake in the outcome, their analysis seemed reasonable, and we were already feeding a Poulin product to begin with. Their advice to switch doesn't seem to be motivated by cost, since we're not going to a significantly more expensive product, so we're giving it a go.
What's her actual age?
---
"Strength is the ability to use a muscle without tension"

I have nothing but positive things to say about the contact I've had with the Poulin reps.

I do occasionally have to grab a bag of Nutrena's Empower Balance because the Poulin dealer is a bit of a trek for me. Only one nagging observation about that feed, the older mares seemed to pee a lot more on it. Didn't notice a change in the 12 yr old but the 38 yr old and the 20+ yr mare both urinated frequently and it would often burn the grass. Means to me they were getting too much protein and I was just wasting it on the ground. Only seems to happen when the grass is in and not when they just have hay.

As far as your girls topline and hay belly goes...gravity happens. I can attest to that from my own figure. Just get her a little more exercise and it will hold things together for longer. She looks good.
I'm a great fan of Senior horse feed. It is better suited to the older horse. I also feed oats and my horses are in good shape altho still winter fat as we still have winter. They are out 24/7 but the conditions now mean no bursts of speed, just watching where to place their feet.
What is hay belly?
Sorry i dont own a horse yet and im still new to this so im trying to get as much info as possible