When I moved barns and was trying to balance a new diet for my horse, another poster suggested the website feedxl.com to me.

It cost me 20 bucks, I tailored a diet specifically to my horse, it told me where I was over adding and under nourishing, and gave me suggestions to fix it.

Worth EVERY penny.
---
"There is something about the outside of a horse that is good for the inside of man." ~ Sir Winston Churchill
Ok let me say that he is very handsome (love his colour too) and he's already looking pretty good and yes could use a bit more weight but I would say you are almost there :)

I have had great sucess with keeping things simple which is both easy on their stomachs and your wallet too!

Please stay away from sweet feed, alfalfa, beet pulp, corn, oats, etc.. Even wheat and ricebran are not the greatest on their stomachs. After years and years of experimenting this is what I swear by please consider something like this for your guy...I have also added specific weights based on my mare's size she is just over 15hh and is 1100 lbs.

24 lbs of good old fashioned hay :)
2 lbs of a supplement that contains only the basic vitamins, minerals and amino acids etc... that they need
2 cups (about 1 lb) of Canola meal which helps them gain weight with healthy fats and keeps them super healthy and shiny with omegas

That's it! And a bit of grass everyday :)

This has brought my rescue mare from a body condition score of about a 2 to about a 6! lol I like my horses on the full side :)

I would say your guy is at a 4 right now and you probably want him at a 5 given that he is a TB so it shouldnt take long to get there :)

Here a before and after photo of my monkey lol to show how well it worked on her!
I wouldn't stay away from alfalfa, RB or beet pulp. Sweet feed & corn, yes, but definitely not alfalfa, RB and beet pulp - neither are hard on a horses stomach if fed properly.

Ride the sky, your mare looks fantastic! She packed on the pounds beautifully and her coat is great!
Also disagree with staying away from alfalfa, rice bran and beet pulp. They are 3 of the key ingredients in my horses' diets.
I used alfalfa, beet pulp and a rice bran based senior feed, along with free choice hay to turn this....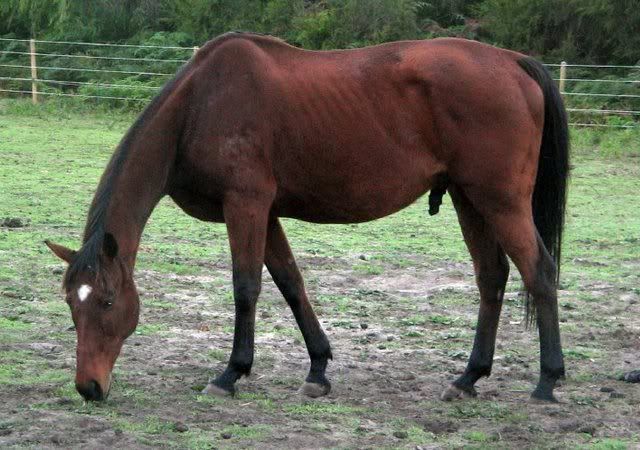 into this...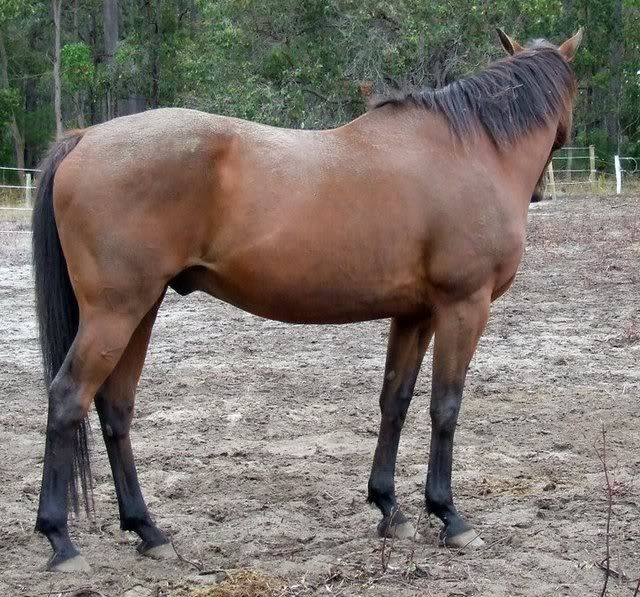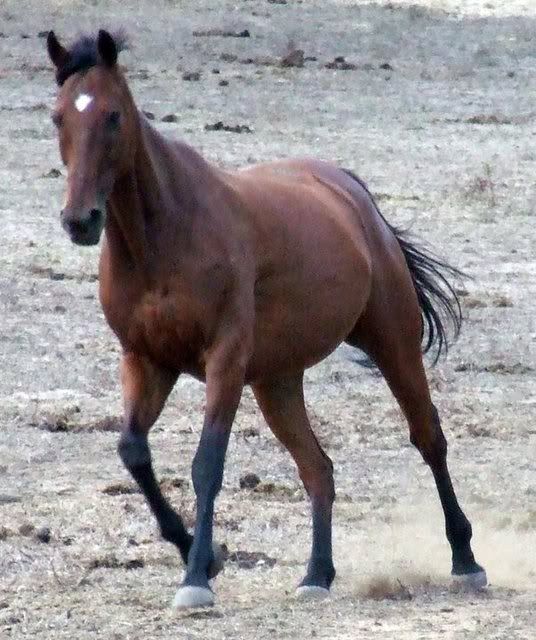 ---
Flirt-Hugo-Phoenix-Romance-Fanta-Nippa-Shiloh

Trojan 09.11.02 - 26.10.10 // Kody 01.09.89-25.06.12 // Rex 05.11.95-21.12.12

[QUOTE=HowClever;1089619]Also disagree with staying away from alfalfa, rice bran and beet pulp. They are 3 of the key ingredients in my horses' diets.

I used alfalfa, beet pulp and a rice bran based senior feed, along with free choice hay to turn this...."


Your gelding looks great you did a wonderful job with him and thanks to the last person for the compliment on my mare :)

I never said that those things wouldn't work they would and I have used them with good results as well however beatpulp and alfalfa when fed on an ongoing basis can upset a horse's insulin levels and even foster a greater production of stomach acid which can lead to tummy upset or even ulcers. Fortunately the alfalfa contains a high level of Calcium which offset's this but sugar/startch in any form is not ideal for the long term. I know people who feed beetpulp everyday for years and years that have switched to soyhulls or a mix of the two called Fibremax. This has also been recommended by equine vets and nutritionists. As for the ricebran I know people who have fed this for years only to find out their horse's bones had become weak developing osteoperosis type symptoms. The thing with Ricebran even the stablized kind (which is the only kind you should ever consider feeding btw) is that the cal phos ratio is very finicky and depending on how much cal/phos they are getting from forage and other supplements (there is really know way to know exactly how much they are absorbing especially from hay and grass) so because it's unbalanced I think it's smarter to use something like Canola Meal where you don't have to worry about that. I'm not saying that if you use the above items in your feeding regimen that your horse is going to be full of ulcers, get diabetes, or have crumbly bones tomorrow lol I myself have used all of these things before and for an extended period of time but there are very good reasons why I have switched to other options.
Quote:
To feed your horse accurately to ensure sufficient weight gain or to maintain your horse's weight you need to know how much total food he should get a day. That means in either pounds or kilograms how much forage and grain he is getting in a day. But you need to know his weight first.

Here's what I suggest:

You mentioned he weighs approximately 960 lbs.with an activity level of moderate work. A horse in moderate work should be fed 2% of their body weight per the NRC nutrient requirements of horses.

You mentioned your horse was on the thin side so you could start with a conservative weight goal of 1000 lbs. and weight tape him every 2 weeks to see how much he weighs. If he gets to a good weight level recalculate his total feed per day using the 2% body weight with that new weight and then feed him that amount per day to maintain his weight.

The equitation is as follows:
1000 lbs. X 2% (BW) = 20 lbs total feed per day.

The next part of the equitation for his moderate work activity level is grain to hay ratio. How much of his total feed per day is hay and how much is grain. For moderate work level the grain to hay ratio is 40% grain and 60% hay.

The equitation is:
20 lbs total feed per day X 40% grain = 8 lbs. grain
20 lbs total feed per day X 60% hay = 12 lbs. hay

These are guidelines and every horse is different some horses are easy keepers and other horses can't keep weight on.

To keep your horses grain intake down (so you can help prevent a potential colic problem) :
-you can find commercial grains that are high in fat (these grains will usually have oil or rice bran in them. Your performance grains will have this extra fat)
-Use your existing grain and add extra fat; oil (flax, coconut, cocosoya), flax seed meal or rice bran
- Mix your grain with alfalfa pellets, they are higher in calories than grass hay.

If you want to see if he is getting enough total feed per day right now with him being at 960 lbs do the equitation above just put 960 lbs were the 1000 lbs is now. The grain to hay ration will remain the same since it is based on his moderate work activity level. Once you have his total feed per day weigh his existing grain and hay and see if it match's the guideline.

The accurate way to know your horse is getting the right amount food neither under or over is to weigh their grain and hay. You can weigh it once using a container and then you use that container to measure feed out each time. Or you can use a bath scale.

Remember to make all diet changes slowly whether you change the grain or the amount. You can safely increase your horses grain 1/2 lb - 1 lb a day every few days. If you are changing from one grain to another try to mix the new grain with old before starting him completely on the new grain. Whatever you reduce the old grain by replace that amount with the new grain.

Hope I have been of some help but if you are still not sure I recommend calling your vet and asking them to help you with your horse's diet plan.

We're going to be adding a diet plan (for free) on HorseMomsSupplements.com in a few days. Once it's up I can post here that its available.

I hope that helped.
I know this thread is old but i wanted to Thank you
HorseMoms
so much for this example.
Im new at this and the way you explained about the feed is so clear and easy to fallow.
Your post may help others too.
I recommend nutrena empower boost. High fat rice bran supplement. I feed it like a ration balancer it works wonders for all my horses my mare went from a body score of 3 in 2 months is now a 5. And looks amazing this might help your horse You also must bring into con side ration that TBs. generally stay leaner
Hope this helped
Posted via Mobile Device
Alfalfa is rich in high quality protein , low in carbs, high in electrolytes, phosphorous and magnesium. and calcium. and is good feed for thin and hard keepers
High fat sources are flax seed, rice bran and corn oil.
sr feed is good for rebuilding condition . rule of thumb for feeding is 1 1/2 - 2 lbs per 100 lbs .
so you basically need to feed 20 lbs of hay per day . For a horse that needs to gain weight, add more forage. If possible free feed the hay , or feed more often than twice a day.
My arab was skinny and wormy when he came to live here. Free choice decent hay and later oats picked his weight up within 6 weeks and he was flying around showing off his energy.
Couple pennies for you.

A good portion of OTTB's have ulcers. Alfalfa is high in calcium, so it is helpful in a huge way! It may be hotter but it certainly isn't worse than the sweet feed. When his weight balances out..you can add in more grass etc. I use to feed both.

Get yourself a slow feeder (assuming there is no pasture)...netting, box etc. Horses should be allowed to eat 24/7...it's how their bodies were designed and you can do it anywhere. I had an off track quarter that had a stuffed net of hay 24 hours a day. (one of 3 off track horses in my life)

Have his teeth checked. Proper dentistry is big.

Fecal count.

Put him on a good probiotic. I'd recommend Fast Trak, you can get it nearly anywhere and it will transform your beauty :)

I used rice bran pellets for weight management personally. It's cheap and easy to feed (high fat low energy) and doesn't require a bunch of prep.

Okay so that was more like $2.50 :P