Helping a horse build muscle?
---
I'm thinking of getting a mare. My only issue with her is that she needs more muscle as she isn't in the best condition. What can i feed her to help her gain muscle in her legs mainly? Thanks!!
Posted via Mobile Device
how old is she and what is her weight like now? what do you plan to do with her and is she in work right now?
sorry for all the questions but the more info provided the better advice you can get :)
Of course! Mare wasn't the correct term, I meant filly. She's a yearling, and I'm open to trying anything with her - even if that means I can only use her to teach my little brother to ride when she's older. I'll do what ever she ends up able to do. Vet says she's fit, just needs more muscle on her legs due to her being left to graze on scraggly mountain brush her whole life.
Here's the recent pic:
http://s802.photobucket.com/albums/y...er_media_share
I know she's scraggly - we're most worried about her hind legs
Posted via Mobile Device
The photograph won't open for me.
But going on what you've said, I would just be feeding a balanced yearling diet. Plain oats fed with ample meadow hay and a biscuit of lucerne each day balances the phos/calcium ratio and most youngster thrive on it.
As a yearling, of course she is going to be gangly. Don't even worry about her looks at the moment. My yearling is a very well bred hanoverian gelding, and right now he closely resembles a small camel. Scrawny, gangly long legs, bum high, big head, little neck..... But he's a good weight and has a brilliant coat, so I know his diet is working well for him and his growth rate.
He gets fed - and I am planning on doing some in hand breed shows with him over the next few months - 1/2 biscuit lucerne/day, full turn out in a very good paddock, 500g wheaten chaff, 400g Pryde's BioMare, seaweed meal, sunflower oil, 1 tsp MSM and 20g Kohnke's Cell Grow (young horse supplement).
This is him 2 days ago, at nearly 16 months. He looks fat in this photo, but he does have light ribs showing as a youngster should.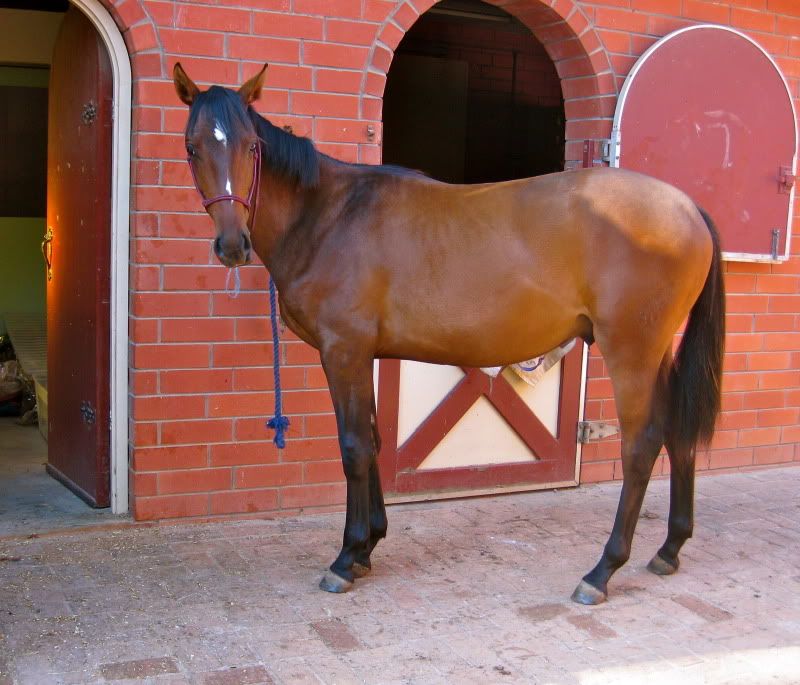 Lots of hand walking, maybe slight hills not too steep something easy - I fed my yearling Enrich 32 and he come out just fine. i wouldn't worry about him looking anything right now he's still going to be going through growth spurt you'll look at him and go he's perfect then next day you'll look at him and I know I am feeding you!!!!

The most important thing let him be a yearling, nothing too heavy as far as his training goes, lots of hand walking, socialization, yielding the HQ/FQ - backing can build some nice muscles.... etc...

He's still very much a baby enjoy him while you can ;)
---
CHIEF - 7 YR OLD MFT ~ SCOUT - 4 YR OLD
Glad to know walking is fine! I'll take her on trail walks along the Santa rosa plataue! It'll give her - and me - excersize. I'm glad others see that she looks like she'll be fine!
Posted via Mobile Device
I'm not going to lie, everyone harping on her legs had me very concerned because all I could see is promise and I'm glad some agree, including my vet. Heck, he's threatened to steal her xD
Posted via Mobile Device
Do you have a photo of her?
I'm interested to see her legs as its quite an interesting thing for a vet to comment on for a yearling.
If you go on the thread I posted, I have recent pics on page 2 or 3 I think
Posted via Mobile Device