Horse feed advice please :)
---
I've recently aquired an ex racehorse. At the stud he was kept at previously after his racing career finished, he was just turned out 24/7 on grass with no hay or feed and appears to have lost a lot of weight and I'm guessing muscle tone too.
Here is a pic of him on the first day I got him just after he was delivered: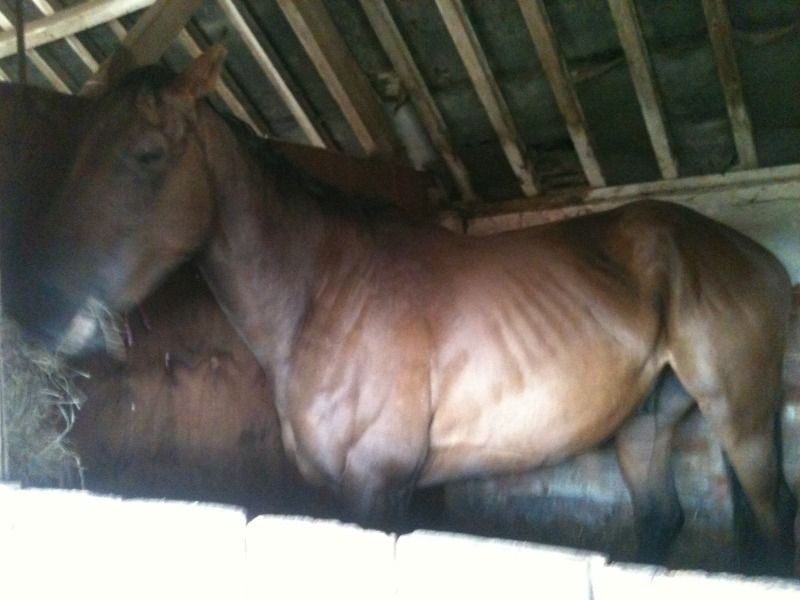 I have been feeding him D&H Build Up Mix (3kg) with Pegasus cubes (2kg) as recommened by the vet. He also has 24/7 access currently to grass in his field and this is the most recent picture of him: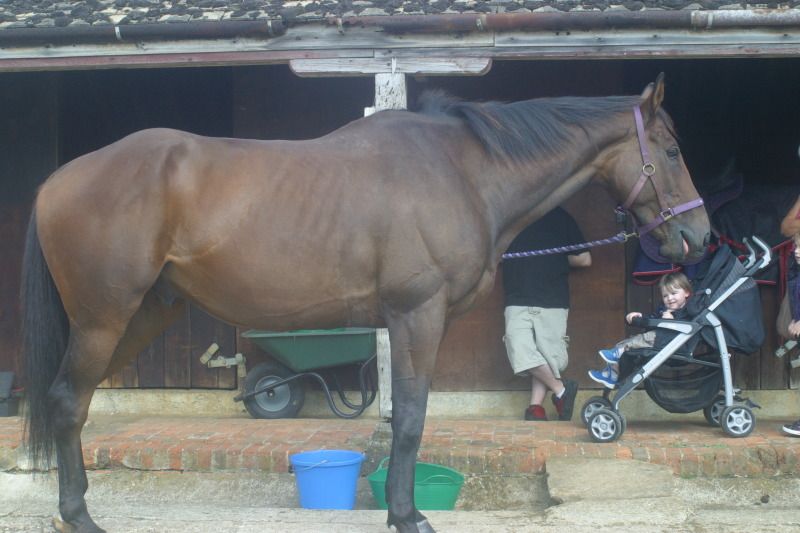 I've had him 4 weeks. Just for comparison, this is a picture of him from Google from when he was still racing.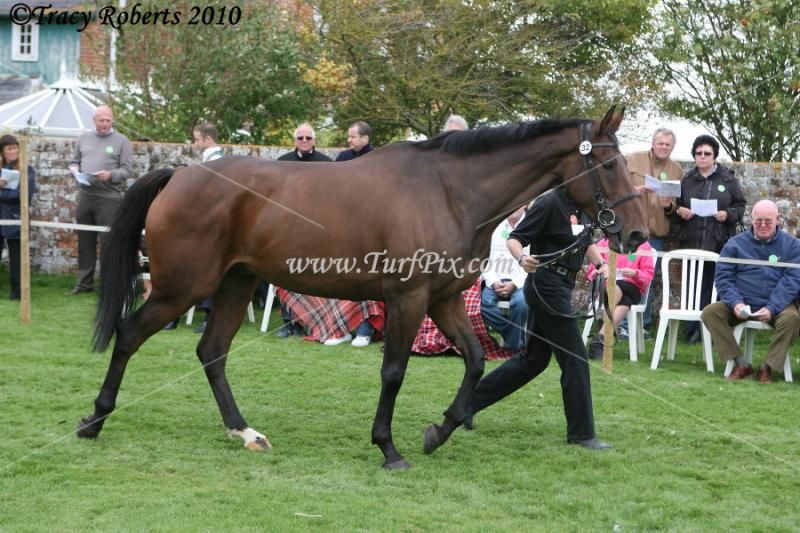 I know the pictures aren't taken at the best angles but just wondered if you thought this was a reasonable weight gain for the period I have had him so far? I'm worried about him not having enough weight on him going into winter as it's already getting cold here in the UK. He is in a lightweight turnout currently and is plenty warm when I go to him in the mornings.
Do you think the feed amount is ok? Or should it be upped or reduced? I know the vet has given me this advice already but I don't see any harm in getting a second opinion and who better to ask than you lot?
Thanks for reading.
Lou
XxX
EDIT: Forgot to add, he's just, for the last two weeks, been doing light hacking work. 1-2 hours a day once or twice a week.
---
~My boy, Saxon~
~RIP, Princess~
---
Last edited by Louloubabs; 09-25-2012 at

09:58 AM

.
Looking quite a bit better on the newest pic
I'd say stick with what you're doing right now feed wise and watch if he improves even a Tad more. The croup will come back with regular work. Better than once or twice a week would be every day a little. If possible. For going into winter, as long as he has enough hay available, best would be 24/7, he shouldn't get cold
Taking pics every month lets you see his progress.
Im not familiar with the D&H feed, but if he should get s bit lively you might have to look into "cool calories", like rice bran, beet pulp etc.
Thanks :) Glad that you can see the difference too and it's not just me convincing myself that he is looking better :) Will stick with what he's getting at the moment and hopefully soon he'll be at his ideal size and weight.

The reason I chose the D&H mix was because it is a slow energy release so we *shouldn't* have too much problem with any sudden energy bursts (famous last words).

So you think he's be better out 24/7 in the winter? I do have heavyweight rugs for him to keep him warm but wasn't sure if he'd need to be brought in nightly when it's colder? My last TB kept her weight on really well and only came in if it got REALLY cold (only once or twice a year in the winter usually) but wasn't sure if due to his low weight when I got him, he'd need to be stabled. Although I guess it's one of those 'wait and see' scenarios.

Thanks again :)

XxX
---
~My boy, Saxon~
~RIP, Princess~
He can live out, if he has a shelter he can go in if he wants to and a dry place to sleep. You will have to check that he doesn't get too warm under the blanket since his thermoregulation doesn't work when blanketed. So switching to a lighter blanket during the day might be necessary. I kept all my horses out non blanketed and my TB would get a thick, but short coat who would dry pretty fast after sweating. When they eat well they tend to have less winter coat.
Hay keeps them warm, digestion of fiber creates heat. Cold and dry weather is no problem at all. Wet and cold is when it gets tricky
---
Last edited by deserthorsewoman; 09-25-2012 at

11:15 AM

. Reason: ETA
Thanks for all the info - you've been soooo helpful :)

XxX
---
~My boy, Saxon~
~RIP, Princess~
Agree with Desert, esp on 24/7 turnout & rugging considerations. But he's looking pretty good now - doesn't need much if any more weight by the looks & if that's only been in four weeks, I'd be inclined to cut back on the high calorie feed now.

Re the 'croup' coming up with work, it may well, but it could be that shape because of spine/joint issues around the sacrum or such. I don't think it's about lack of 'groceries' tho. As he is a recently ex-racehorse, I'd also be thinking it likely he's got ulcers &/or other issues due to the high octane, low forage diet he would have been on, so I'd treat for ulcers as a matter of course & be inclined to steer clear of grain or other high starch feeds in favour of something healthier for his gut.
Thanks loosie. The vet is coming out to give him a check up next week so I will talk to her about it.

The lady that bought him to me came to see him yesterday and said she couldn't believe how much better he was looking and how happy and laid back he seemed. Phew! :)

XxX
---
~My boy, Saxon~
~RIP, Princess~