I like to keep constant hay out. We switched over to round bales as well.
my nibble all day long. In the morning my two hard keeping boys are turned out to pasture and i toss out a 70lb of grass hay in the night pasture. Then about 7pm i let the 2 boys back into the night pasture and my three horses have enough to last till morning (they actually have extra left in the morning and thats what my other horse munches on)
I also like to keep hay available free choice for my mare. She gets a grain feeding morning and evening. She stays in good condition even at 26 years of age.
Free choice when the pastures aren't enough to sustain them. Those that are stalled at night get enough to keep them busy until morning turnout. My grandfather always said if they are completely cleaning it up between feedings, they aren't getting enough. I've lived by that rule for as long as I can remember.
Posted via Mobile Device
The performance horses get 2-3 flakes of Grass (depending on the horse). JJ and Scrat get 1 flake of Alfalfa with the grass, Polly and BB get just grass no Alfalfa. So they eat the Alfalfa in a rush and pick at the Grass throughout the day and there is always some left over in the evening. And they get the same at night and they usually have a bit left over in the morning as well.

They get enough to keep them busy but not enough that they are never going to clean up......and right now hay is steady but the prices will go up very soon so it is expensive to feed free choice around here. And the big bales around here are either cheap and cruddy or expensive and nice. So they get fed what they get.......
---
Conformation is how far the horse CAN go,
Mind is how far the horse WILL go,
Training is how far it DOES go.
I give my horse her hay (silage) in small mesh hay nets. I put two nets in her stall for the night. It last the whole night.
When she was in foal she had a free choice of hay outside and nets in the stall. But when I ween the foal from her, she will get her hay in nets outside too.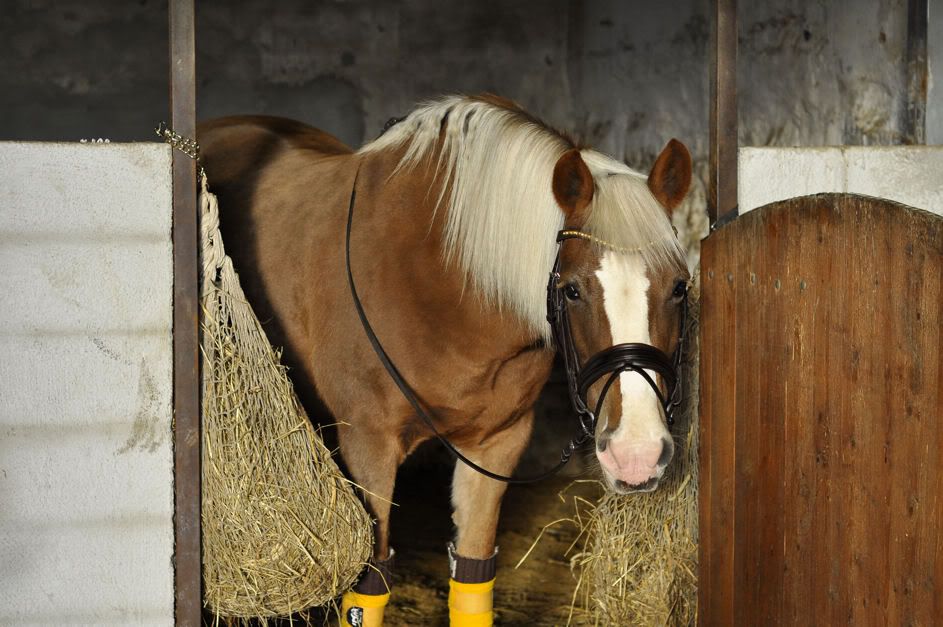 Mine get hay twice a day and a scoop of pellets in between. If I free fed, my mustang pony would eat until he exploded. My Appy would get pretty fat too. My Arab mare would probably stay a bit skinny.
---
"Make the right thing easy and the wrong thing...well, ignore it mostly."
Right now my mare is getting straight alfalfa, so I only feed twice a day. I don't want her eating so much sugar constanly, but she usually doesn't even finish what I feed her, so she has left overs to munch on in between feedings. Most people I know that free feed use straight grass or a mix with very little alfalfa.
Is alfafla high in sugar? I thought it was high in protein?
It is high in protein, but I have also heard it has a higher amount of carbs (which turn to sugar) than straight grass. Feel free to correct me if I am wrong.